Apple plans increase in Pegatron iPhone assembly to skirt China ban alongside iOS 12 patch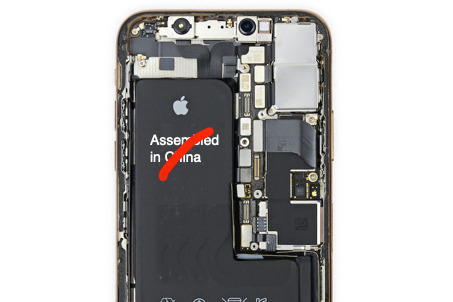 Besides just an iOS 12 patch, Apple may shift some of its iPhone production between its assembly partner to mitigate some of the effects of the Chinese sales ban in its patent fight with Qualcomm.
After a court order handed down by the Fuxhou Intermediate People's Court in China this week that would prevent the sale of iPhone models leading up to the 2017 iPhone X, Apple is looking for ways around the ban. According to one report, Apple may already have a way via existing assembly partner Pegatron.
Documents seen by the Nikkei Asian Review apparently state iPhones produced by Pegatron are exempt from the ban, whereas iPhones sourced from Foxconn and Wistron are blocked. Report sources claim the exemption is due to Pegatron paying a license fee for software at the center of Apple's dispute with Qualcomm, a fee that is not paid by the other two key assembly partners.
Due to this, Apple is said to be in discussions with the Taiwan-based Pegatron about whether it could take on more of the production duties to work around the ban. While no decision has been made, it is likely that such a shift would only apply to units destined for sale in China, rather than affecting global supplies.
"Each iPhone assembler's negotiation with Qualcomm is slightly different," a source advised to the report. "Pegatron's patent coverage to Qualcomm is more than Foxconn and Wistron. That's why it is exempt in this case."
Qualcomm itself also reportedly confirmed to the report the Pegatron exemption for iPhone production, advising "Pegatron has a license to both patents."
Pegatron Chairman Tung Tzu-hsien advised he had yet to see the court injunction, and did not know if the exemption was accurate. "If we we really are excluded from the order, it might be because of our respect for intellectual property rights, and we cover more patents," advised Tung.
China is a valuable market to Apple, accounting for approximately 20 percent of iPhone sales in 2018. Sources state around 6 percent of total iPhone revenue stems from the sale of older models in China, iPhones that are subject to the ban.
It is estimated that the ban could negatively affect Apple's sales by 3 percent of total revenue, in the region of $5 billion. If Pegatron is confirmed to be exempt from the ban, the deficit halves to around $2.5 billion, and could reduce further if changes in production could be made.
While a change in production could take some time to start up, Apple is also trying other ways to prevent the ban from impacting its sales. The company already plans to issue a software update next week that resolves the patent infringement issues, possibly by encouraging users of the infringing iOS 11 to migrate to the non-infringing iOS 12.
Sources inside Apple not authorized to speak on behalf of the company advised to AppleInsider on Friday morning that "We are certain that iOS 12 is non-infringing, but the fix that we will apply early next week will make it more obvious."
Another method being attempted is by providing security to the court over the sales ban. Reuters reports Qualcomm has paid a 300 million yuan ($43.5 million) bond to cover any potential damages to Apple from a sales ban, but a reconsideration request from Apple claims the company is willing to pay double the value as "counter security," in order to lift the ban and continue sales as normal.
Recent reports have also pointed to Pegatron examining the possibility of moving some of its iPhone production to Indonesia, in order to lessen the impact of U.S. import tariffs on Chinese-produced goods.