Hands-on with Eve Energy Strip & Eve Light Strip HomeKit-enabled accessories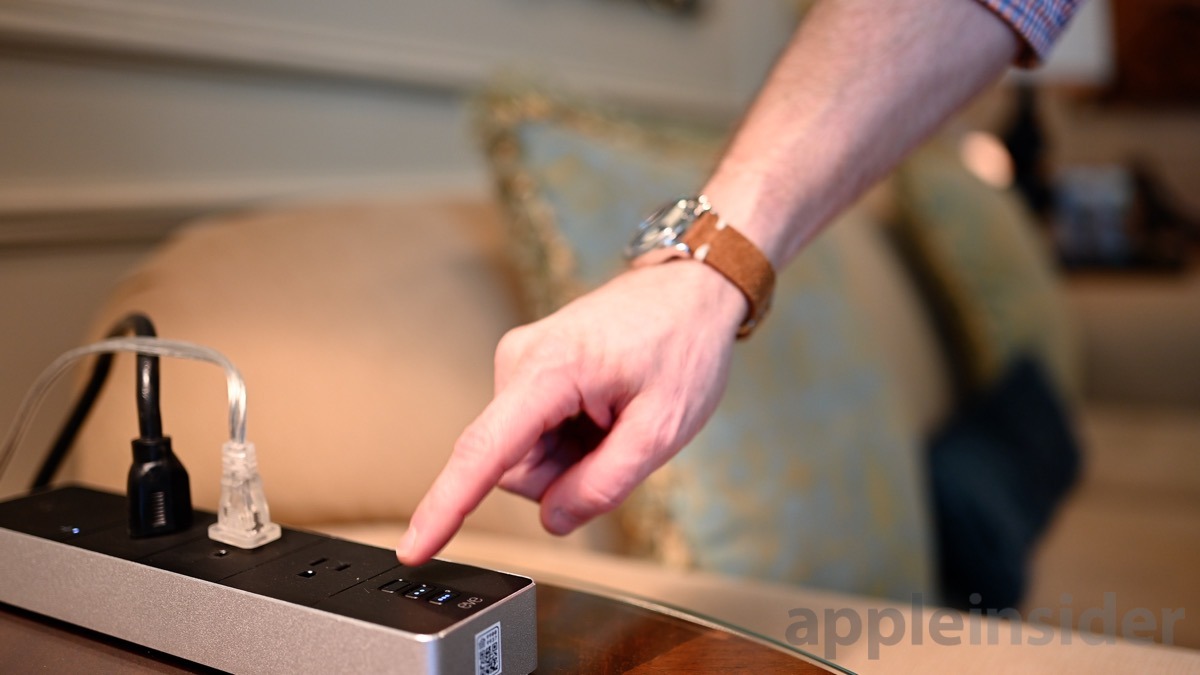 Eve Systems, a prominent manufacturer of connected home accessories, fleshed out the final details of its upcoming Eve Energy Strip and Eve Light Strip HomeKit devices at CES 2019. AppleInsider was on hand to take a closer look at the devices before they hit store shelves later this year.
Eve's Energy Strip is a bit of a misnomer. The device isn't a "power strip" in the traditional sense, and is more akin to a surge protector, with built-in protection against power surges, over-current, and over-voltage events. This should keep expensive electronics like TVs safe while connected.
For Apple fans, however, HomeKit support and remote control are the Energy Strip's marquee features.
In our testing, the Eve Energy Strip was very fast to control the lights connected. Thanks to built-in Wi-Fi, it's near instantaneous when controlled through the Home app. This makes a big difference when triggering from something like a motion sensor.
Like the solo Eve Energy, the Energy Strip monitors and records power consumption from connected devices. Users can see the power that is being drawn over time to keep track of potential energy sinks that might otherwise go undetected. This is especially helpful for big offenders like TVs.
Eve managed to buck the trend of ugly surge protector design, instead opting for a premium aluminum shell that gives the unit a hefty feel. Importantly, the Energy Strip doesn't look bad out in the open. Other nice touches include corresponding lights on the power buttons and a healthy amount of cable attached to run to the right places.
Next, we tried out the Eve Light Strip, another fairly common HomeKit accessory type. There are a few existing light strips and power strips out there that work with HomeKit, but they all have disadvantages that are difficult to overcome. Between bad looks, reliability or less-than-adequate brightness, they've all got their quirks. Eve seems to have rectified many of those issues with its latest Light Strip.
Eve's unit offers a number of familiarities we've seen with other products, such as the ability to trim the strip in 1-foot intervals to match the length of wherever it is being mounted. The system also allows for the strip to be extended with additional pieces.
What really sets the Eve Light Strip apart is the incredible amount of brightness it puts out. 1,800 lumens is what it is rated for, compared to the 1,600 lumens of the Hue light strip. Even more impressive, adding two additional extensions to the string does not negatively impact brightness.
The Eve Light Strip will see release in February for $79.95, while the Energy Strip ships in March at a price of $119.
AppleInsider is attending the Las Vegas Consumer Electronics Show from January 8 through January 11 where we're expecting 5G devices, HomeKit, 8K monitors and more. Keep up with our coverage by downloading the AppleInsider app, and follow us on YouTube, Twitter @appleinsider and Facebook for live, late-breaking coverage. You can also check out our official Instagram account for exclusive photos throughout the event.