Scosche introduces trio of wireless charging mounts for the car and home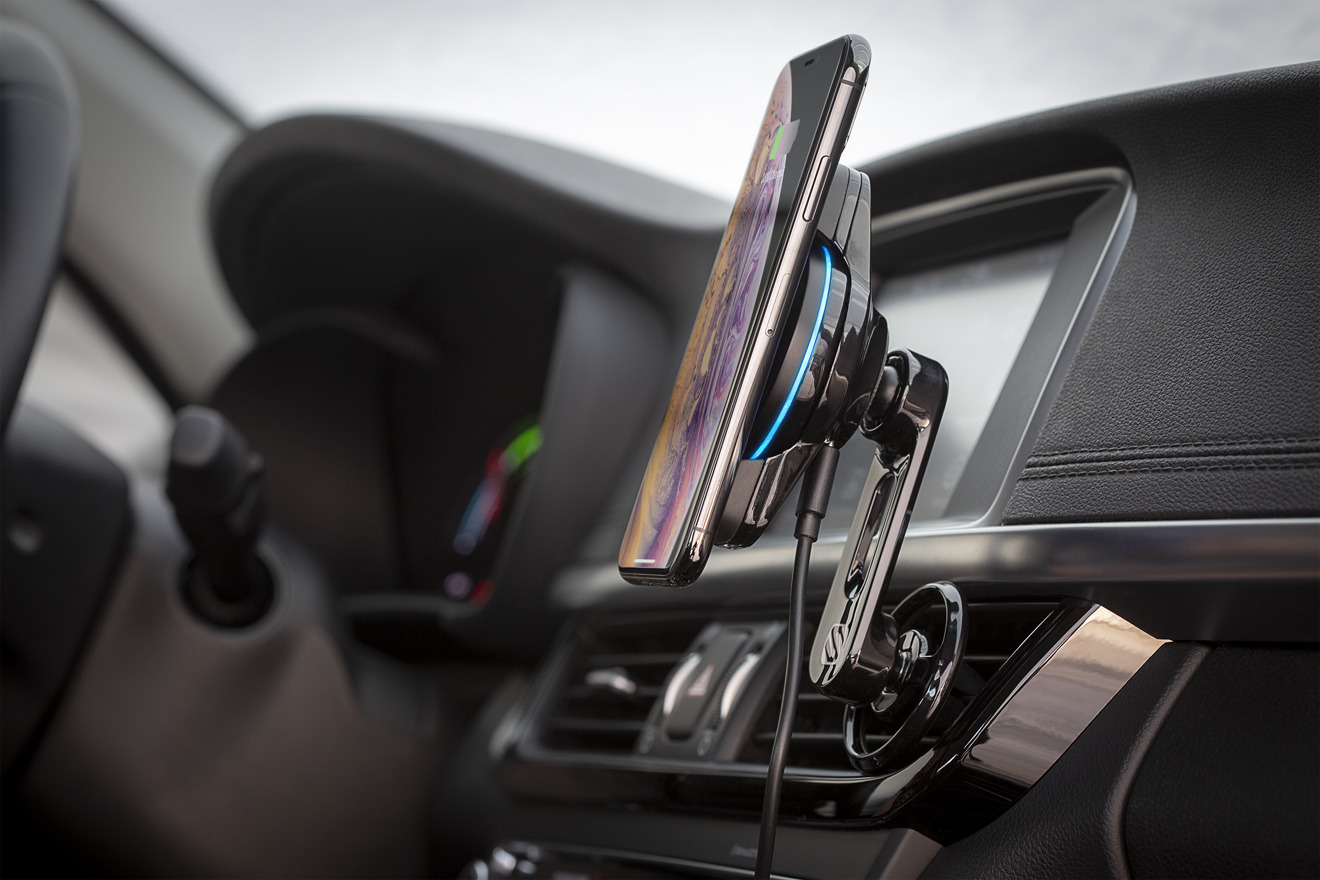 Scosche has used CES to launch a variety of charging accessories for mobile devices and other hardware, including two Qi charging mounts for vehicles and a table-top charging system that also keeps the work surface tidy.
The MagicMount Charge 3 is a range of Qi-certified charging mounts that offer up to 10W of wireless charging on supported devices. Able to rotate 360 degrees without being impeded by cables, the mount is able to hold an iPhone in portrait and landscape orientations, allowing it to be used for navigational tasks.
The extra feature of the Charge3 is that it has an articulated swing arm that keeps the mount out of the way of air vents, allowing the air conditioning system to work unimpeded. The arm also allows for the mounted device to be positioned in an ideal position for the user, giving more options for placement.
Available in a choice of four different mounting options, Scosche will be shipping the MagicMount Charge 3 in the spring, but has yet to announce pricing.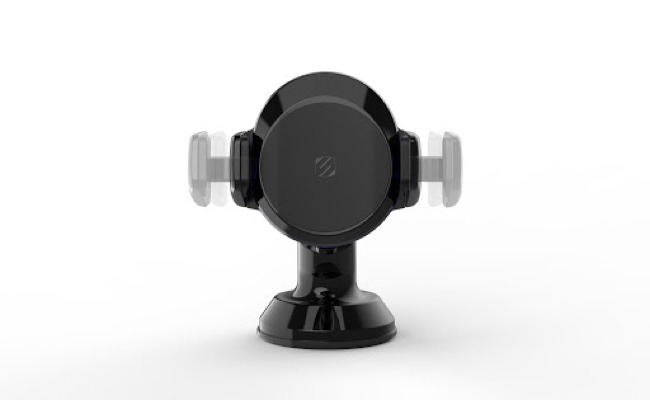 The MagicGrip Charge Wireless Charging Mount is a more advanced version that adds motor control to the mix. Rather than the user snapping their phone into place between tensioned cushions or using a magnetic mount, the MagicGrup instead senses if a Qi-equipped device like an iPhone is on its charging coil, then closes the motorized arms to grip the smartphone securely.
The use of motorized arms is said to include an extra benefit, in that it creates a thermal management channel between the iPhone and the Qi-charging head, to help disperse hot air and replace it with cooler air. The mount offers up to 10W charging power with support for fast charging, with the mount head able to be rotated 360 degrees to be used in any orientation.
Available in a choice of four mounting options, the MagicGrip Charge Wireless Charging Mount will be shipping this fall, with pricing to follow.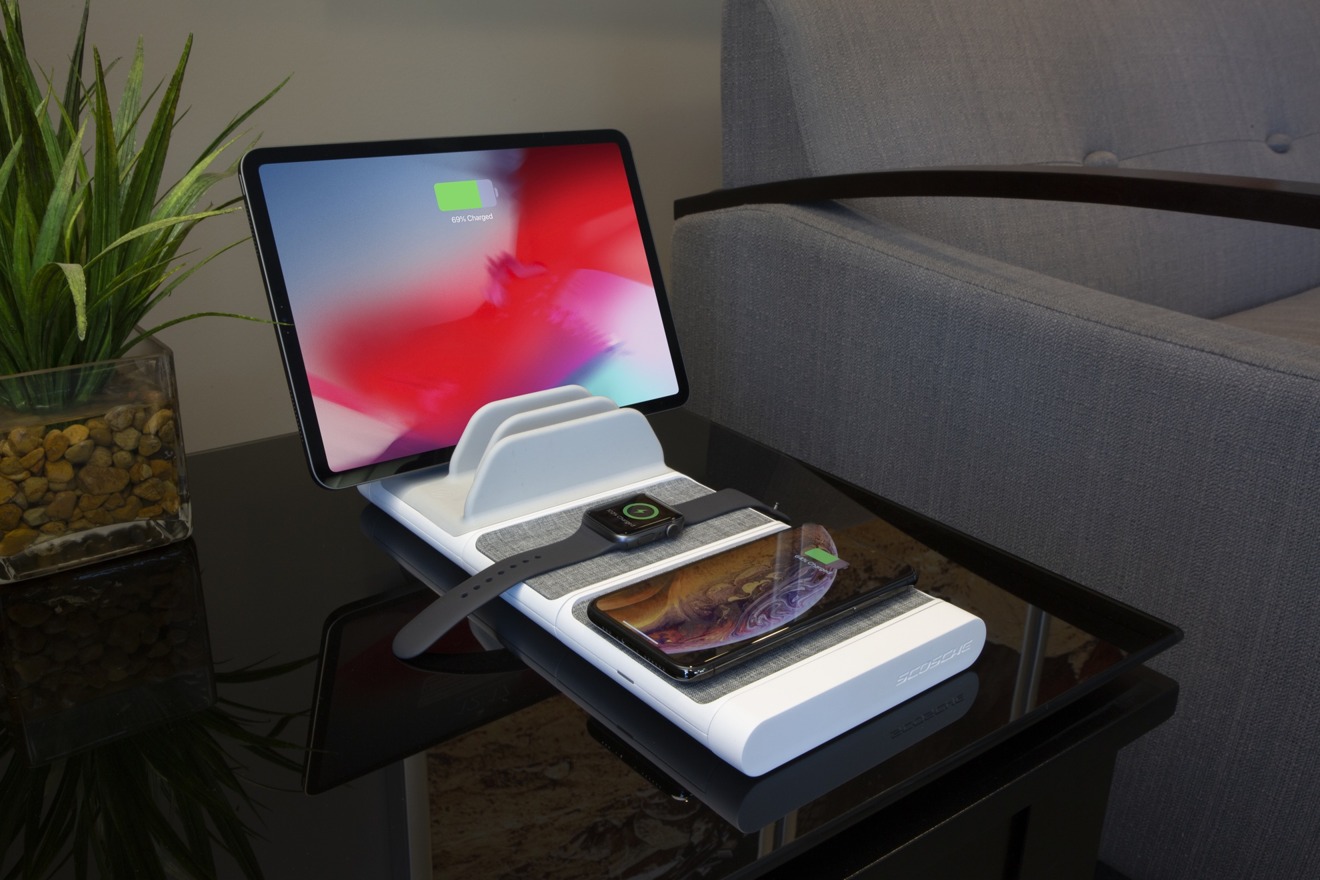 The Scosche BaseLynx is a modular charging system that uses multiple plates that connect together in a line. Each section is able to charge different items, with the system aiming to be a one-stop-shop for a user's charging needs.
The individual sections include a flat 10W Qi wireless fast charging dock, an Apple Watch charging dock that uses Apple's proprietary magnetic charger, and a vertical power station that can holster three tablets and offers two 12W USB-A port and one 18W USB-C port. There is also a powered end cap that also offers more USB-A and USB-C connections and a power indicator light.
Each of the charging docks can also be used independently rather than as a whole, as each are supplied with their own power cords and two end caps.
Scosche plans to ship the BaseLynx modular charging system this spring, for an unannounced price.