Apple teaming with Johnson & Johnson for stroke prevention study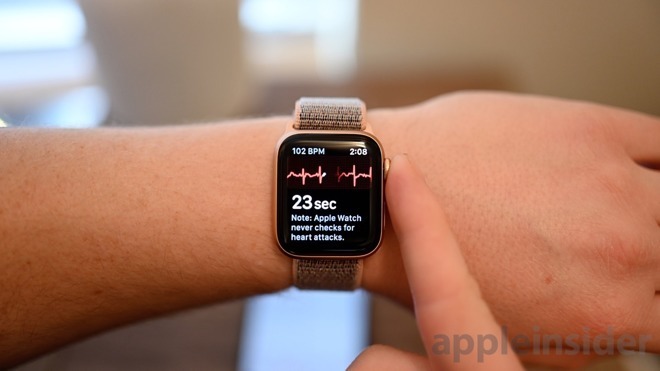 Apple and Johnson & Johnson will launch a study later in 2019 to figure out if the Apple Watch in conjunction with trend monitoring can assist in preventing strokes, in particular, ones induced by atrial fibrillation.
The study will focus on patients 65 years of age and older, given that they have the highest risk of not just atrial fibrillation, but strokes as well. Details on how to participate in the study have yet to be revealed, and are expected later in the year.
"We are receiving thank you letters daily from Apple Watch wearers who are discovering they have AFib. We want a deeper understanding about outcomes and prevention associated with early detection," said Apple Chief Operating Officer Jeff Williams. "We are excited to work with Johnson & Johnson, which has a long history and expertise in cardiovascular disease."
Johnson & Johnson's Executive Vice President and Chief Scientific Officer Paul Stoffels said of the study that "the goal is to identify early on AFib and prevent stroke by combining the physical know-how from Apple and what we have from the medical and scientific know-how."
"Utilizing wristwatch-based optical heart sensor and ECG monitoring is a logical evolution of this research and may also lead to increased AFib diagnosis and improved clinical outcomes for patients," said Dr. Paul Burton, Johnson & Johnson's vice president of medical affairs. "This collaboration brings together Johnson & Johnson's depth of expertise and long heritage in treating cardiovascular disease with Apple's experience in utilizing cutting-edge technologies to improve the lives of consumers. Ultimately, we hope to improve the treatment of cardiovascular disease, and identify ways to prevent it."
Atrial fibrillation is a change in the normal rhythm of the heart characterized by irregular beat, which is generally imperceptible by the sufferer. The disease is associated with a significantly higher rate of heart failure, stroke, and is linked to dementia as well.
Between two and three percent of North Americans and Europeans are affected by the disease. Four percent of people between 60 and 70 are afflicted, with the number rising to 14 percent of those over 80 years of age.
This study with Apple and Johnson & Johnson appears to be a more focused one than other studies, like the Stanford Heart Health Study, with the data collected being used specifically for stroke prevention. It is not clear at present how long the study will run, nor how many participants it will involve.
Apple has ramped up its positioning of the Apple Watch as a health accessory, launching the promised electrocardiogram (ECG) app for the Apple Watch Series 4 in early December 2018. Using the app and special sensors in the base and crown, the Series 4 can act as a single-lead ECG reader, making it the first FDA-cleared consumer product with that technology.