Taking a look at the rumors surrounding Apple's 'AirPods 2'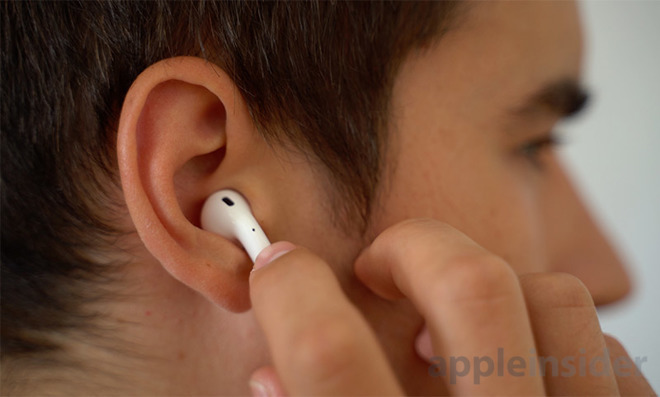 Apple's AirPods are a highly popular accessory, but with the possibility of a second-generation on the way that could include health tracking-related features, the next version is likely to be both more useful and even more desirable. AppleInsider looks at the rumors surrounding the upcoming earwear.
Familiar yet new
A recent report from Digitimes claimed Apple is set to release AirPods 2 sometime in the first half of 2019, packing some new health monitoring features and other upgrades, like wireless charging and Hey Siri support. The upgrades sound great and we're all excited to see what's in store for the next-generation of AirPods.
Wireless charging is coming to the AirPods, and we know that for a fact as Phil Schiller announced the optional AirPods wireless charging case alongside the AirPower charging mat at Apple's 2017 September event. If the wireless charging case will still be an optional purchase for either the original or next-gen AirPods, then the new version of AirPods will surely maintain the same form factor as before.
In February of 2018, rumors came out of a new pair of AirPods featuring Hey Siri support, improved water resistance and an upgrade to the W2 chip. A few months later at Apple's September Event, we were shown a short clip of one of Apple's staff using the Hey Siri feature with AirPods and running through a shallow pool of water at Apple's new headquarters, hinting at better water resistance.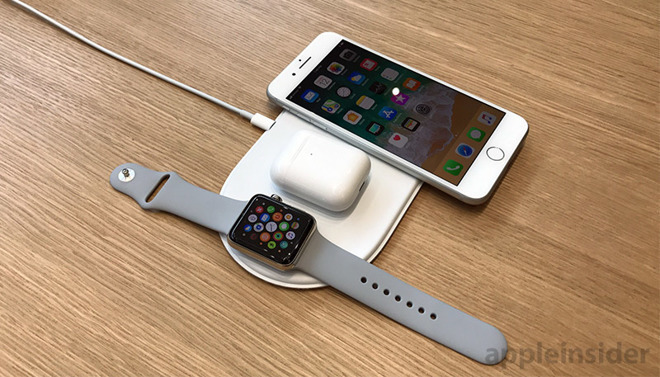 We can surely expect those features to come, and I personally believe the new AirPods will feature Bluetooth 5 and the W3 chip instead of W2, since the Apple Watch Series 4 already packs the W3 chip.
On Thursday, a "Hey Siri" configuration tool was discovered in the first iOS 12.2 beta, seemingly confirming the addition of the function for AirPods, though not necessarily advising if it would work with the current generation or that a new iteration is required.
There have also been rumors concerning future AirPods gaining active noise-cancellation, but we haven't heard much about that beyond whispers.
Healthy improvements
A big expected change for the next generation is the inclusion of health monitoring features.
Almost two years ago, Apple filed for three patents titled "Earbuds with biometric sensing." A more recent revelation is a patent that describes ways to allow an earbud to fit more securely within the ear canal, allowing it to have better contact with the skin.
Considering their content, these patents are more than likely meant for the AirPods.
Given the existing patents, we can expect the integration of a photoplethysmogram (PPG) sensor, the same used in the Apple Watch to measure a user's heart rate.
Interestingly, the patents talked about a temperature sensor which can possibly detect both the core temperature of the user and ambient temperature as well. The patents also mentioned a sensor to measure blood oxygen levels, which can be useful for things such as keeping track of your aerobic endurance.
Also alluded to was the use of electrodes that can cooperatively measure a number of different biometric parameters, like galvanic skin response or electrical activity of the heart, which is a different implementation of the same core technology that's used in the Apple Watch Series 4 to perform an electrocardiogram (ECG).
An ECG test using AirPods would simply measure the impulses going to each ear and make sure they're no irregularities.
But of course, there's no guarantee that we'll see this feature in the next-gen AirPods. Knowing Apple, better sound quality is likely as well.
The past is too good
Now, with all of those exciting features and updates coming to the new AirPods, what could possibly be the biggest threat to their sales? Well, none other than Apple's current AirPods themselves.
If you think about, many people are extremely happy with their AirPods, and if they're already satisfying your wireless earphone needs, why should you spend at least another $160 for an updated set?
There is always something new coming. You can always wait for the next version of something — but that's a harder wait if you don't have a set, and don't know exactly when the next version is arriving.
There is excitement surrounding the possibility of updated AirPods.However, when reality strikes and Apple announces the price of these new AirPods, a lot of current AirPods owners are going to have to decide if those new features will add enough value to their lives to make them worth spending the cash all over again.
It will probably come down to an individual judgement if the health monitoring features are worth it.
Where to buy AirPods