The first MFi USB-C to Lightning cable is up for pre-order, $3 cheaper than Apple's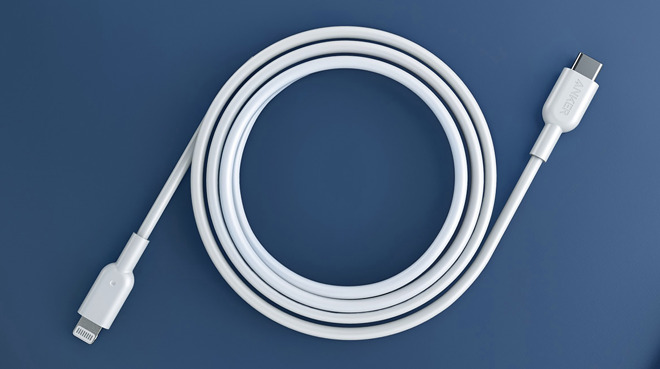 AppleInsider may earn an affiliate commission on purchases made through links on our site.
Accessory producer Anker has opened preorders for its first USB-C to Lightning cables, giving iOS device owners a slightly cheaper alternative to Apple's own cable that can be used to charge iPhones and iPads.
Revealed at CES in January, the PowerLine II USB-C Cable with Lightning Connector is Anker's first attempt at producing a Lightning cable that connects via USB-C. Preorders for the cable are now open, with Anker expecting to start shipping it to customers later in February.
Measuring three feet in length, the cable is claimed to have a 12,000 bend lifespan, which should allow it to keep up with the rigors of everyday cable usage. According to Anker's internal testing, it is 12 times more durable than other cables, though it is unclear what that metric equates to in average usage. The company is confident enough to also offer a lifetime warranty on the cable.
It is one of the first cables to be offered under Apple's MFi licensing, meaning it is officially sanctioned for use with Apple products by the iPhone producer itself. Apple has been relatively slow in opening up this product category to third-party vendors, but it is likely that more options will be available in the coming months as other firms offer up their versions.
By connecting using USB-C instead of normal USB, the cable allows for owners of more recent iPhones to use its the protocol's Power Delivery support, enabling fast charging when used with a higher-wattage power adapter. It also enables for iPhones and iPads to be charged directly from a MacBook, without requiring any extra dongles.
Anker is pricing the cable at $15.99, undercutting Apple's own version by about $3. While it has been shown in other color options, it is at first only available in white.