Grocer Kroger launches QR code-based payment service, snubs Apple Pay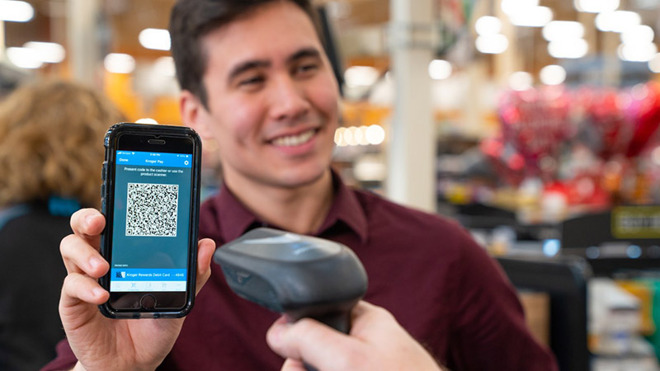 AppleInsider may earn an affiliate commission on purchases made through links on our site.
Grocery chain Kroger Co. rolled out a first-party mobile payments solution on Wednesday as it continues to rebuff third-party solutions like Apple's Apple Pay.
Dubbed Kroger Pay, the app-based solution generates single use QR codes on a customer's device, which are subsequently scanned by a Kroger cashier upon checkout. The service allows users to associate any major credit or debit card with the digital wallet.
Kroger launched Kroger Pay in Colorado and Columbus, Ohio, on Wednesday, with plans to expand availability to ten additional cities this spring before covering all stores nationwide by the end of 2019, reports local outlet WCPO. A separate Kroger Rewards debit card also debuted to tie store rewards to Kroger Pay purchases.
"Kroger Pay is one of the few mobile wallets that pairs loyalty and payment," said Mary Ellen Adcock, Kroger's vice president of operations. "The application of this exciting technology is another step in our front-end experience transformation."
According to the report, Kroger has been eyeing an entry into the mobile payments space for two years. In 2016, VP Matt Thompson said the launch of a digital wallet was on his "to do list," while the company in late 2017 entered an agreement to accept Chase Pay in some 600 stores. Chase Pay is built in part from the ashes of the CurrentC platform, a payments technology developed by the Merchant Customer Exchange consortium as a direct rival to Apple Pay. MCX ultimately abandoned the effort and sold CurrentC to JP Morgan Chase in 2017.
Kroger's adoption of a first-party service all but confirms that outside products like Apple Pay will not be accepted at the chain's nearly 2,800 grocery stores, at least in the near term.
Unlike Apple Pay, which employs NFC technology to securely transfer user credentials from an iPhone or Apple Watch to a compatible point of sale terminal, Kroger Pay and other QR code-based systems rely on visual assets that in some cases are more easily purloined by hackers. With one-time codes, Kroger's solution is more secure than static QR code options offered by competitors, but may not be as secure as Apple Pay's tokenized transaction technology that replaces credit card information with unique digital identifiers generated on a per-transaction basis.
As Kroger goes its own way with Kroger Pay, Apple's proprietary payment product is slowly picking up steam. Most recently, longtime holdout Target — a member of MCX — in January said it would adopt Apple Pay at its brick-and-mortar stores, while 7,000 Taco Bell and 2,200 Jack in the Box locations are slated to accept Apple's service in the coming months.