Apple Watch credited with saving life of Seattle man with AFib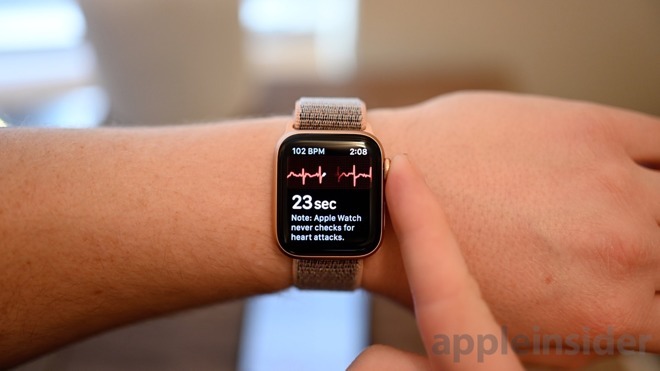 Apple Watch was credited with saving the life of a Bothell, Wash., man who used the device's heart monitoring features to learn that his atrial fibrillation had returned, prompting doctors to get him back on medication to prevent a stroke.
Previously diagnosed with AFib, the unnamed man was on blood thinners to correct the problem, but was ultimately cleared by doctors. While regular hospital monitoring showed normal heart rhythms, ECG readings from the man's Apple Watch Series 4, presumably taken at home, revealed irregular rates. After seeing the results, his cardiologist, Dr. Phil Massey of Pacific Medical Centers in Seattle, determined the AFib had returned and prescribed blood thinners to prevent a stroke, reports local news outlet KIRO7.
Atrial fibrillation (AFib or AF) is an irregular heart rate characterized by rapid, irregular beats that can lead to heart failure or stroke. While there are sometimes symptoms, it can often present without — as was the case for the man out of Bothell.
"He had been off of blood thinner and he didn't know it had come back," Massey said. "When you have AF it can be intermittent so he could come into the office and be in normal rhythm. But then he could show me the tracking on his watch and show me that it had come back. And then we got him on a blood thinner to prevent a stroke, so that is a big deal."
Massey was impressed with Apple Watch's functionality and remains optimistic that it can potentially save lives.
"I am hopeful that other heart rhythm problems will be able to be detected in the future outside of the doctor's office, and that's exciting," Massey said.
This isn't the first time someone was potentially saved by the ECG feature of Apple's latest Watch. A number of reports have highlighted the device's ability to detect AFib and other heart conditions since it launched in the fall of 2018.
Taking an ECG with your Apple Watch Series 4 is easy to do and involves opening the ECG app and placing a finger on the Digital Crown for 30 seconds. Results will fall into one of three categories: AFib, sinus rhythm (normal) or inconclusive.
February also happens to be American Heart Month which Apple has celebrated with a series of exclusive events at select Apple Stores across the country.