LG TV support for HomeKit and AirPlay 2 to launch mid 2019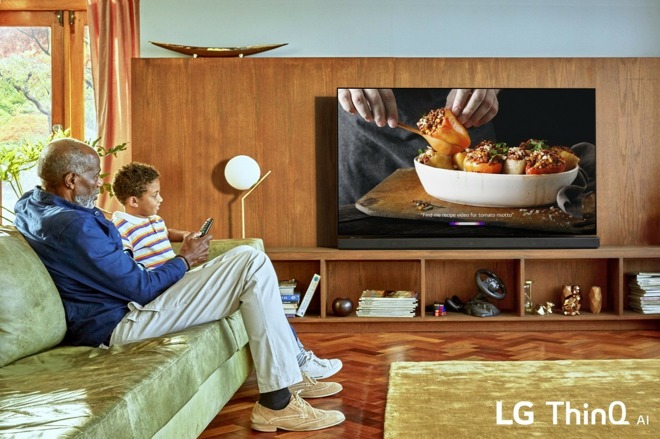 AppleInsider is supported by its audience and may earn commission as an Amazon Associate and affiliate partner on qualifying purchases. These affiliate partnerships do not influence our editorial content.
LG has narrowed the timeline for adding HomeKit support to its 2019 television models, specifying the release as arriving "mid-year."
The company in a press release Tuesday said HomeKit and AirPlay 2 will arrive as a "mid-year" upgrade for 2019 model year TVs.
AirPlay 2 will allow effortless streaming of audio and video content to LG TVs, while HomeKit support will add a wealth of control features that integrate with iOS. With HomeKit, users will be able to turn the TVs on and off, change inputs and more, directly through Control Center.
Owners of 2019 LG TVs will also receive a firmware update to add Amazon Alexa alongside the Google Assistant support that is already present.
"2019 LG TV owners can also expect to receive a firmware update that will add Amazon Alexa support to complement Google Assistant which is included out of the box, making LG the only TV brand to provide support for both leading AI platforms without the need for additional hardware," LG said.
It was during CES 2019 that LG announced support for AirPlay 2, with Vizio, Sony and Samsung also pledging varying degrees of support for their respective products.
LG was recently dinged for limiting AirPlay 2 and HomeKit support to its 2019 lineup, both features that other manufacturers are offering to owners of older hardware. A change.org petition was initiated, though LG seems to have brushed it aside.
Apple's recent iOS 12.2 beta cycle was the first to include support for HomeKit-enabled TVs. Changes include updates to the Home app and Control Center remote user interface to accommodate controlling televisions and not just the Apple TV.
Once iOS 12.2 is released, manufacturers will begin to add support for HomeKit and AirPlay 2 to their sets. Vizio has started a signup process for a beta program of its SmartCast 3 platform, which includes HomeKit and will be available in the first quarter of 2019.
As it has done with all the other AirPlay 2 and HomeKit accessories, Apple maintains a list of compatible TV models on its website.