Artists claim Apple pays in goods instead of cash for Today at Apple sessions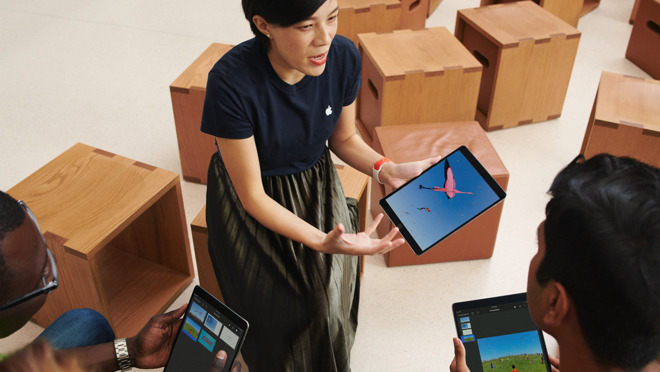 AppleInsider is supported by its audience and may earn commission as an Amazon Associate and affiliate partner on qualifying purchases. These affiliate partnerships do not influence our editorial content.
Apple has come under fire for failing to pay artists taking part in the Apple Store's Today at Apple sessions in San Francisco, after it was discovered participants were offered a free Apple product instead of receiving an appearance fee from the retail outlet.
The Today at Apple sessions provide a way for visitors to the Apple Store to see performances and discussions by artists and creative individuals. While potentially offering a number of benefits to those taking part, some artists are dissatisfied at their treatment by the iPhone maker, especially concerning how they are compensated for their appearance.
Artists taking part in the in-store events are not paid, according to a report from KQED, with eleven artists confirming no monetary compensation is offered by Apple at all for events in San Francisco. Compensation was provided, but in the form of goods, with the choice of AirPods, an Apple TV, or an Apple Watch Series 3 on offer.
It is thought that the practice has been occurring for quite some time, as Counter Culture Group founder Victor Valle advised of two artists who performed at the Union Square store in 2017, in exchange for an Apple Watch. At the same time, Valle believes the opportunity is good for artists at first glance. "This may feel like it's going to be the break for you, like, 'Oh man, we're doings something with Apple!" suggests the creative agency founder.
Valle declined further offers from Apple to book clients, noting there is "no return" for artists spending time and money making a show in that situation. "You take a hit financially trying to get a band together, pay your members, pay your way out to the store or even park in the ares," he adds.
The relative lack of promotion of an artist's event by Apple itself is also considered a problem for those taking part. The lack of official Today at Apple social media accounts and the simple listing of upcoming events on the Apple Store's page offers little marketing, but while Apple does provide digital assets in the form of "Instagram-ready flyers" the artists could post to their own social media accounts, the flyers also reuse the artists' existing promotional images.
A lack of a photographer to document one poetry reading was also seen as a misstep by playwright Ayodele Nzinga, who suggests the addition would have made working for trade a more worthwhile prospect for the event.
Vanessa Nguyen, a visual artist and producer known as Besame, enquired with Apple about potential monetary compensation, but was informed "all they could do was give product out." In that event, her creative collective Le Vanguard received a number of Apple TVs and an iPad.
Most of the artists contacted for the report believe Apple should pay for artistic labor if it truly values it, or to provide a sufficient level of promotion for the artists.
Apple was recently criticized for seemingly taking advantage of creative work, in its "Shot on iPhone" challenge. The original terms of the competition had Apple using winning images on billboards and in stores, but only offered exposure as the prize, a mistake Apple rectified quickly by offering to pay a licensing fee to winners.