Conor McGregor vs. fan's iPhone, 22 Apple Watches lifted from WalMart, and more in the Apple crime blotter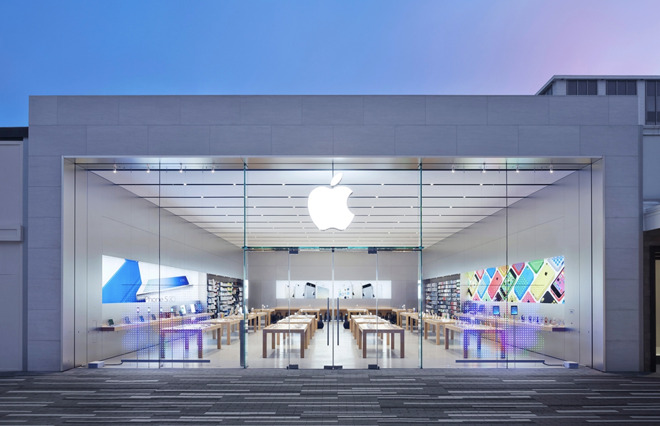 AppleInsider may earn an affiliate commission on purchases made through links on our site.
This week in the Apple crime blotter, MMA star Conor McGregor allegedly smashed a fan's iPhone, a thief broke into an app company's office in Brooklyn and stole MacBooks twice in two weeks, and more.
The Apple Store location in Oak Brook, Ill.
The latest in an occasional AppleInsider series, looking at the world of Apple crime.
Conor McGregor Accused of Destroying Fan's iPhone
The controversial MMA star Conor McGregor made headlines last week when he was arrested in Miami Beach for grabbing and smashing the smartphone of a fan who was attempting to take his picture. McGregor was charged with a pair of felonies, strong arm robbery and criminal mischief.
22 Apple Watches stolen from North Carolina WalMart
Police in Wilkesboro, N.C., are investigating the theft of 22 Apple Watches, valued at $8,655, from an area WalMart. According to the Journal Patriot, a single suspect was shown on security video at 2:17 a.m. placing the watches in a book bag.
MacBooks stolen from Brooklyn office
Thousands of dollars in MacBooks were stolen from the Brooklyn office of the app developer Fuzz, in what police believe were multiple thefts by the same individual. According to The Greenpoint Post, the thief stole six MacBooks on his first run, and then returned two weeks later and made off with nine more MacBooks, an iPad Pro and a Pixel phone.
Florida man accused of putting Apple TV down his pants
Man in Malta gets four years for stealing checks to buy Apple products
Authorities in Malta have convicted a 24-year-old Iranian immigrant for using stolen checks to purchase the equivalent of $36,000 in electronics products, including iPhones and MacBooks. According to Malta Today, he received four years in prison for the thefts.
Man accused of Apple Store theft on his birthday
A man in Chicago was arrested for stealing $700 worth of merchandise from an area Apple Store on his 49th birthday. According to the Chicago Tribune, the man took the undisclosed items from the location in Oak Brook.
Panhandler gets ticket after police noticed her iPhone X
A woman panhandling on the streets of Union Township, N.J., was suspected to not be what she seemed, when police noticed she was carrying both an expensive purse and an iPhone X. According to NBC Philadelphia, it turned out the woman was part of an organized ring that had been dropped off throughout New Jersey.
She was issued a summons for soliciting without a permit as well as a traffic ticket.
Rapper has iPad, MacBook, jewelry stolen from his car
Among the more than $500,000 in merchandise stolen from the car of a rapper was an iPad, a MacBook and AirPods. According to WSB, the rapper known as Young Dolph was eating lunch at a Cracker Barrel in Georgia when his Mercedes-Benz SUV was broken into.
In addition to the Apple products, the stolen items included a $230,000 watch, expensive gold chains and sunglasses, a Glock firearm, and a $300 backpack.
Legislator's husband accused of using stolen credit cards to buy iPad
A Rhode Island man who is married to a state representative in that state has been arrested for stealing and using credit cards. According to the Associated Press, Henry Fellela Jr. is accused of stealing credit cards from the mail and using them to buy such items as an iPad, a Microsoft Surface, and a toaster.
Fellela, who is charged with identify theft and fraud, previously did four years in federal prison, also for using stolen credit cards.
Man arrested for Connecticut Apple Store theft
A man was arrested this week for

">stealing three pairs of headphones

from the Apple Store in Trumbull, Conn., last August. The man, according to Patch, was arrested after a security officer recognized him from "from New Jersey shoplifting cases."