The Wall Street Journal reportedly joins Apple News service, NYT and Washington Post decline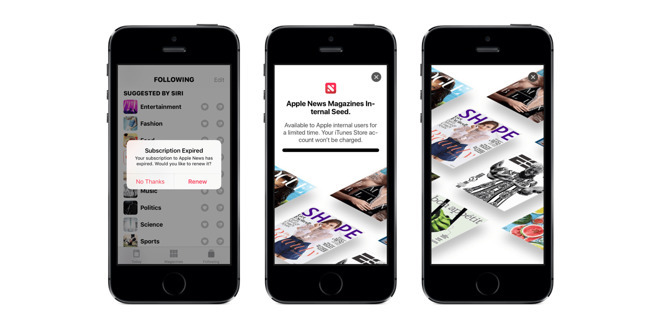 According to a report on Wednesday, The Wall Street Journal plans to join Apple's widely rumored for-pay news service, one of only a handful of top-tier publications thought to be participating in the initiative.
Citing people familiar with the deal, The New York Times reports The WSJ has acquiesced to Apple's revenue sharing terms and will join the tech giant as a launch partner of a new subscription news service set for unveiling at a special event on March 25.
The WSJ will be a rare jewel in the proverbial Apple News crown. As reconfirmed by today's report, other large publications like The Washington Post, and The Times itself, have not signaled intent to join Apple's new venture.
A major sticking point for publishers is Apple's supposed terms for inclusion in the forthcoming service. Previous reports claimed the iPhone maker is demanding a 50 percent cut of revenue on what is expected to be a $10 per month subscription. The remaining 50 percent will supposedly be pooled and subsequently meted out evenly amongst participating publishers.
Publications with their own subscription program, like The Post, likely see little upside to Apple's model as they charge similar rates for access to first-party content. The Times, for example, charges subscribers $15 per month.
The Times echoed the previously reported 50 percent figure on Wednesday, adding that Apple is also seeking unlimited access to all content produced by potential partners. With terms 20 percent more dear than Apple's customary 30 percent App Store fee (which turns into 15 percent on subscriptions older than a year), customer data restrictions and onerous content demands, publishers are hesitant to join the service.
Apple is reportedly leveraging a massive install base — 900 million active iPhones — as a key selling point in its negotiations, arguing the news product will expose publisher content to millions of new users. Established news outlets, however, have for the most part not taken the bait.
AppleInsider will be on the scene in Cupertino with live coverage of Apple's March 25 press event starting at 10 a.m. Pacific, 1 p.m. Eastern.