Mark Zuckerberg joins Tim Cook in calls for privacy, electoral integrity legislation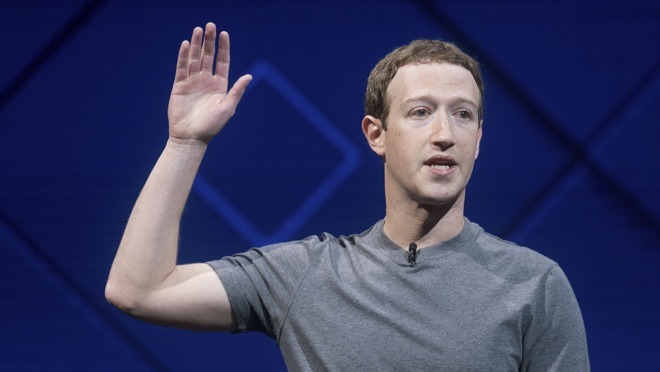 Facebook chief Mark Zuckerberg is following Apple CEO Tim Cook and other major privacy advocates in calling for governments to "regulate the internet," by offering up suggestions for how lawmakers and regulators could create new rules that the social network and other tech firms should follow to protect elections, reduce harmful content, and to enhance privacy.
In an editorial posted to Facebook's media pages on Saturday titled "Four Ideas to Regulate the Internet," Zuckerberg attempts to turn around criticism of Facebook and other tech companies for their privacy policies onto lawmakers. The piece acknowledges tech firms make frequent judgements over what is considered harmful speech, what counts as political advertising, and preventing cyberattacks, but suggests governments could be helping out as well.
"I believe we need a more active role for governments and regulators," writes the CEO. "By updating the rules for the internet, we can preserve what's best about it - the freedom for people to express themselves and for entrepreneurs to build new things - while also protecting society from broader harms."
Zuckerberg reasons there is a need for regulation covering four areas: harmful content, maintaining the integrity of elections, privacy, and data portability.
Facebook has a responsibility to keep users safe, and that means it has to make the call on what constitutes harmful content, such as terrorist propaganda or hate speech. Admitting to making mistakes and questionable choices, but blaming the scale of the problem, Zuckerberg claims to agree with lawmakers that Facebook has too much power over speech.
"We're creating an independent body so people can appeal our decisions," he announces. "We're also working with governments, including French officials, on ensuring the effectiveness of content review systems."
A standardization across multiple sharing services is also called for, with the suggestion of third-party bodies setting standards and measuring compliance surrounding harmful content, as well as regulation setting "baselines for what's prohibited."
On the subject of elections, Facebook has reportedly made a number of "significant changes" around political advertising, including requiring advertisers to verify their identity before buying political ads, and creating a searchable archive showing who pays for ads. However, he puts a call out for regulation creating "common standards for verifying political actors," as determining if an ad is political or not isn't straightforward.
Citing existing laws focusing on candidates and elections rather than "divisive political issues" that Facebook has "seen more attempted interference" through, as well as how some laws only apply during elections whereas information campaigns run constantly, Zuckerberg also points out the assortment of questions in political campaign usage of data and targeting of individuals and groups.
This latter point is pertinent, as the Cambridge Analytica scandal that may have helped political organizations campaign during elections has been a major issue for Facebook. The company is currently in negotiations with the US Federal Trade Commission over privacy violation fines that could extend to billions of dollars.
"We believe legislation should be updated to reflect the reality of the threats and set standards for the whole industry," comments Zuckerberg.
A "globally harmonized framework" for privacy and data protection is requested as the third idea, with the CEO agreeing with the idea of comprehensive privacy regulation in line with Europe's GDPR. "I believe it would be good for the internet if more countries adopted regulation such as GDPR as a common framework."
The protections including how information is used, data storage, and accountability for firms, should be applied in the United States in any new privacy regulation, he suggests. "I also believe a common global framework - rather than regulation that varies significantly by country and state - will ensure that the internet does not get fractured, entrepreneurs can build products that serve everyone, and everyone gets the same protections."
The last section, data portability, should enable users to be able to shift shared data from one service to another. "True data portability should look more like the way people use our platform to sign into an app than the existing ways you can download an archive of your information," according to Zuckerberg, "but this requires clear rules about who's responsible for protecting information when it moves between services."
"I believe Facebook has a responsibility to help address these issues, and I'm looking forward to discussing them with lawmakers around the world." Zuckerberg goes on to point out people "shouldn't have to rely on individual companies addressing these issues by themselves. We should have a broader debate about what we want as a society and how regulation can help."
The statement ends urging "It's time to update these rules to define clear responsibilities for people, companies, and governments going forward."
Zuckerberg makes a number of similar calls and observations as Apple CEO Tim Cook in asking Congress and other governments to reform data privacy laws, including how data is stored, minimized, and secured. Some efforts are being made by lawmakers, including bipartisan privacy bills, but it may still be some time before the US government makes the needed changes.