Apple opens Texas recycling lab, increases program efforts ahead of Earth Day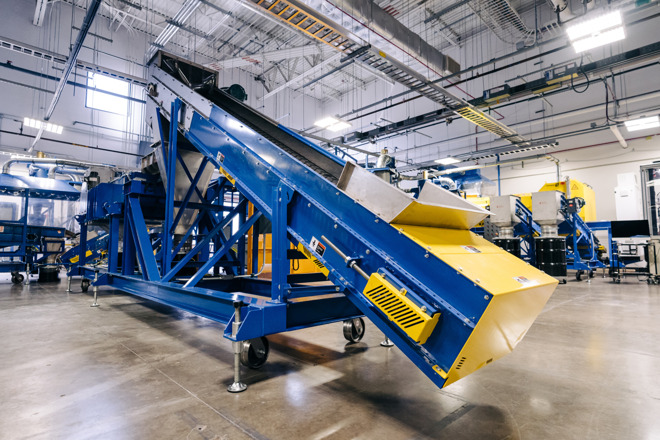 AppleInsider may earn an affiliate commission on purchases made through links on our site.
Apple is expanding its recycling programs in a number of ways, including quadrupling the number of places in the United States an iPhone will be accepted for recycling, and the opening of a Material Recovery Lab in Texas to find ways to improve the environmental effort in the future.
Announced as part of a raft of environmentally-friendly changes, Apple is increasing the number of outlets a customer can go to if they wish their old iPhone is disassembled and recycled. Daisy, Apple's recycling robot, will now disassemble "select used iPhones" returned to Best Buy stores across the United States, or in the Netherlands, KPN retailers, as well as the Apple Store and Apple.com as part of the Apple Trade In program.
So far, Apple has received nearly 1 million devices for recycling, with Daisy capable of disassembling 1.2 million devices per year. For 2018 alone, more than 7.8 million Apple devices were refurbished, effectively saving in excess of 48,000 metric tons of electronic waste from going to landfill.
Daisy is now capable of disassembling 15 iPhone models at a rate of 200 units per hour. Materials reacquired via Daisy are put back into the manufacturing process, including cobalt, which is for the first time being mixed with scrap from manufacturing sites and used in the process to produce new Apple batteries.
Starting this year, aluminum recovered via the Apple Trade In program will be reused for MacBook Air enclosures. Apple already uses 100 percent recycled aluminum in the construction of the MacBook Air and Mac mini enclosures, nearly halving the production carbon footprint compared to earlier models.
The new Material Recovery Lab, based in a 9,000-square-foot facility in Austin, Texas, aims to find new solutions to recycling problems, with a view to using robotics and machine learning to improve on existing methods. The lab will work Apple engineering teams as well as members of academia to come up with the new solutions.
"Advanced recycling must become an important part of the electronics supply chain, and Apple is pioneering a new path to help push our industry forward," said Apple vice president of Environment, Policy and Social Initiatives Lisa Jackson. "We work hard to design products that our customers can rely on for a long time. When it comes time to recycle them, we hope that the convenience and benefit of our programs will encourage everyone to bring in their old devices."
The recycling program changes arrive at the same time as Apple's 2019 Environment report, which covers how the company aims to combat climate change. Highlights include a recent announcement that 44 of its suppliers are committed to using 100 percent-renewable energy.
Taking place on April 22, special environmentally-themed Today at Apple Sessions will be held at all Apple Stores to mark Earth Day, while the App Store will feature original stories and collections of apps based on the theme. For Apple Watch users, a special Earth Day award and stickers for Messages will be available if they complete a 30-minute workout outside on that day.