Apple Watch authentication for more actions tipped for macOS 10.15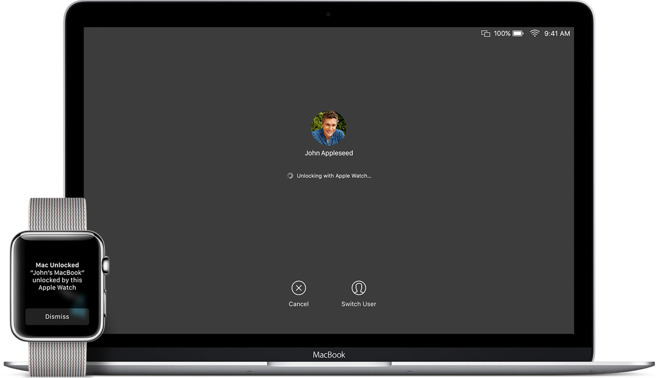 The Apple Watch could be used to perform more authentication for the Mac in macOS 10.15, as it is thought the operating system update will expand the usage of the wearable device to authenticate users for more tasks than just unlocking the Mac without entering a password.
Since the introduction of macOS Sierra, the Apple Watch had the ability to unlock a Mac when it is work by the user and positioned nearby to the device. As a worn piece of biometric security, it was able to be used as a security token and to automatically unlock the Mac, saving users from authenticating manually each time.
The Apple Watch can also be used to authenticate an Apple Pay transaction on a Mac, using the double-click action similar to an in-store payment, and can also be used instead of a Touch ID authentication for the payment with some MacBook models.
For the next major release of macOS, the functionality may be expanded to allow the Apple Watch to be used as authentication for a wider selection of tasks. Sources speaking to 9To5Mac allegedly familiar with the development of macOS did not mention what kind of items could use the presence of an Apple Watch as authentication, but it is likely to be able to cover practically any instance where Touch ID would be an acceptable authentication measure.
Due to the potential for some transactions to not be secure enough to automatically be authorized by the existence of an Apple Watch, it is plausible a new user interface element will be introduced to watchOS to authorize transactions from the Apple Watch display.
If Apple is to introduce expanded Apple Watch-based authentication, it is likely the company will show off the feature alongside other new functions at the Worldwide Developers Conference, which will start from June 3rd. Current speculation has Apple introducing standalone Music, Podcasts, and TV apps in macOS, as it separates out some of the functions of iTunes.