US survey reveals iPhone XR most popular model, middling Services uptake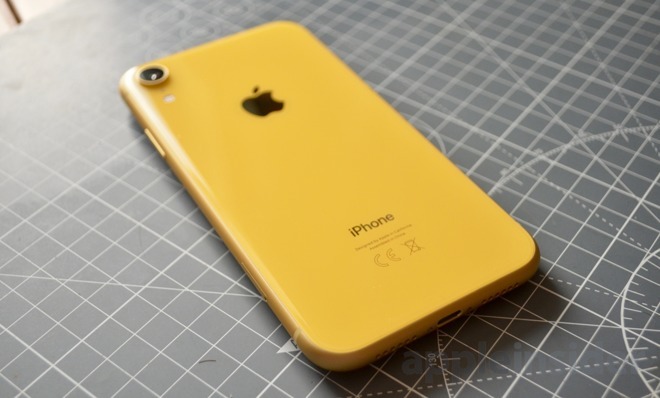 The iPhone XR was the most popular iPhone model sold in the United States for the quarter ending March 2019, a survey has revealed, while the company's move towards pushing services apparently has quite a way to go before iTunes, Apple Music, and others are actively being used by the majority of iPhone owners.
In its latest analysis, Consumer Intelligence Retail Partners claims the current-generation of iPhones makes up most US-based iPhone sales, with the iPhone XS, XS Max, and iPhone XR accounting for 59% of purchases in the March quarter. Of the three, the iPhone XR is the highest selling with a 38% share, while the XS and XS Max took up 21 percent of sales combined.
"iPhone XR continues to dominate US iPhone sales," writes CIRP partner and co-founder Josh Lowitz. "It remains the best-selling individual model again this quarter, after launch early in the December 2018 quarter."
The newest iPhone models are said to have sold in the same ballpark as those launched last year, which in the comparative period achieved a 60% share of iPhone sales. Based on that trend, CIRP anticipates an average selling price of around $800, which is slightly down from the previous quarter.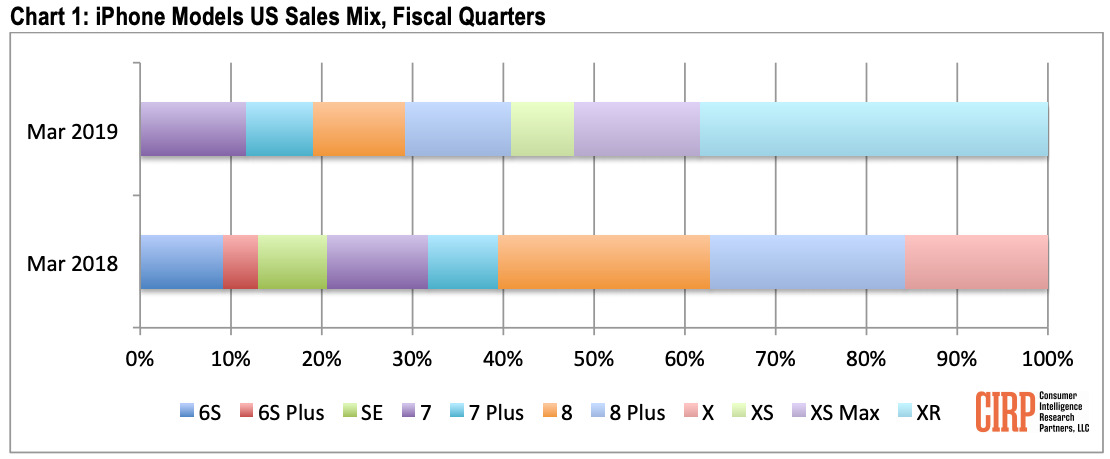 While promising, the survey put questions to 500 US Apple customers who bought an iPhone, iPad, Mac, or Apple Watch in the January to March 2019 period. It does serve as an indicator of consumer intent, but it isn't necessarily as accurate as sales data or information provided by Apple directly.
Last week, another survey revealed Apple's iPhone was the most popular smartphone among all vendors in the US for the quarter, taking up 36% of the market over second place Samsung's 34% share.
The latest survey also delved into how iPhone owners use Apple's services, an important element considering the increased effort to further improve its offering to consumers. Among US iPhone buyers in the quarter, 48% revealed they paid for iCloud storage extensions, though it is unknown if this is based on existing iCloud storage used by the device owner or if it was purchased during the quarter.
Apple Music and iTunes had reported usage by 21% and 13% of US iPhone owners respectively. Only 3% of customers opted to pay for AppleCare to cover their iPhone.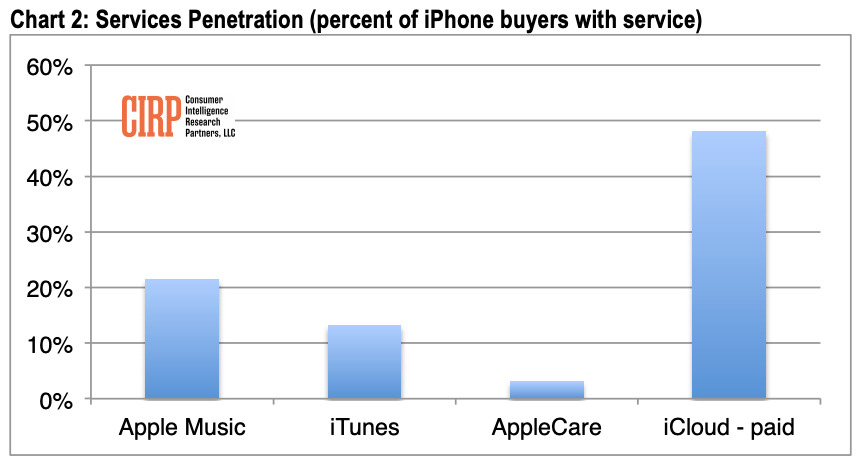 "iCloud paid storage has the highest penetration, which makes sense given how easily it integrates with Apple devices, and that it solves a common storage problem at a modest cost," writes CIRP partner and co-founder Mike Levin. "On the other hand, AppleCare warranties sell poorly, in light of the intense competition from mobile phone carriers, retailers, and other warranty providers."
Levin also raises the stiff competition in streaming music that affects both iTunes and Apple Music, which may make it hard to convert iPhone customers into Apple Music subscribers. On April 5, it was revealed Apple Music had surpassed main rival Spotify in terms of paid US subscribers, and is closing the gap in other territories.