3D printed '2019 iPhone' lineup compared to iPhone XS, XS Max and XR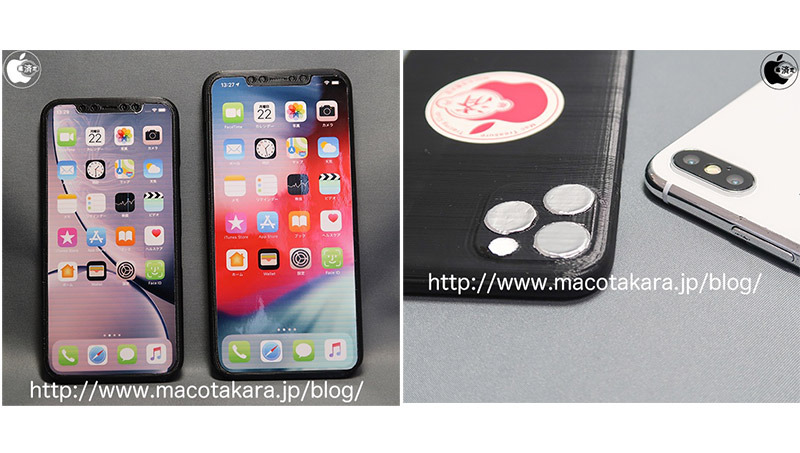 AppleInsider is supported by its audience and may earn commission as an Amazon Associate and affiliate partner on qualifying purchases. These affiliate partnerships do not influence our editorial content.
Supposed replicas of Apple's next-generation iPhone lineup are beginning to circulate in Asia ahead of an expected release this fall, offering an opportunity to compare the mockups' physical dimensions with existing models.
In a report on Thursday, Japanese Apple blog Mac Otakara compares and contrasts a set of 3D printed "iPhone XI" mockups obtained from an Alibaba marketplace source with Apple's existing iPhone XR and XS models. Specifically, the samples depict 6.1- and 6.5-inch OLED-toting handsets rumored to arrive in September as refreshes to the iPhone XR and XS Max.
The dummies were created using supposedly leaked CAD files, though the origin of the data remains undisclosed. Earlier today, graphical mockups of a 5.8-inch OLED model, thought to replace the iPhone XS, hit the web and were based on "final CAD renders of the device."
Whether the two CAD leaks are related is unknown.
Mac Otakara notes the 6.1-inch version measures in at 143.9mm tall, 71.3mm wide and 7.9 mm thick, which is approximately 0.3mm taller, 0.4mm wider and 0.2mm thicker than the 5.8-inch iPhone XS. That extra space could allow for the inclusion of a larger 6.1-inch display, as claimed in the report, but Apple would likely need to slim down bezel size to make the screen fit. How the supposed change impacts screen ratio is unclear.
Compared to the current iPhone XR, which boasts a 6.1-inch LCD, the 6.1-inch mockup is 6.1mm shorter, 4.3mm more narrow and 0.4mm slimmer.
As for the 6.5-inch version, the mockup comes in at 157.6mm tall, 77.6mm wide and 8.1mm thick, roughly 0.1mm taller, 0.2mm wider and 0.4mm thinner than the 6.5-inch iPhone XS Max.
Both mockups incorporate a large square camera "bump" that features three lenses in a triangular layout alongside a single TrueTone flash module.
The publication conducted a similar comparison of mockups from Alibaba last year, a test that yielded largely accurate results and foreshadowed what would become iPhone XR, XS and XS Max.
Apple is expected to refresh its iPhone lineup later this year with so-called "iPhone XI" models. According to analyst Ming-Chi Kuo, the smartphones will include camera improvements like a super-wide rear-facing lenser and an improved 12 megapixel front-facing camera. As for displays, Kuo believes Apple to carry over OLED technology for the 5.8- and 6.5-inch versions, while others, namely Mac Otakara, predict a move to OLED for the 6.1-inch model.