Renders of '2019 iPhone' depict square camera bump as part of rear glass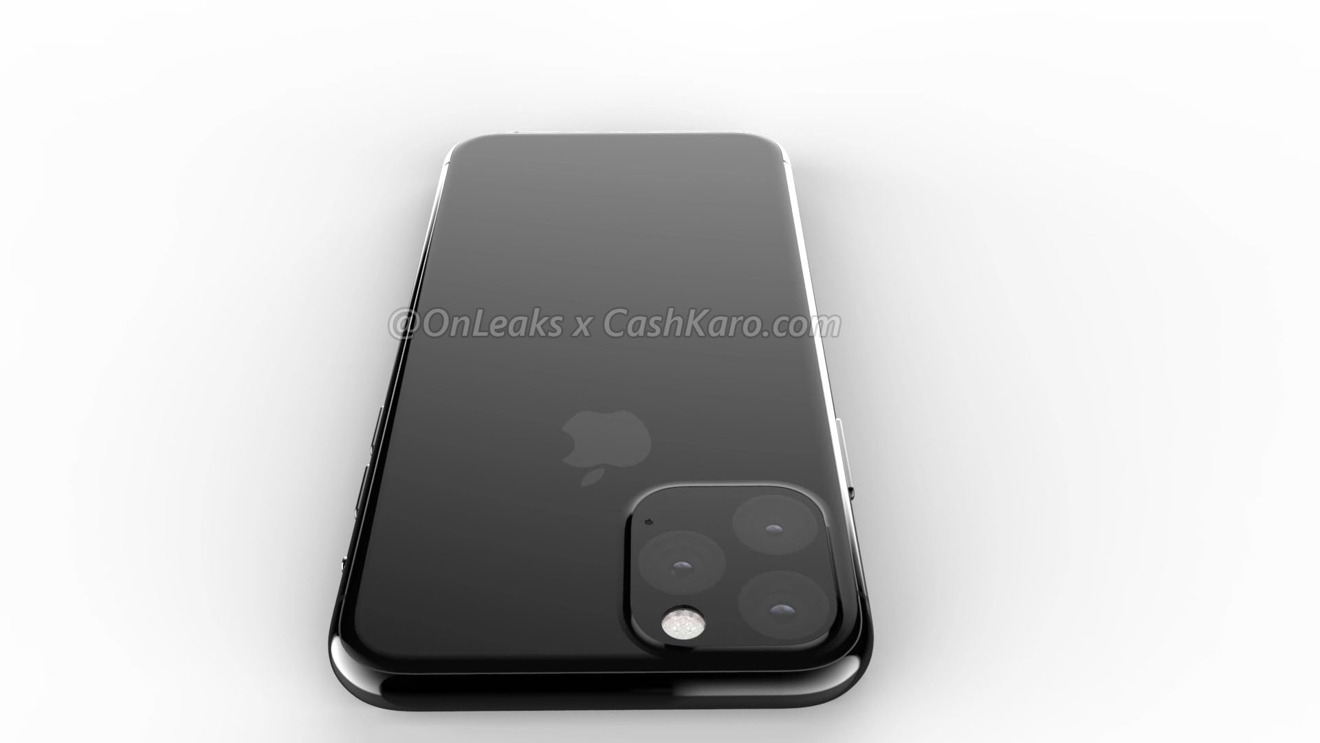 New renders of what the 2019 iPhone lineup could look like have been published, continuing to depict the long-rumored triple camera setup with a bump made from the rear glass of the device, as well as suggesting the notch and bezels will reduce to provide users with a seemingly higher screen-to-phone proportion.
Rumors about the triple-lens camera setup have largely agreed on Apple's use of a square camera bump to hold all of the imaging sensors, though there is still some debate as to how the lenses will be arranged within that bump. Depending on the rumor, the four elements are either to be placed equidistant in quadrants or the lenses will be in an offset "triangle."
In new renders from CashKaro and serial leaker Onleaks, the 2019 iPhone will opt for the triangular formation, with the flash in the top right hand corner. The camera bump is shown to be part of the same glass back rather than a separate component, with no metal edge to protect the bump at all.
On the front, the 5.8-inch display will apparently benefit from having a smaller notch at the top, as well as slightly slimmer bezels than the iPhone XS, giving the appearance of there being more display despite being a physically similar size. The supposed dimensions of the device will be 143.9 by 71.4 millimeters, and 7.8 millimeters thick excluding the rear camera bump, 9 millimeters including.
Another element that is different from normal is a refined "mute" button, which resembles a version used in earlier iPad models that slides vertically. In this particular render, a Lightning port is used rather than USB-C.
The renders are allegedly based on the "final CAD renders of the device," though it is not advised of where the CAD files were sourced from. As with other rumors and "leaks" relating to the iPhone, there is no guarantee any are correct until Apple actually presents the smartphone at its usual September event.
The triple camera setup is thought to be an expansion on the established dual-camera version used in the iPhone XS, XS Max, and older models. Along with the usual wide and telephoto lenses, the third may offer a super-wide angle, though it could also have a different purpose, similar to the 3D depth mapping offered by an extra camera included in the 5G version of the Samsung Galaxy S10.
Previous rumors and leaks on the next iPhone generation have included a photograph allegedly showing the internal chassis of the device with the camera configuration depicted in the new render, a questionable manufacturing schematic, and claims it will have a "Wireless PowerShare" function to wirelessly charge devices like the Apple Watch and AirPods.