Apple amping up purges of apps that are similar to iOS 12 Screen Time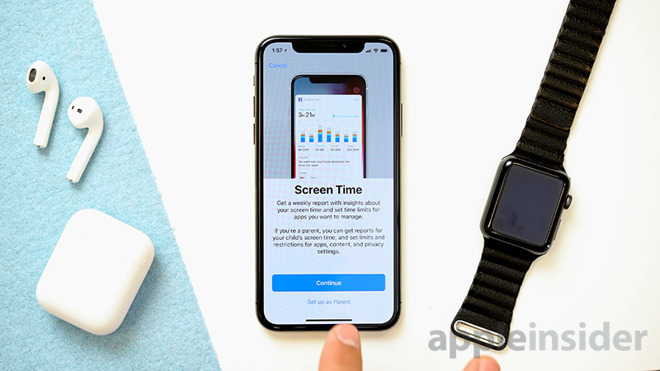 AppleInsider may earn an affiliate commission on purchases made through links on our site.
Apple has eliminated 11 of the 17 most popular screen time monitoring and parental control apps from the App Store, and has done so with increasing frequency since it launched its own monitoring tool, Screen Time, in iOS 12.
Apple's withdrawals started arriving shortly after Screen Time arrived in iOS 12, and have progressed to more and more apps as the months have worn on. Reportedly, there has been an escalation since December, when the removals were first spotted.
"They yanked us out of the blue with no warning," Chief Executive of OurPact Amir Moussavian told the New York Times in a new report published on Saturday. "They are systematically killing the industry."
In many cases, the apps that had demands for feature removal were more full-featured than Apple's ScreenTime. Some third-party apps removed allowed for iPhone-owning parents to monitor Android devices. Others blocked in appropriate content on browsers other than Safari. Neither feature is available in Screen Time.
The move is explicitly authorized by the terms of conditions that all developers agree with, when they publish apps through the App Store. In speaking with Apple on Saturday morning, AppleInsider was told that the feature removal requests and app withdrawals fall under section 5.2.5 of the App Store app review guidelines, specifically saying "don't create an App that appears confusing similar to an existing Apple Product, interface, app, or advertising theme."
Developers have also been told that they were violating guideline 2.5.1 of the guidelines, which prohibits use of public APIs in an unapproved manner.
Some rejection letters seen by AppleInsider since the original December report inform developers that the apps, as submitted, potentially have too much access to a child's data, in possible violation of section 17.4 of the Children's Online Privacy Protection Act (COPPA), and the related section 1.3 of the App Store terms. However, many of the sections of COPPA cited by Apple's rejections can be bypassed by parental consent, which presumably the parents would grant, if they're installing some form of monitoring application on an iPhone.
"We treat all apps the same, including those that compete with our own services," Apple said, in a statement to AppleInsider and other venues. "Our incentive is to have a vibrant app ecosystem that provides consumers access to as many quality apps as possible."
In social media, the app removal report is bringing up the long-time neologism "Sherlocked" for when Apple replaces a third-party application's functionality with something baked into the operating system. Over 15 years ago with the release of MacOS X 10.2, Sherlock 3 was a substantively similar Apple-generated clone of Karelia Software's Watson. Ultimately, Sherlock 3 effectively killed Watson, spawning the "Sherlocked" term.