Apple says it removed parental control apps because they posed privacy risk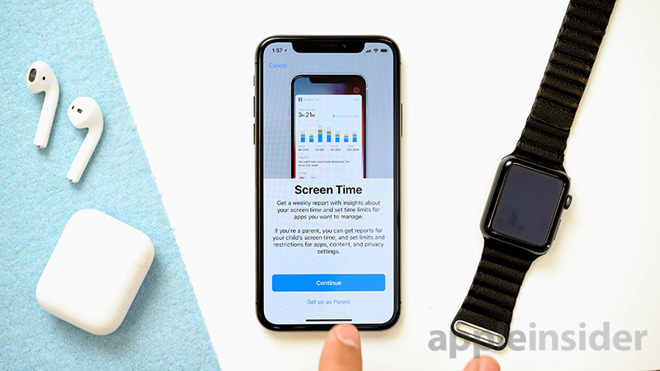 Apple on Sunday issued a formal response to a New York Times report that implied the company removed a number of parental control apps from the App Store to quash competition, saying the titles in question posed a threat to user security.
In its report, The Times said Apple removed a number of screen time monitoring and parental control apps over the past year, sometimes without adequately notifying developers. The tech giant also leveled restrictions or forced material feature changes that left some titles stripped of key functionality.
Developers who provided statements to The Times suggested Apple's prohibitions were instated to put a damper on apps competing with the Screen Time feature that debuted with iOS 12. The tool includes usage monitoring and device control functions rendered redundant by certain third-party apps, the report charged.
Apple responded to the claims in a lengthy post to its Newsroom webpage, titled "The facts about parental control apps." Contradicting developer implications, Apple said the apps were removed because "they put users' privacy and security at risk."
The company's statement largely reiterates salient points from an email marketing chief Phil Schiller sent to a concerned customer on Saturday. Specifically, apps affected by the targeted takedown were found to rely on "highly invasive" Mobile Device Management (MDM) technology.
MDM integration allows deep access to a device and its stored data. As Apple notes, the technology is often used in large-scale enterprise device deployments to protect hardware and potentially sensitive information like proprietary software. Due to its inherently invasive feature set, MDM should not be employed in private sector apps like those offered up to consumers on the App Store, Apple's statement reads.
Apple said it began to investigate the use of MDM in non-enterprise apps in early 2017, an undertaking that prompted an update to the company's developer guidelines later that year. The new rules were cited in the parental control app crackdown.
Developers found to be in violation of the guidelines were given 30 days to fix the issue and submit an app update. Some acquiesced to Apple's requests, but others did not and had their wares removed as a result.
"Parents shouldn't have to trade their fears of their children's device usage for risks to privacy and security, and the App Store should not be a platform to force this choice," Apple said. "No one, except you, should have unrestricted access to manage your child's device."
Apple further denies claims that the removals are related to its own Screen Time feature.
"Apple has always supported third-party apps on the App Store that help parents manage their kids' devices," the company said. "Contrary to what The New York Times reported over the weekend, this isn't a matter of competition. It's a matter of security."
Despite Apple's explanation, developers are taking action against what they believe to be anticompetitive behavior. Two parental control apps featured in The Times' report, Kidslox and Qustodio, last week filed a complaint with the European Union's anti-competition office on allegations that Apple's forced changes had a negative impact on business. Kaspersky Lab did the same in Russia last month following the removal of its "Safe Kids" parental control app.