Review: Denon AH-D5200 headphones stand out with Zebrawood ear cups & stunning audio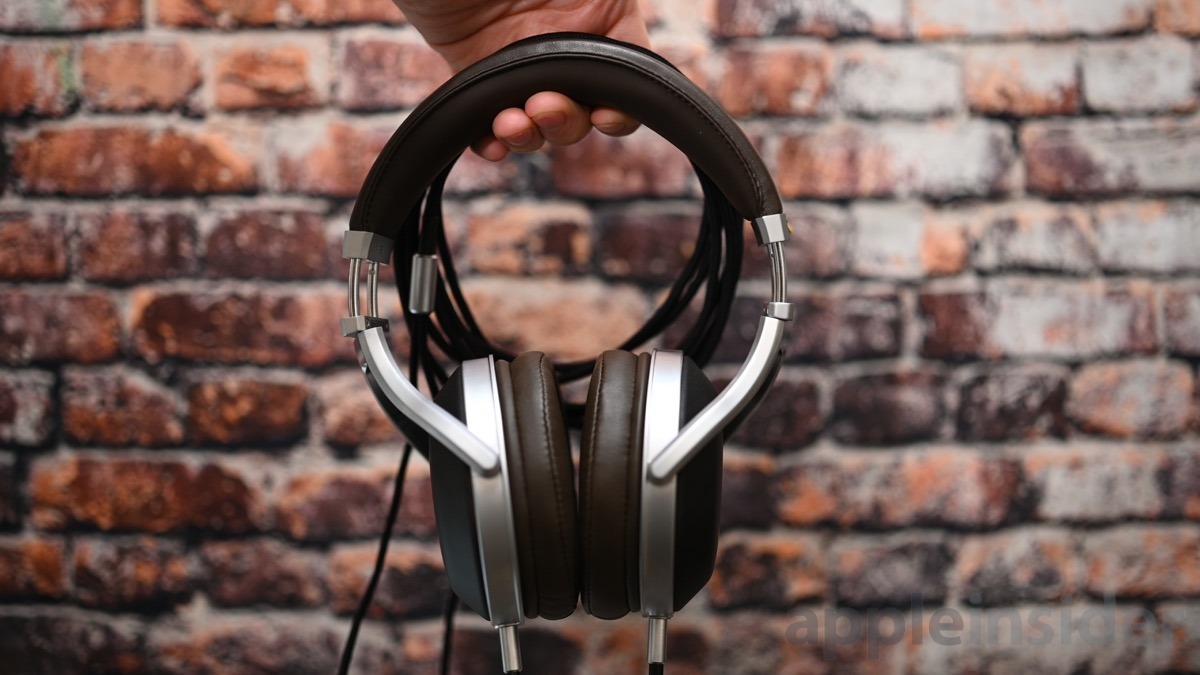 Denon is a fan-favorite when it comes to audio equipment. While primarily known for its excellent amps and receivers, the acoustic opulence of the AH-D5200 headphones shouldn't be overlooked.
A comforting fit
The Denon AH-D5200 are absurdly comfortable. The synthetic leather used on the earcups and headband is very soft to the touch and near indistinguishable at a glance from the real thing. It still gets warm like leather, so across our testing, we did find ourselves getting a bit toasty, as the weather has gotten warmer.
To aid the comfort are the large cups. Not only do they help acoustically, but they also give a very generous fit around the ears. We didn't have parts of our ears pinned down by the pads and instead it surrounded them just right. Of course, based on your ears, this may vary.
The cups are able to swivel forward or backward which helps to take them on and off as well as fitting the curvature of your head. Our only issue with the rotation of the cups is that they don't go all the way flat. We'd have preferred this so if we take the headphones off to put around our neck, it would lay more easily. Unfortunately, that isn't the case and in practice, it is a bit awkward when you try to do so with the oversized cups sitting under your jaw instead of flat against your collar bone.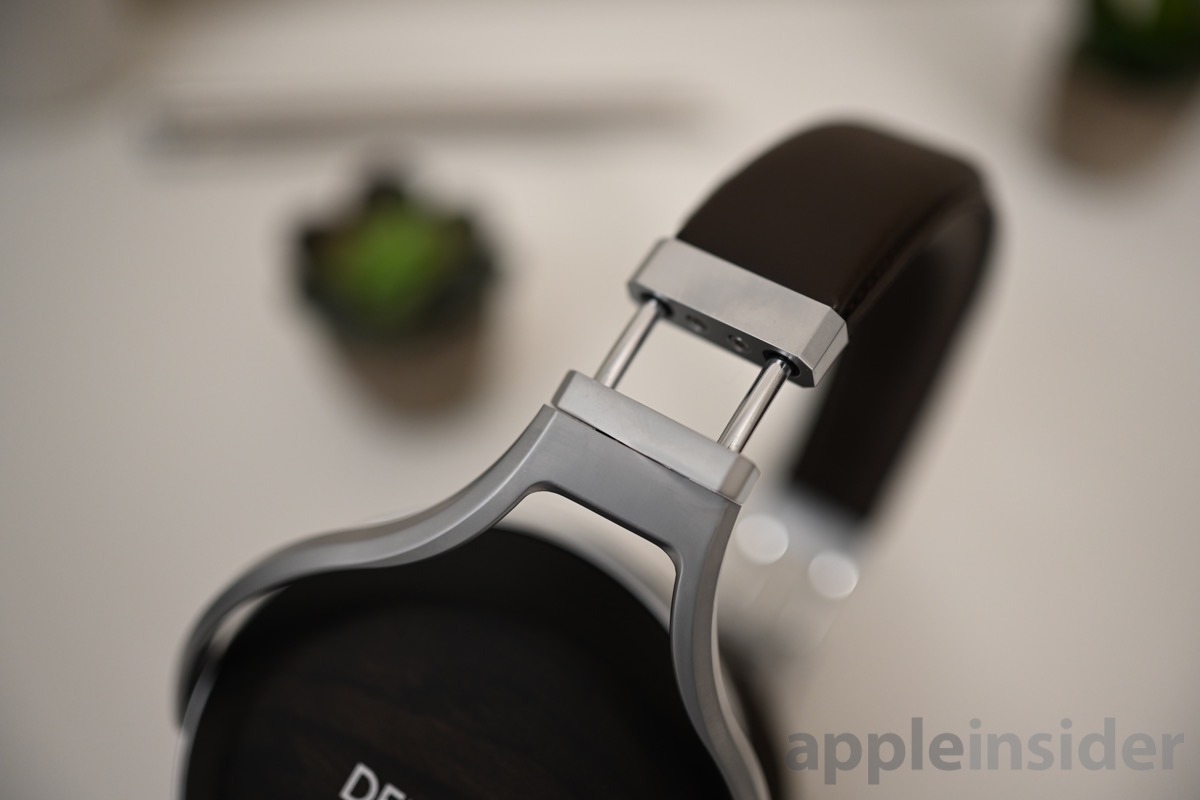 The frame of the headphones is all metal which makes not only this swivel point but the extensions feel solid. The headphones are able to extend on either side to fit you. They do so in small increments which are labeled here from one through six. This actually makes coming back to the headphones easy because you can remember the precise size that was most comfortable instead of adjusting constantly each listening session.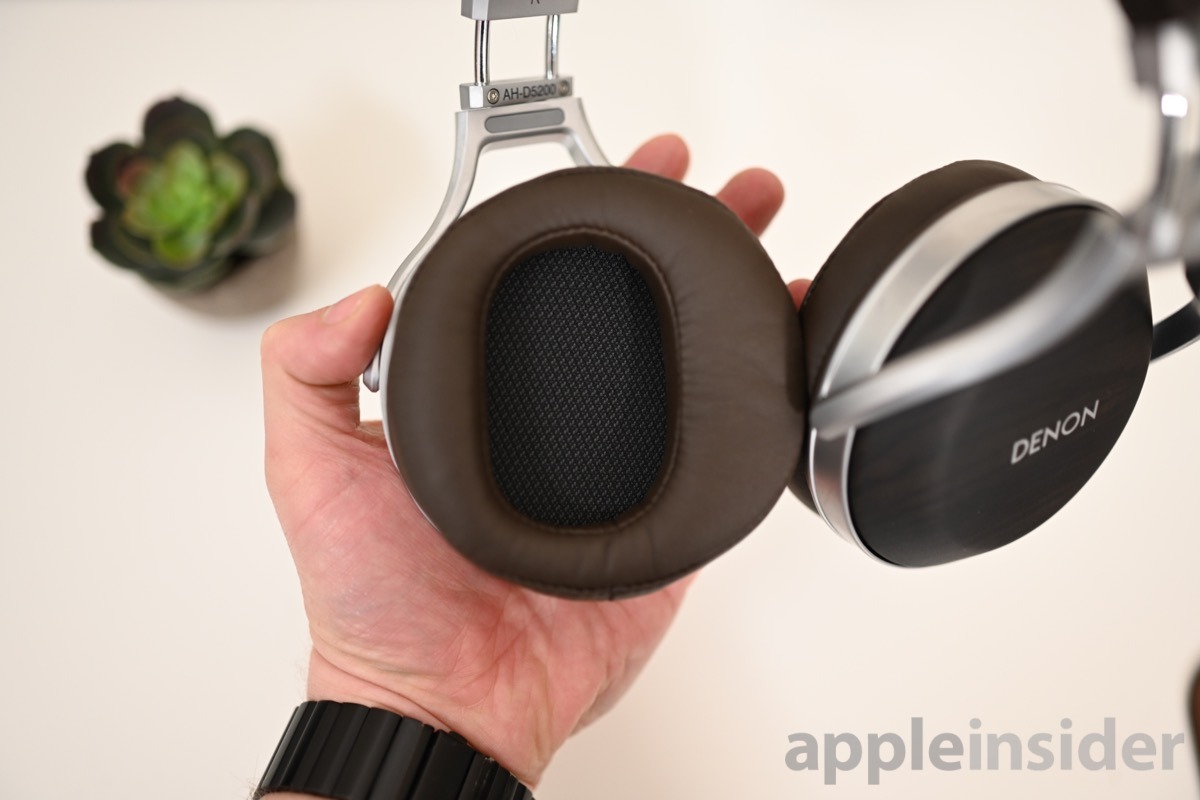 These headphones seem to fit a wide variety of head-sizes and lean towards a bit of a looser fit — this doesn't give you that head squeezed feeling some headphones produce. We also found the earpads and headband foam to be quite soft and not require much of a breaking in period to get to the point where it wasn't still new and stiff. It felt right, right out of the box.
The earpads are slightly lopsided, with more padding towards the back which we found to add to the comfort and fit.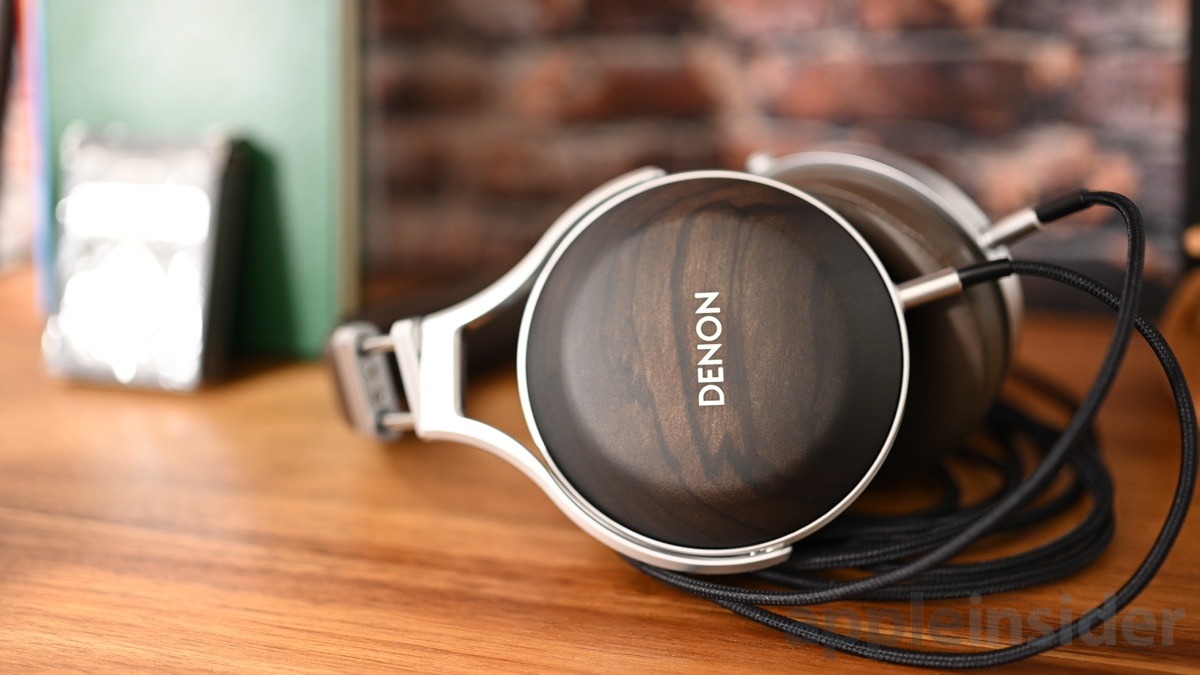 Each cup on the AH-D5200 is made of wood — real wood. They are carved from Zebrawood which certainly has a stunning aesthetic. It is dark in appearance with horizontal grain, and feels very nice and looks much higher quality than a shiny plastic cover. They also add to the tone of the headphones and help produce the warm tones we heard.
Denon includes a lengthy cable in the box with the AH-D5200. It is a hefty, nylon wrapped cable with metal accents at the end, and the Y split, and on each jack that plugs into your headphones. As we'd expect from a high-end pair, the cable is entirely detachable and replaceable should something ever happen to it.
There is also a quarter-inch adapter to affix to the 3.5mm end for any Hi-Fi equipment or instruments you'd like to connect to. We found the cable to be a bit on the heavy side and tug a bit if it were to slide off the desk or the couch, almost to an annoyance. At the same time, however, we were also thankful for its length in other situations where it was necessary such as connected to our record player.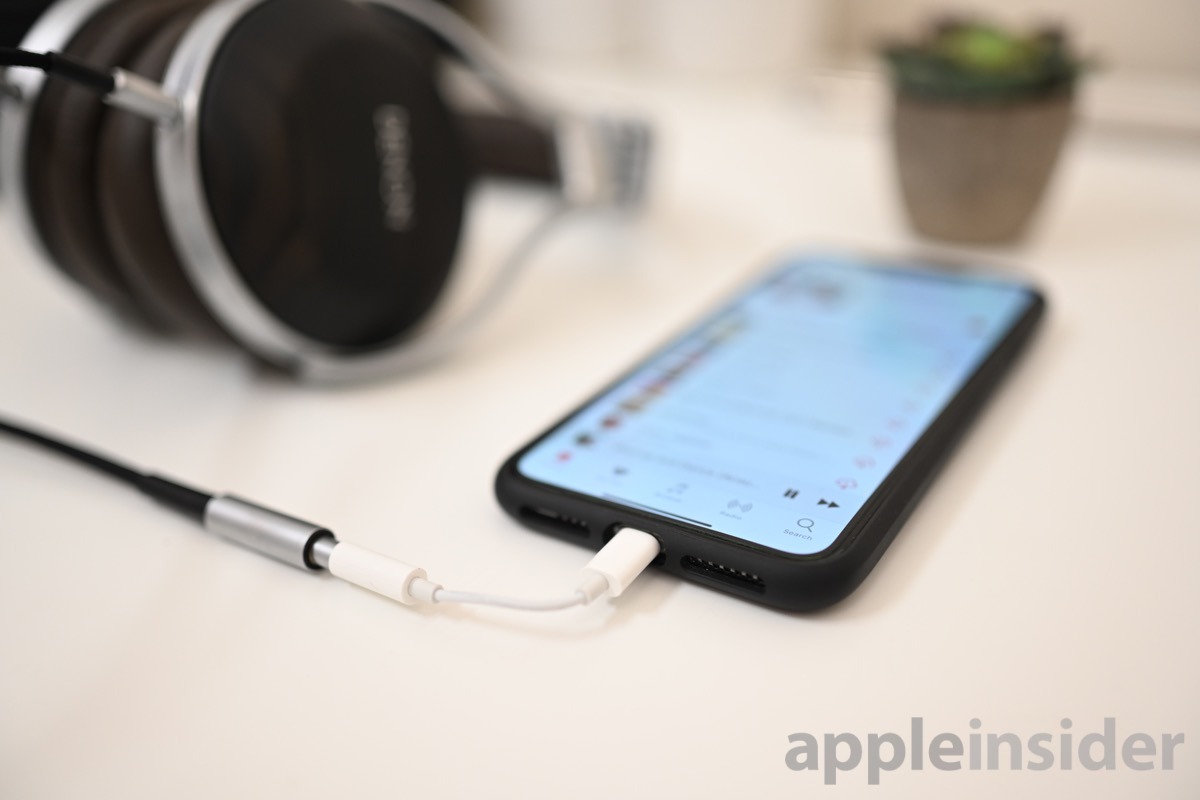 Be warned, there are also no other features to this cord. There is no Lightning connector so you'll need your trusty Lightning to audio jack DAC Apple included with recent iPhones, or a USB-C DAC if you are going to your newer iPad.
Denon also doesn't include any inline mic or controls. These would have been nice, but we don't think lower quality mobile audio is the target audience Denon is targeting here.
Audio fidelity
When you pass the few hundred dollar mark on headphones, there get to be very slight differences in the audio quality. They are nuanced and take quite a bit of listening to isolate. As is usually the case, we turned to our audio testing playlist on Apple Music as a starting off point for putting these headphones through their paces. Feel free to add it on your own device below to try out the same tunes as us on your own headphones.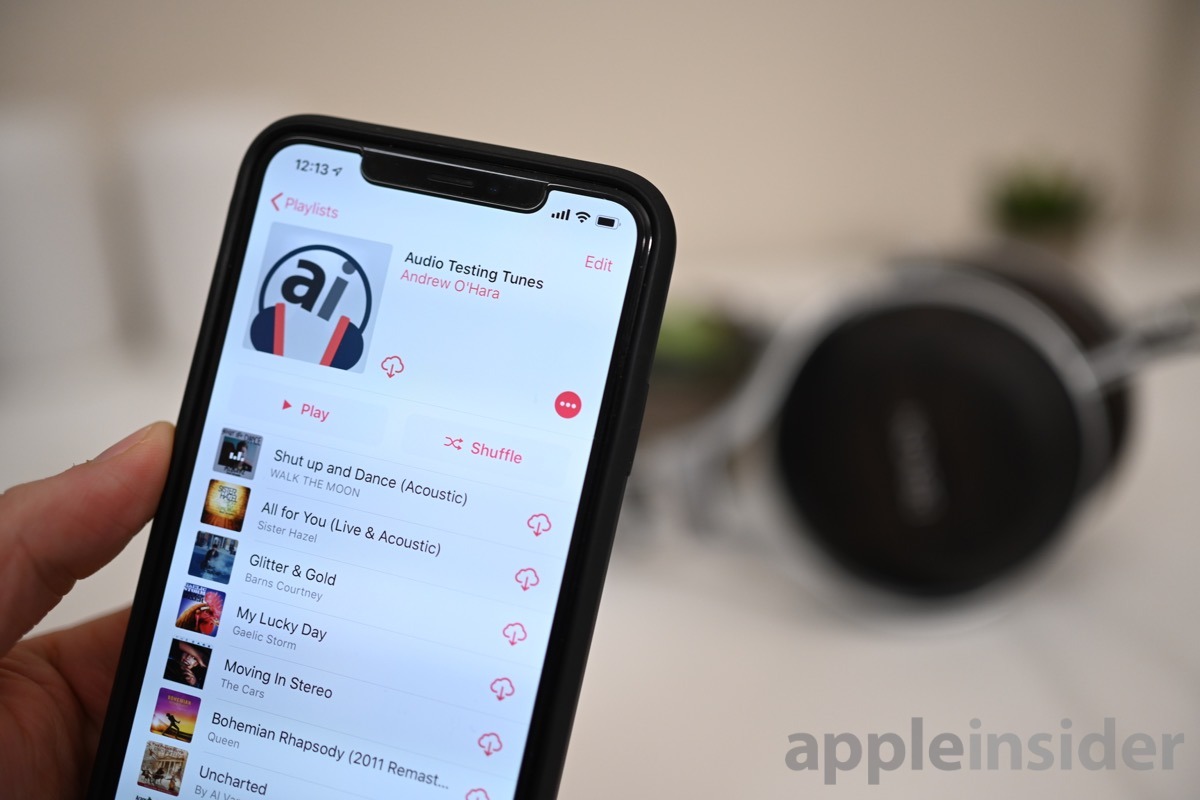 With the AH-D5200 Denon seems to have focused primarily on pleasant sounding music rather than completely true recreation. The audio channeling through these headphones sounds incredible and lovely with an expansive soundstage. Music comes from all sides and the stereo reproduction is spot on with The Cars Moving In Stereo being a shiny example of that.
Partially due to that Zebrawood cup, the sound from the AH-D5200 is very much on the warm side. Sound feels deep and never hollow. Bass was substantial but it wasn't the headshaking bass some may prefer these days. There is still plenty of definition in the sound, particularly distinct on the high end, but the sound otherwise feels very smooth, almost in an effort to allow you to wear the headphones longer without becoming fatigued.
This glossiness was particularly notable with mids and vocals. Nothing bad, and this is certainly nitpicking an otherwise incredible sound. The glossy vocals on the AH-D5200 sound far better than almost any other headphone we've tested (which, arguably, have been more affordable than these). When we compared to other high-end sets is where we notice this slight difference in intonation.
During testing, we really loved the dynamic range of these cans. This is the ability to go from incredibly soft and quite to powerful and full at the drop of a pin. It can be hard for cheaper headphones to pull off but the custom 50mm drivers didn't feel stressed whatsoever. There is a section of The Killers' The Man towards the end where it drops very low before coming back strong and the fidelity of the AH-D5200 gave us chills as it easily traversed this wide range.
We think that while there is definitely some volume in the Denon headphones, they could use a good amp to go with. Of course, it depends on the source content as well. On a few songs, the headphones just needed a little more power to push the beat but when we are dealing with headphones of this caliber we like the extra power an amp can provide.
These headphones lack any form of noise canceling but we had no issues with ambient noise slipping in from our dogs, cars, etc trying to disrupt our jam sessions. They had a great seal and a closed back to keep the audio where it should be and other audio out.
Should you pick up a set?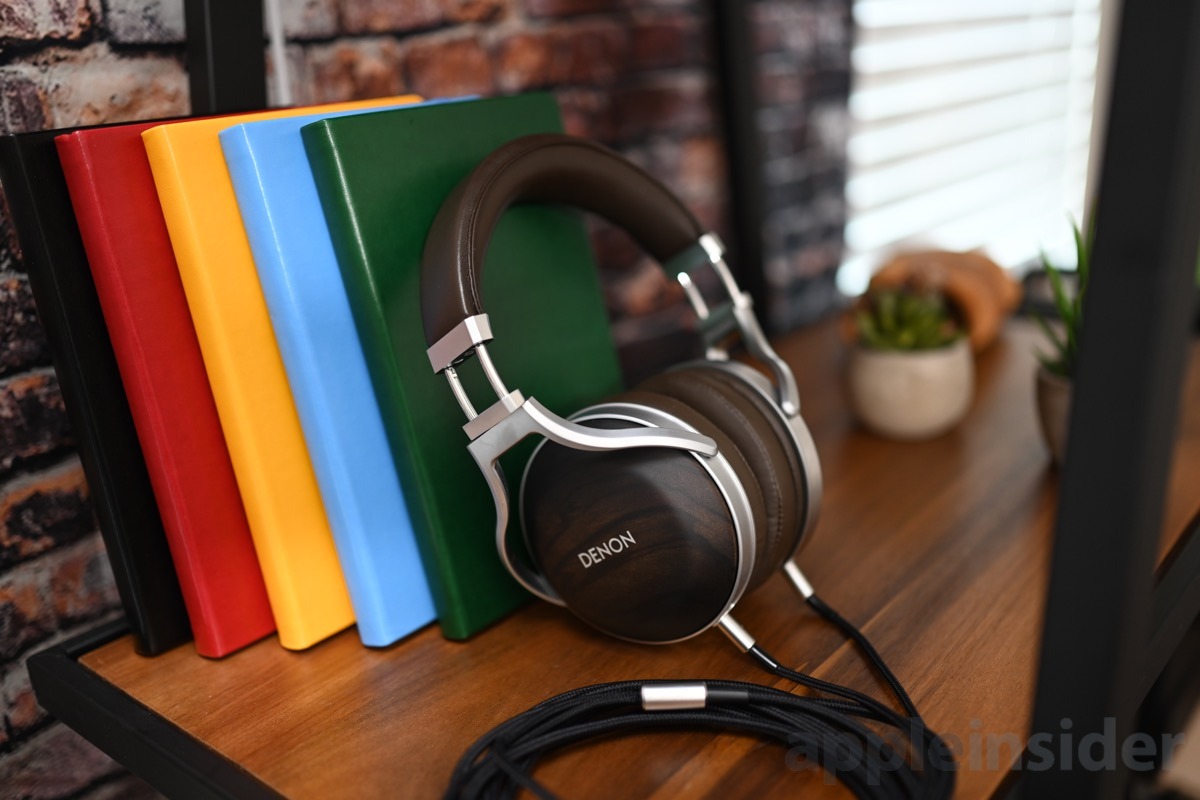 The audio on the AH-D5200 is amazing. During the hours listening, we were entirely smitten with the powerful sound. They were straight up fun and enjoyable to listen to and will leave you disappointed turning back to lesser performing headphones.
We are huge fans of the Zebrawood cups as it adds not just a level of craftsmanship and style but a warm, full tone to the music. We don't see it often, last testing the Creative E-MU Teak headphones that also sounded fantastic.
For us, the Denon AH-D5200 headphones were clear winners. We didn't need a pristinely quite listening environment, they were absurdly comfortable, and the audio was Hi-Fi quality and enjoyable to listen to. We miss inline controls and would have liked to see a Lightning adapter included as well as perhaps a second — shorter — cable, but these are minor qualms overall.
Rating: 4.5 out of 5
Where to buy
Denon's AH-D5200 Over-Ear Headphones are available for $699 at World Wide Stereo with free shipping or free in-store pickup. World Wide Stereo also stocks the headphones on Amazon with free Prime shipping.