Google adding automatic deletion option for Location Services and Web & App Activity data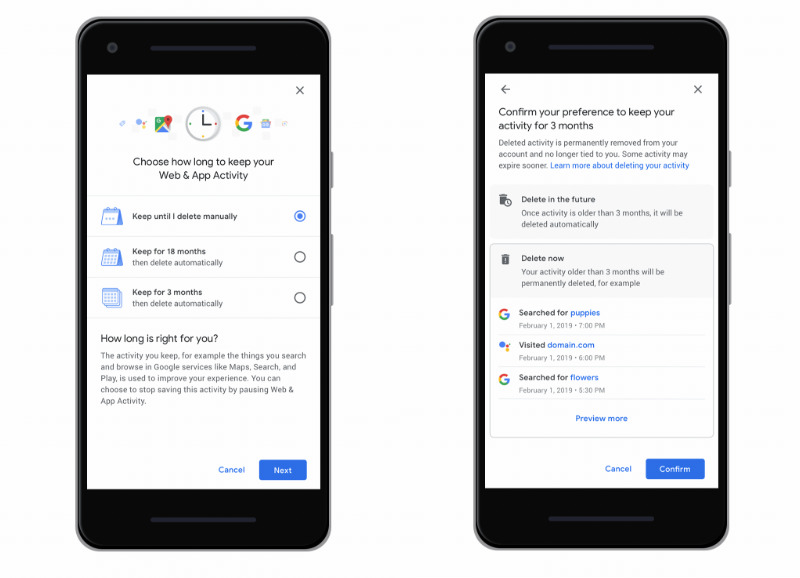 Google is offering users a new way to try and safeguard their privacy, by providing an option to automatically delete logs of Web & App Activity as well as Location History data after a specific period of time, rather than requiring users to manually delete it.
One of the biggest collectors and users of personal data from its audience, Google's products and services rely on a healthy amount of data being collated and mined in order to provide the best results, or to serve optimal advertising. Google has been criticized for its collection policies, but while it does provide some controls to users for how the data is managed, a new option seeks to cut down on a user's need to manually wipe data they no longer wish to be stored.
In a blog post, Google advises there are simple controls to enable or disable collection for Location History and Web & App Activity within the Google Account settings, with the ability to delete part or all of that data manually. Under the new auto-delete controls, users will be able to set the location and activity logs to wipe when they become three months or 18 months old, or to leave them as they are and to keep manually deleting data.
It is likely Google is willing to offer the option to automatically wipe the older data due to it being less useful to the company than newer logs. While there may be some value in keeping location logs beyond three months for some users, logs beyond 18 months is unlikely to be valuable to either Google or its users.
Google advises the new controls will be arriving first on Location History and Web & App Activity, suggesting there could be other areas within the Google account that could have similar deletion features applied, and will roll out to all accounts in the next few weeks.
"You should always be able to manage your data in a way that works best for you," the blog states, continuing "and we're committed to giving you the best controls to make that happen."
Location Services has been a privacy issue for Google for some time, due to Android devices and the search giant's iOS apps reporting back to Google's servers where the user is located. Reports from 2018 revealed the data was still being fed back to Google, despite disabling features in such a way that should have prevented the data from being collected at all.
Shortly after the discovery, Google became the subject of a class action lawsuit, under the claim it breached the user's privacy.
The historical location data collection has also led to the creation of a new tactic in police investigations, where law enforcement officials would ask Google via a "geofence warrant" for details of devices within a specific location during a period of time, then narrowing down persons of interest based on their movements and then requesting more data about specific users. The requests rely on a "Sensorvault" database containing "hundreds of millions of devices worldwide," with some records almost a decade old.
Google is not the only company found to be taking advantage of location data. A December report revealed a collection of 20 iOS and Android apps were providing precise location data for users to about 70 businesses, with one sharing data to 40 companies, highlighting the prevalence of location data collection across the tech industry.