Editorial: The new Services - Apple Arcade plays to win, but what game?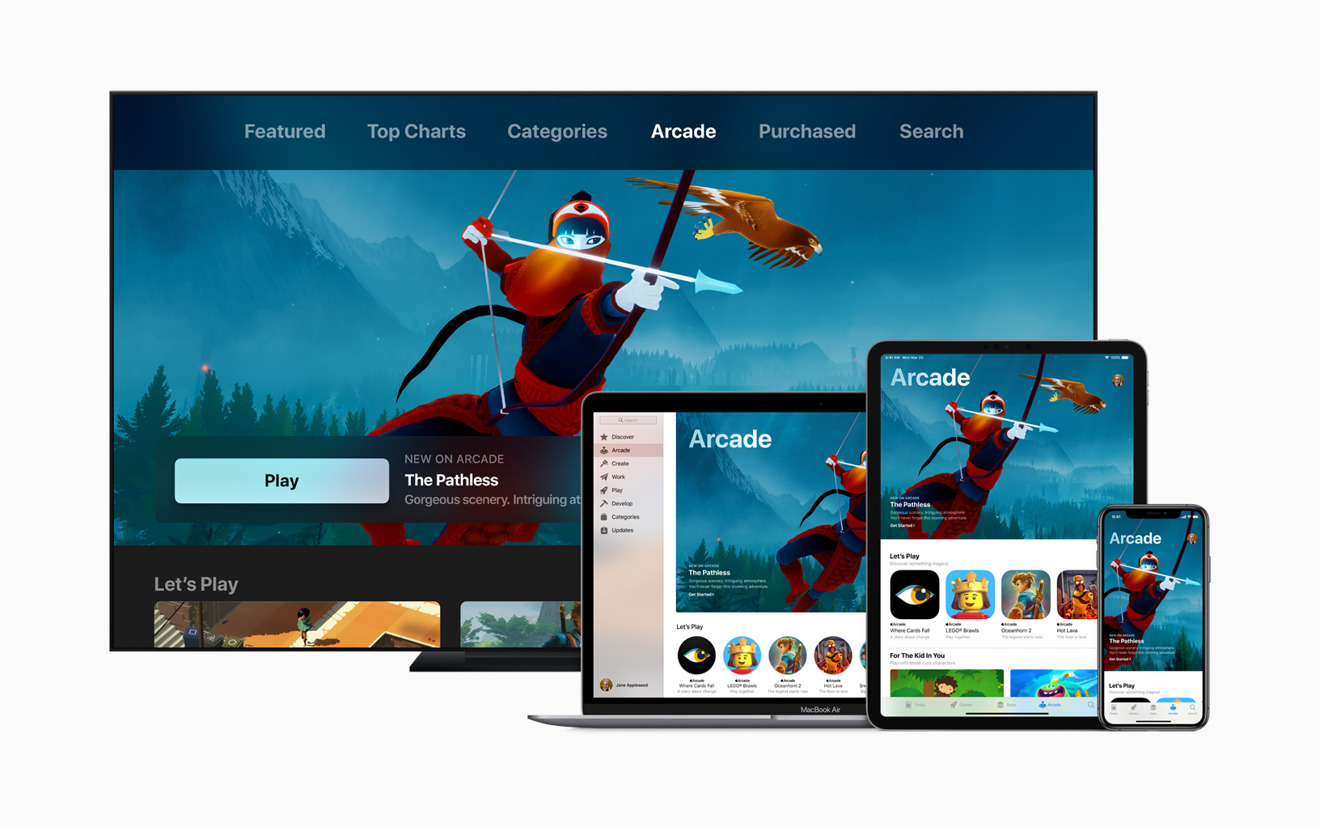 All of Apple's recently unveiled Services and most of its existing Services business are essentially software — - useful applications of hardware that help drive hardware purchases in addition to generating revenue on their own. Take a look at what these strategic new Services actually mean for Apple and its installed user base, starting with Apple Arcade.
As the previous segment outlined— and contrary to a popularly trending media narrative— Apple Arcade and other new Services are not simply a desperate attempt by the company to find new sources of revenues as its hardware sales supposedly evaporate.
Services as software: Apple Arcade
The recently unveiled Apple Arcade is quite obviously a package of software titles commissioned and funded by Apple to add exclusive luster to iPhone, iPad, Macs, and Apple TV.
Initially, it promises access to "over 100 exclusive games," along with other cross-platform titles, from more than 35 different gaming studios including Annapurna Interactive, Bossa Studios, Cartoon Network, Devolver, Disney, Gameloft, Klei Entertainment, Konami, Lego, and Sega.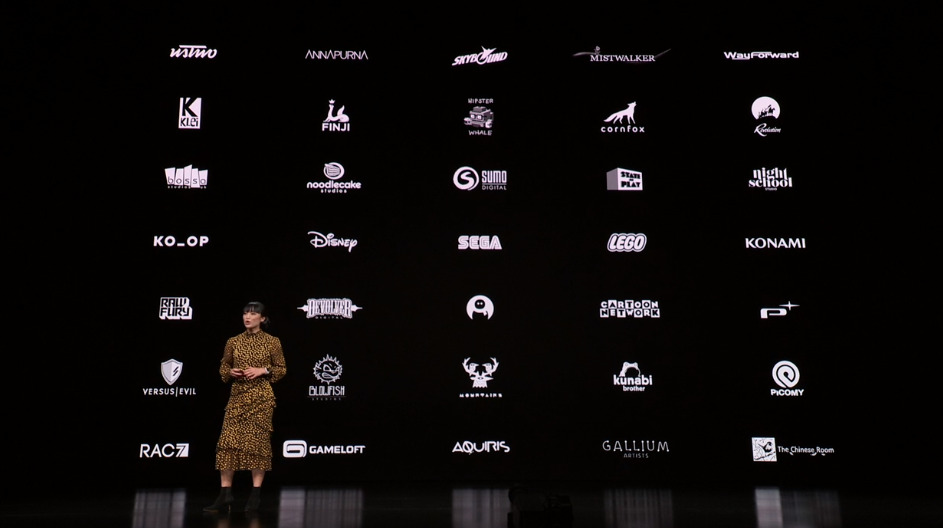 Arcade titles will provide users with fresh new diversions for iOS, an injection of new apps for Apple TV, and an expansion of the types of games users can play on the Mac. And unlike some of Apple's new Services that are tied to externally licensed content and limited to the United States and a few other regions, when Arcade opens this fall it will be playable in 150 countries globally.
Arcade taps top talent
Apple specifically outlined a collaboration with Mistwalker studio's Hironobu Sakaguchi, the creator of the "Final Fantasy" series, to develop the new Arcade title "Fantasian," which uses 3D worlds captured from hand-built environment models as the backdrop for its platformer gameplay. That unique approach results in what Sakaguchi described as "a game that shouldn't exist" due to the work required to achieve that look.
"Every day is a challenge," he stated, "Creating gaming worlds by hand, we are building dioramas, photographing them, and adding 3D characters. I'm a little scared of how many sets we are going to have to build in the end."
Sakaguchi added that the new model of Apple Arcade is "almost like a miracle for us developers."
Revolution Software is launching Beyond a Steel Sky, a sequel to the mid-'90s dystopian cyberpunk adventure game Beneath a Steel Sky. The title continues the storyline in a new 3D world developed by legendary comic book artist Dave Gibbons, the artist behind Watchmen.
It's not exclusive to Apple Arcade, as it will also launch for PC and game consoles. But it remains "super ambitious in that it is taking a full, high-quality console game directly to mobile," as the studio noted in Apple's keynote presentation.
The Artful Escape initially launched as an exclusive title to PC and Xbox One, but will bring its music-oriented platform exploration title to Arcade.
Overland is another title that's not exclusive to Apple Arcade. It presents an explorable post-apocalyptic world where every game follows the course of a road trip with its unique storyline that reveals clues about the past.
Hot Lava is already a PC game on Steam, but will be arriving for Arcade as a parkour platformer where the player springs through a world avoiding patches of lethal molten rock.
Apple has also lined up classic games from developers including early App Store publisher Sega. It is delivering Team Sonic Racing, which lets players select from 15 characters in a cooperative racing game with customizable vehicles.
Another classic video game maker, Konami, is updating its classic jumper into photorealistic 3D for Frogger In Toy Town.
Lego is developing two titles for Arcade internally, rather than licensing its name to a third party developer as is the case with other Lego-branded games. One, Lego Brawls, appears to be a platformer and fighting game comparable to Nintendo's classic Super Smash Bros, where players build machines for battle.
Apple has also lined up a new Arcade project with Ken Wong, the lead designer of the award-winning iOS title Monument Valley. It's also working with Will Wright, the game designer of unconventional, world exploring gaming titles including genre classic Sim City.
Ideas need funding
Sim City first launched for the Amiga and Macintosh back in 1989 (below) as one of the first creative games to lack a simple winning objective. The open-ended, city planning gameplay was so unique at the time that languished in development for four years before Wright could find a studio willing to publish it and a partner to distribute it.
After Sim City went on to became one of the most popular and enduring games ever created, Wright followed up with The Sims role-playing franchise in the 1990s, and the evolving life simulation Spore in 2008, for Windows and Mac OS X.
iOS App Store changed the mobile game
Apple highlighted EA Games' Spore Origins, a mobile edition of the game, as one of the first titles to launch the new iPhone App Store, along with Sega's Super Monkey Ball.
Both new games took advantage of the iPhone's accelerometer to introduce the concept of tilt-based game control. EA chief executive John Riccitiello stated at Apple's App Store keynote that "the animation technology in the iPhone OS enables us to build awesome games. I think iPhone consumers are going to be blown away by the games we create for this platform."
Both EA and Sega also noted that the familiarity of iPhone's development tools enabled them to port games to iOS within a couple of weeks. By creating a viable market that securely signed apps to prevent malware, counterfeiting, and piracy, the App Store enabled developers to create low priced games they could sell in large volumes, establishing a functional business model for mobile apps where games had previously been low quality or too expensive to reach a critical mass of players.
When iPhone debuted, basic mobile games like Soduku and Bejeweled for Palm's smartphones were priced between $15 and $20 each, while Verizon was seeking to rent simple games based on Qualcomm's BREW platform between $2.50 and $5 per game, per month!
Today, everyone seems to have forgotten both what a ripoff and barren wasteland of low-quality junkware mobile devices had available before Apple launched the App Store. And despite setting a pattern for others to follow, Palm, Microsoft, Nokia, and other app vendors failed to catch up— in part because their simpler phone hardware couldn't deliver the variety and quality of fun mobile games that iPhone could.
Google Play today has a different problem: its catalog is full of counterfeit and fake apps, and Android overall is so riddled with piracy that most developers resort to ads and data collection to fund their distribution. Alternative app markets in China and elsewhere are even worse than Play at exploiting users and stealing data.
Building upon App Store gaming with Apple Arcade
Apple's investment of hundreds of millions of dollars into original, high-quality games is a strategy similar to Microsoft's late 90s efforts to tie PC gaming to Windows, or efforts by console makers like Sony to develop original titles for its PlayStations. It's a reason to buy hardware for a particular platform with original, exclusive content.
Again, the real question isn't why is Apple doing this, it's why hasn't Apple done this before. Apple Arcade is existentially important for iOS to maintain its lead in gaming— not to mention Apple TV and Mac, neither of which are large enough platforms to stoke huge libraries of high-quality games on their own.
Apple has long known that most of the apps it sells in the App Store are games; it's now going to be actively curating and supporting new game development and spreading the demand fueling iOS game development across its other tvOS and macOS platforms, where the breadth and depth of gaming have been a weakness. By linking its platforms together, Apple is giving its users a strong reason to stay within its ecosystem, allowing them to resume gameplay on Apple Arcade titles between different devices.
By creating a reoccurring revenue stream dedicated to funding the development of fun, original, attractive, and exclusive games, Apple will not only earn an ongoing cut of new revenues but more importantly will cement iOS as the best place for gamers of all sorts while casting a halo of fresh gaming content over tvOS and macOS.