B&H Payboo Credit Card FAQ: here's how the no sales tax discount works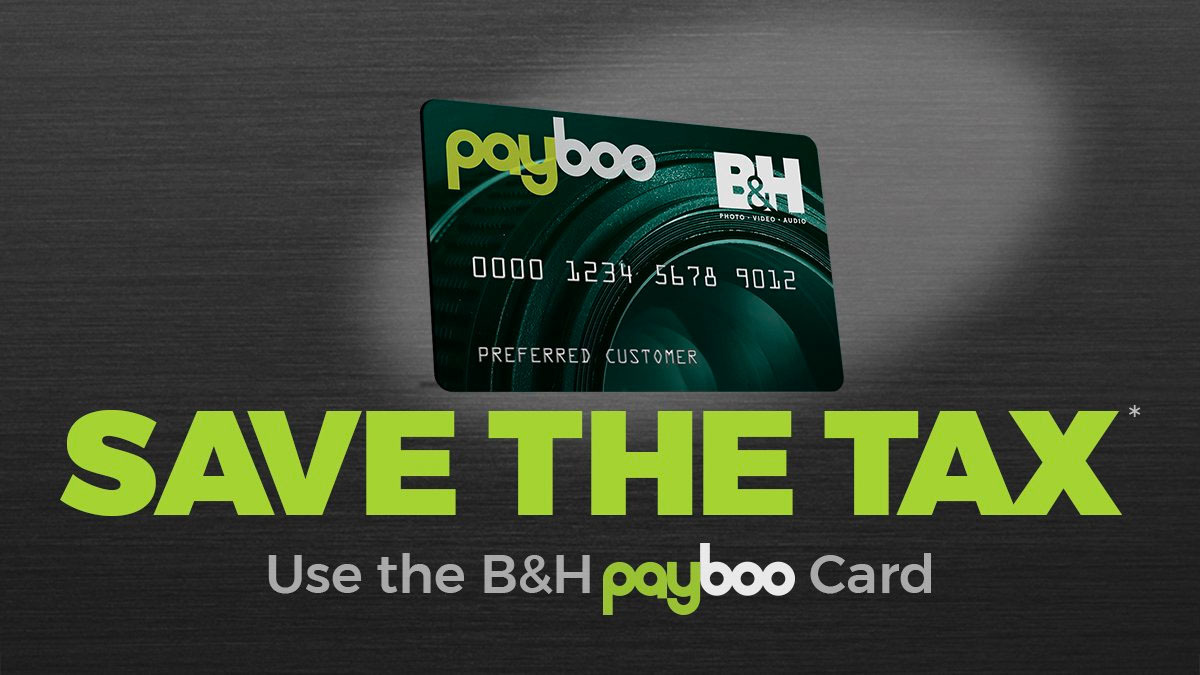 B&H recently announced its new Payboo Credit Card with a unique perk that refunds sales tax on all orders in the form of an instant rebate. We're answering your questions and giving you the lowdown on how it works, including the pros and cons of the new payment method.
As reported on May 6, B&H Photo launched a new payment method for orders placed via its marketplace. Dubbed the Payboo Card, this store credit card offers shoppers the opportunity to order computers and electronics without paying sales tax. But how exactly does it work? We're answering your questions to determine if Payboo is right for you.
Where does Payboo work? Payboo is a store credit card valid on purchases made via B&H's desktop website, its mobile app, NYC SuperStore and by phone. It can only be used on B&H purchases and is not a Visa, Mastercard, American Express or Discover Card.
Can international shoppers use Payboo? Yes. The Payboo Card can be used to place orders shipped internationally. However, the sales tax-equivalent refund will not apply. Drilling down to Apple hardware, B&H is unable to ship Mac and iPad orders to international addresses due to manufacturer restrictions.
Is there a limit to the amount I can save on sales tax? No. There is no cap on how much shoppers can save.
Which bank backs the Payboo Credit Card? The B&H Payboo Card is issued through Synchrony Bank.
How is B&H getting out of collecting sales tax? Do I have to report it? B&H will still collect and remit state sales tax in accordance with state sales tax laws and regulations. Customers are still paying sales tax so there are no special forms to file. The credit will be issued instantly for the equivalent tax amount, like a coupon discount — but without the code.
Is this card for personal use only, or can businesses apply? Although the Payboo Card is a personal credit card and not a corporate or business card, it can be used to pay for orders via B&H's business-to-business (B2B) and education (EDU) portals. Individual employees of a business account making a personal purchase are also welcome to participate.
How is the sales tax credit issued? Do I have to wait for a gift card? The key benefit of the Payboo Card is that the tax-equivalent credit is issued instantly. There's no need to wait for a gift card or even make an additional purchase. The refund is issued on all non-tax-exempt purchases shipped to eligible states at the time of purchase, when Payboo is used as the payment method.
Are there any exclusions? The loyalty reward does not apply to gift cards or other tax exempt purchases. Customers must also reside in a qualifying state. At press time, the tax-equivalent refund offer is not valid in Alabama, District of Columbia, Indiana, Iowa, Nebraska, North Dakota, Vermont, West Virginia, and Wyoming. If shipping to those states, B&H recommends customers enter their shipping zip code on the Payboo page to check for available savings. Orders shipped to states with no sales tax are also not eligible for the loyalty reward.
Where will I see the savings? Payboo account holders will see the savings during checkout on the Order Details & Shipping Method screen. Below is a screenshot with the Payboo Card Savings section outlined.

What are my chances for approval? While specific approval parameters have not been disclosed, WalletHub states Synchrony pre-approval offers have been mailed to consumers who have at least a Fair credit score (600-699).
Still have questions? Feel free to send us a note at [email protected] and we will do our best to assist. This FAQ guide will be updated as additional details become available, so continue to check back. And for the lowest prices on Apple devices, be sure to check out our Apple Price Guides.