B&H Payboo Card to refund sales tax on all orders [u]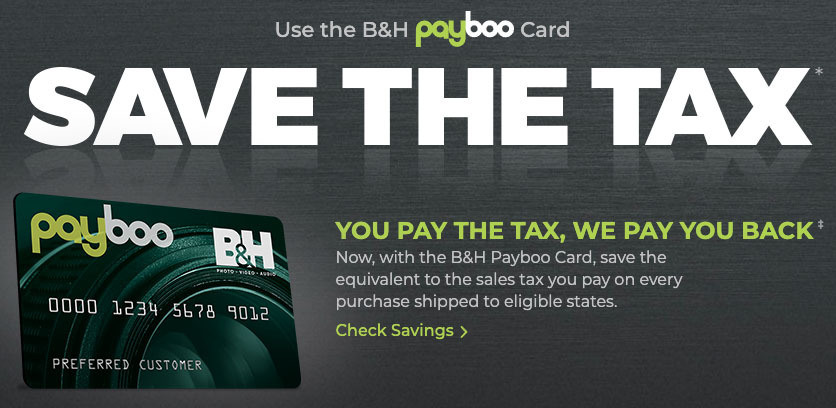 AppleInsider is supported by its audience and may earn commission as an Amazon Associate and affiliate partner on qualifying purchases. These affiliate partnerships do not influence our editorial content.
B&H Photo just unveiled the Payboo Credit Card, which offers shoppers a tax-equivalent loyalty reward to counteract sales tax assessed on purchases. This new marketing initiative sets B&H apart from competitors, such as Best Buy and Amazon, that collect sales tax on purchases in all applicable states without the reward, potentially putting hundreds of dollars back in the pockets of consumers.
Update: The tax-equivalent reward will be applied instantly at checkout during time of purchase. Therefore, shoppers will not need to wait a set period of time or make another purchase to take advantage of the incentive.
Shoppers subscribed to B&H emails began receiving a message describing Payboo as "the solution to the sales-tax challenge," which references the South Dakota vs Wayfair ruling that allows states to collect sales tax on purchases made from out-of-state sellers, even when said sellers do not have a physical presence in the state. As we reported in October 2018, B&H began collecting sales tax in additional states after the ruling, with even more states added to the list during the remainder of 2018. As it stands now, B&H collects sales tax in a total of 26 states and reports purchases in several more, due to local taxation laws.
Shortly after 6 p.m. Pacific, B&H launched the Payboo Credit Card page, with a message reading "you pay the tax, we pay you back." Shoppers in eligible states will receive a reward equivalent to the amount paid in sales tax on every B&H purchase with the Payboo Card. At press time, the tax-equivalent loyalty reward is not valid in Alabama, District of Columbia, Indiana, Iowa, Nebraska, North Dakota, Vermont, West Virginia and Wyoming, although other Payboo Card incentives may be available.
Payboo comes on the heels of Apple's own Apple Card announcement, which offers 3% cash back on purchases made at Apple and 2% back on purchases at other locations using the Apple Card via Apple Pay. B&H routinely, however, offers cash discounts on Apple hardware, which will stack with the tax loyalty reward. With an average sales tax rate of 8%, the benefits accrued on Apple purchases using the Payboo Card will be greater than those of the Apple Card for many U.S. shoppers.
Here's a quick comparison of popular store cards with cash back offers:
*Valid for shoppers in qualifying states. See B&H for terms and conditions.