Nike Training Club adds paid multi-week training programs, nutritional guidance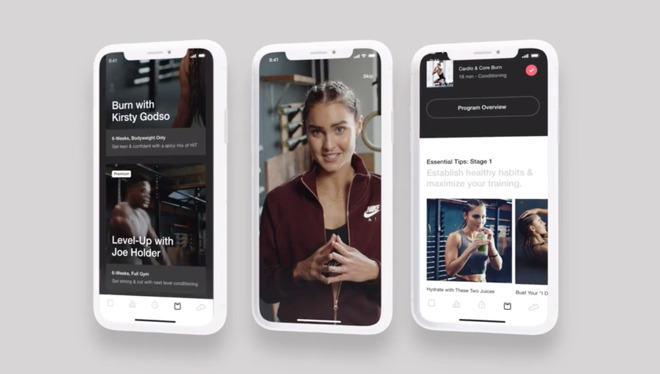 AppleInsider may earn an affiliate commission on purchases made through links on our site.
Nike has issued an update to the Nike Training Club app that adds a paid subscription option for the first time, with Premium membership offering trainer-led workout programs and nutritional guidance on top of its existing roster of free workouts.
Previously only offering free workouts, the update to the Nike Training Club app on iOS introduces in-app purchases to the fitness aid. At a cost of $14.99 per month or $119.99 annually, dedicated workout enthusiasts can use Nike Training Club premium to access more content in the app to achieve their fitness goals.
For the subscription fee, users gain new "4-6 Week programs" led by the sports brand's "master trainers," giving more structure to a workout schedule. While users may stick to a single workout routine that is repeated a few times a week, the programs enable more variety to occur, with different exercises for each session.
Premium members can use new workout formats, including on-demand classes and "whiteboard workouts" for gym-style training. The subscribers will also gain content in areas not typically covered by the rest of the app's existing content, including nutrition and wellness guidance for food, recovery, sleep, and improving their mindset.
While the Nike Training Club app supports the Apple Watch, items under the premium subscription will not work with the wearable device at this time, but will do in a future update.
It also appears that the premium option is only going live in the United States, but will be available elsewhere in the near future. The UK App Store advises the app has in-app purchases available for the subscription, but neither the changelog nor the app itself advise of them being available to use at this time.
The subscription adds on top of the app's existing features that are still available to free users, including over 185 workouts, personalized recommendations, and activity tracking. The Nike Run Club app, which provides motivation and tracking of the user running, does not have any subscription options as yet.