Vizio's 2019 TVs with upcoming AirPlay 2 & HomeKit support now on sale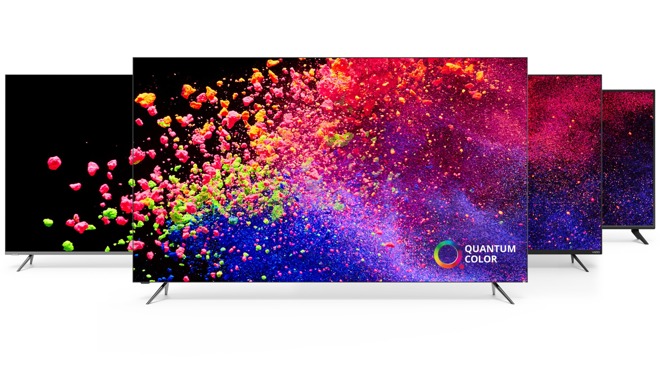 AppleInsider may earn an affiliate commission on purchases made through links on our site.
Vizio has started to make its 2019 line of smart televisions available to purchase, with the collection of 4K-resolution screens all set to offer support for Apple's AirPlay 2 and HomeKit in an update to the SmartCast 3.0 software arriving this summer.
Initially confirmed as gaining compatibility for Apple's content streaming protocol AirPlay 2 and the company's HomeKit smart home platform in January, Vizio has announced the availability of the televisions that will support each of the functions at retail in the United States. The additions will allow the televisions to be controlled via HomeKit automations as well as to view photographs, video, and audio pushed from nearby wirelessly-connected Apple devices.
HomeKit and AirPlay 2 support won't be offered until later this Summer, as a free update to the firmware to upgrade SmartCast, and is currently undergoing beta testing. Version 3.0 of the software also includes support for Google Assistant and Alexa, with the addition of Apple's services also bringing Siri compatibility into the mix.
Vizio's new 4K-resolution arrivals consist of three different ranges of televisions, with each offering different features at varying price points and sizes. The high-end P-Series consists of 65-inch and 75-inch sets, while the M-Series offers 43-inch to 65-inch sizes, and the V-Series offers the widest range of 40-inch to 75-inch televisions at a lower price point.
The P-Series is divided into Quantum X and Quantum variations, with each said to offer "unprecedented color volume" for home theater enthusiasts to enjoy. While the Quantum offers 240 local dimming zones and 1,200 nits of peak brightness, the Quantum X boasts 480 dimming zones and up to 3,000 nits of brightness, using an Active Full Array backlight for OLED-style levels of contrast from an LCD screen.
The M-Series gains the Quantum Color technology from the more expensive models, giving approximately 80 percent more color spectrum than in previous iterations, The sets offer double the local dimming zones as the 2018 variants, up to 90 for 2018, with 600 nits of brightness, Dolby Vision, and support for HDR10 and HLG formats also available.
The value-oriented V-Series provides up to 12 local dimming zones and up to 400 nits of peak brightness, as well as support for Dolby Vision, HDR10, and HLG formats.
The P-Series starts from $1,399.99 for the 65-inch Quantum model, rising to $3,499.99 for the Quantum X 75-inch version. The M-Series goes from $399.99 at the cheapest up to $999.99 for the most expensive, while the V-Series starts from $259.99 for the 40-inch and rises to $1,199.99 for the 75-inch model.
Where to buy
Vizio's 2019 lineup can be ordered today from Best Buy, with Amazon expected to stock the new televisions soon.
2019 Vizio TVs at Best Buy