Hands on: 2019 13-inch MacBook Pro with 2.4 GHz i5 processor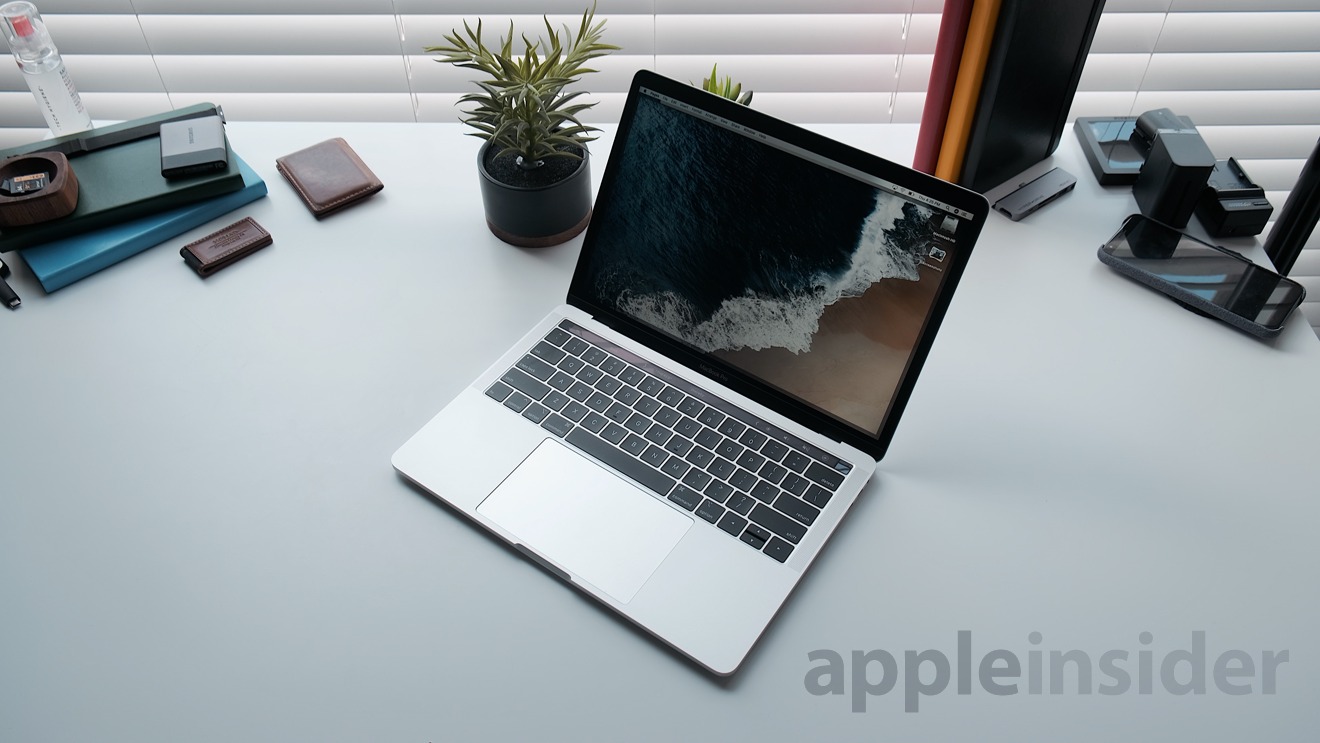 AppleInsider is supported by its audience and may earn commission as an Amazon Associate and affiliate partner on qualifying purchases. These affiliate partnerships do not influence our editorial content.
Just a couple of weeks before the WWDC, Apple quietly announced new MacBook Pros — and we've gotten our hands on the 13-inch model.
In terms of overall design, nothing has changed. Looking at the 13-inch MacBook Pro, everything about it looks familiar — it's the same MacBook Pro we've seen since its 2016 debut.
This 2019 version though is now equipped with Apple's updated third-generation butterfly switch keyboard. For this keyboard, Apple says that they kept the same overall design as they had previously, but is using a new material to enhance reliability. At present, it isn't clear if the company is referring to a new membrane, a new key dome, or both, but from our testing, the keys feel about the same as the third-generation butterfly switches found on our 2018 MacBook Pro. Time will tell if this does make a difference when it comes to debris ingress.
Apple's refresh gives the 13-inch MacBook Pro a 2.4GHz quad-core 8th-generation i5 Processor that turbo boosts up to 4.1GHz. An upgrade improves that to a 2.8GHz quad-core 8th-generation i7 Processor that turbo boosts up to 4.7GHz.
The one we're testing here is the base configuration model equipped with the 2.4GHz quad-core i5 Processor, 256GB SSD, 8GB of RAM and the Intel Iris Plus 655 Graphics. This 13-inch MacBook Pro retails for $1,799 before taxes.
Benchmarking
Starting off with Geekbench, the new 13-inch MacBook Pro scores a single thread result of 4993 and a multi-core score of 18283. The 2018 13-inch entry-level model has a single thread score of 4520 and a multi-core result of 16629. so there's a substantial gain at the same price-point.
Comparing that to our 2018 15-inch MacBook Pro with a six-core i7 Processor which got a single core score of 5081 and a multi-core score of 22143, the refreshed base model 13-inch MacBook Pro is no slouch.
Moving on to Cinebench R20, in our testing, the 2019 13-inch MacBook Pro posted a CPU score of 1779 which is not bad at all at this price point.
Firing up Unigen Heaven which is a gaming benchmark. With everything set to default, and quality in medium we decided to run this test several times to find out how the Intel Iris Plus 655 Graphics performs under load.
The 2018 13-inch MacBook Pro got a score of 999, and an average frames per second of 39.7 with a max FPS of 77.8. If you're looking to game on your Mac or if you rely heavily on the graphics card, we recommend picking up an external graphics solution such as the BlackMagic eGPU or the eGPU Pro.
Moving on to BlackMagic's Disk Speed Test, the $1799 base model 13-inch MacBook Pro tops out at around 1300 megabytes per second for its write and around 2600 megabytes per second for its read speeds. As storage capacity increases, so does the write speed, so if you want faster media performance, you'll have to shell out for a bigger drive.
Final Cut Pro
We compiled 5 minutes of 4K H.264 footage that was shot a my Fuji X-T3 in Final Cut Pro, adding color correction, with adjustments to the saturation and contrast. We exported the same files several times with background rendering on and off.
With background rendering on, we got an exported file at just 2 minutes and 10 seconds. With background rendering off, it exported the video at 9 minutes and 28 seconds.
We don't recommend editing anything higher than 1080p on this base model MacBook Pro because 4K playback can stutter from time to time. But, this can be offset as long as you optimize your media or edit with proxy files before editing. That can take up extra storage space, and we would highly recommend picking up an external storage solution, especially with this base 256GB SSD.
This 13-inch machine performed pretty solidly and we were happy with the speed improvements year over year but the bigger story will be the 15-inch MacBook Pro with the 8-core processor. Stay tuned for our full review of both machines and our comprehensive 15-inch benchmarks.
Save $100 to $200 on Apple's 2019 13-inch MacBook Pro
Apple Authorized Reseller Adorama is knocking $100 to $200 off select 2019 13-inch MacBook Pros with coupon code APINSIDER exclusively for AI readers. To activate these MacBook Pro deals, which deliver the lowest prices available on the brand new models, shoppers must use the special pricing links below or in our 2019 13-inch MacBook Pro Price Guide and enter the coupon code during checkout.
2019 13" MacBook Pros with upgrades