Final Cut Pro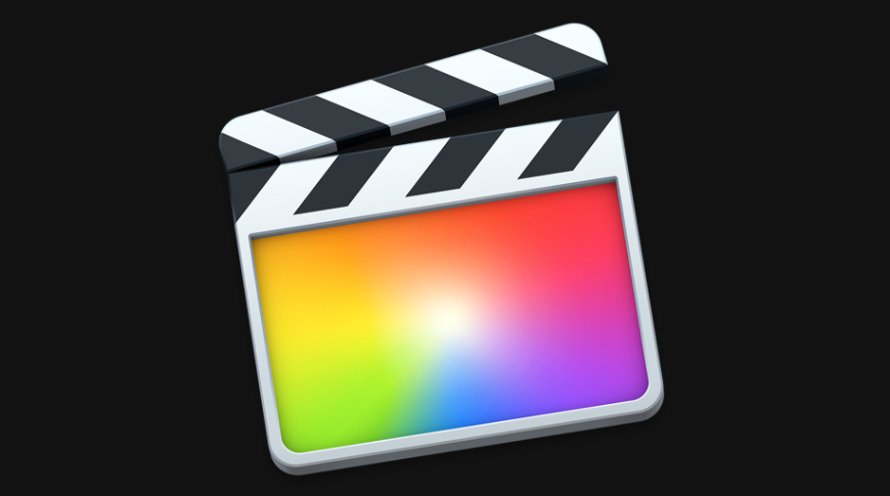 Final Cut Pro is Apple's professional-level, non-linear, non-destructive video editing software. Originally designed by Macromedia in the mid-90s, the software has grown to be an industry giant in its own right. Newer iterations of the app have come to rely on Apple's Metal interface, making the program faster and more reliable than previous versions. Additional programs such as Motion and Compressor expand Apple's video editor, giving users the power to create eye-catching visual effects and easily export videos to a wide variety of formats.
● Non-destructive, non-linear video editing
● Utilizes Metal for improved performance
● 64-bit application works on macOS Mojave and later
● Capable of editing HD, 4K, 8K, and 360-degree video
● Additional programs, Compressor and Motion, available to purchase
---
Get Apple News Directly in Your Inbox
AppleInsider is supported by its audience and may earn commission as an Amazon Associate and affiliate partner on qualifying purchases. These affiliate partnerships do not influence our editorial content.
---
Final Cut Pro X is Apple's non-linear, non-destructive video editing software. It is a native 64-bit application capable of utilizing all CPU cores and GPU-accelerated processing, useful for improved playback, rendering, and transcoding. It is used by hobbyist filmmakers and industry professionals in TV, Film, and streaming media.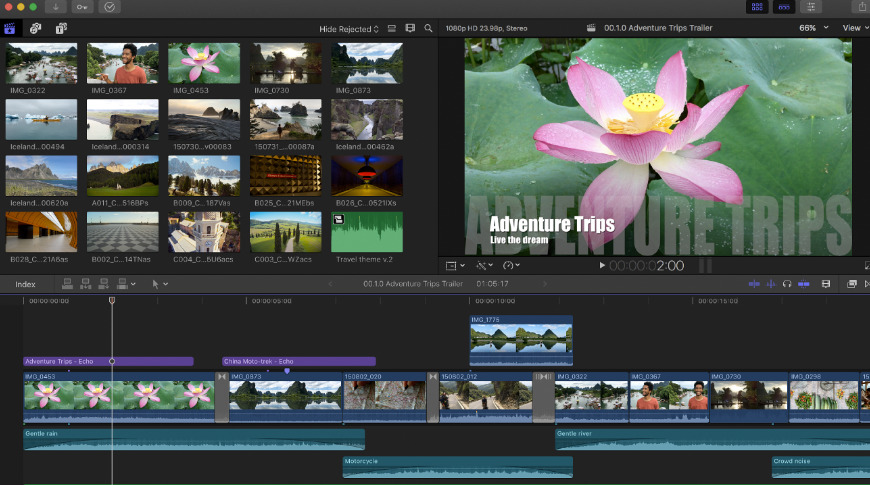 The software is available to purchase directly from the Mac App Store for $299.99.
Final Cut Pro History
Macromedia initially created Final Cut Pro as an alternative to Adobe Premiere, designed to work alongside Apple's QuickTime. Randy Ubillos, a designer behind the first three iterations of Adobe Premiere, led the project. While the program saw some initial copyright issues before its release, Apple purchased the development team in 1998.
In the early 2000s, the video editor began receiving praise from industry professionals. Independent producer Michael A. Bloom had praised the program in an interview with Larry King. He cited that the program did not fail a single time while rendering his film.
Roger Avery, the director of Rules of Attraction, became the official spokesperson for Apple's video software. His appearance in global print advertisements helped encourage other editors to make the switch.
In 2002, it won a Primetime Emmy Engineering Award for its impact on the television industry.
Final Cut Express, a less expensive version of the software, was launched in 2003. While it was well-received at launch, the program was later discontinued in 2011.
Final Cut Pro X, the official successor, was launched in April of 2011. The program was rebuilt entirely and featured a new interface and now conformed to 64-bit application standards. Other new features included workflow enhancements, automation, Core Animation, and ColorSync integration. Later iterations of the software would gain support for the MacBook Pro's Touch Bar, enhanced color-editing tools, 360-degree video editing support, and support for HDR.
As Apple continues to improve upon its iPad Pro line, it is expected to introduce more professional-grade apps to the ecosystem. Apple's professional media editing and creation apps are perfect targets for such implementation, but very little in terms of rumors or leaks has indicated any imminent release.
Final Cut Pro Features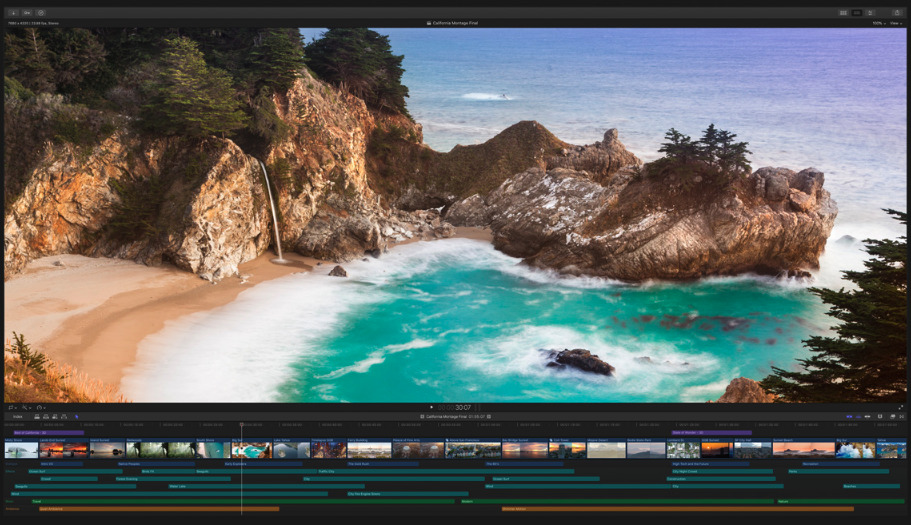 Final Cut Pro X uses a magnetic timeline, allowing non-destructive editing of clips. Clips can be moved, trimmed, and reordered without collisions or syncing problems. Compound Clips enable users to bundle video and audio clips into a single, movable package. The addition of color-coding helps users identify different types of content at a glance.
Organization has also been brought to the forefront of the software. Users can tag clips and clip ranges with metadata for searching or create Smart Collections that automatically collect content based on custom criteria.
Apple also added more functionality for video editors to take advantage of, including workflow extensions for third-party apps and services and several other highly-requested features. The additions allow editors to drag media into their libraries, add clip markers, synchronize playback between extensions and the timeline, and other features.
Other integrations include review and approval of work via Frame.io, the ability to search for product stock footage with Shutterstock, and enhanced media asset management via CatDV.
In line with previous versions, it also gives users robust text and graphics tools. Users can easily create 2D and 3D titles, apply filters, and use a built-in chroma key for blue- and green-screen effects.
By taking advantage of Metal, the app has seen vast speed improvements. Those who edit videos on a 15-inch MacBook Pro will see 20% faster render times, while those using an iMac Pro could see up to 35% faster renders. It also allows users to utilize external GPUs.
The latest update has been optimized for the new Mac Pro. Designed to take advantage of all the GPUs in Mac Pro, the app uses multithreading to spread tasks across up to 28 cores. It supports up to six streams of 8K ProRes RAW, 23 streams of 4K ProRes RAW, and can see up to 2.7x faster render speeds on the Mac Pro.
There is also extensive support for the Pro Display XDR, Apple's high-quality screen it introduced alongside the Mac Pro. As well as using it as a display or reference monitor, there is also support for up to three Pro Display XDR units in the software, with two used for the main interface and one for dedicated monitoring.
Apple also included support for Sidecar, a macOS feature that lets you use an iPad as a second display. Sidecar works with both wired and wireless connections.
There are High Dynamic Range improvements as well, with enhanced color-mask and range-isolation tools for grading HDR footage and the ability to view HDR video tone-mapped to compatible Standard Dynamic Range displays when used in macOS Catalina.
Apple added the ability to record in Dolby Vision to the iPhone 12, and the company announced that an update is imminent with the ability to edit that format in Final Cut.
Motion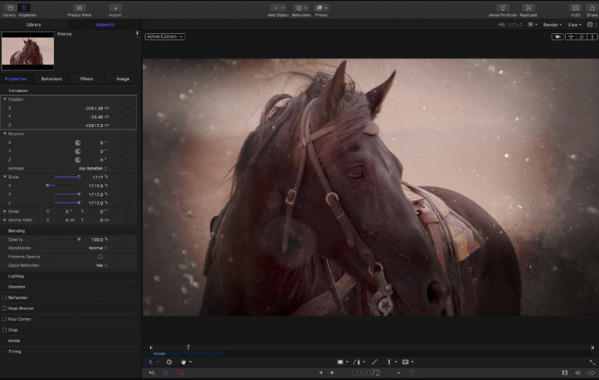 Motion is Apple's motion graphics tool that gives users the ability to create cinematic 2D, 3D, and 360-degree titles, transitions, and realistic effects in real-time. The interface is designed to be familiar to users if they have already used Apple's other professional software.
Users are also able to create Smart Motion Templates, which lets users adjust motion graphics quickly and easily.
Motion is available to purchase separately from the Mac App Store for $49.99.
Compressor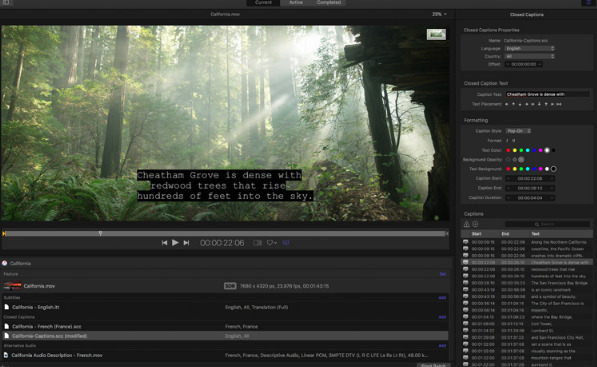 Compressor is Apple's video and audio compression and encoding application and is designed to work alongside Apple's professional audio and video apps. Users can encode MPEG-1, MPEG-2, Quicktime .mov, and MPEG-4 profiles, as well as convert NTSC to PAL and vice versa. Just as with Motion, Compressor's interface should look and feel familiar to those used to Apple's professional apps.
Compressor is available to purchase from the Mac App Store for $49.99.
Notable projects edited with Final Cut Pro:
500 Days of Summer
Burn After Reading
The Girl with the Dragon Tattoo
Leverage
The Social Network
Trailer Park Boys
X-Men Origins: Wolverine