2019 'iPhone 11' may play audio over two Bluetooth devices at once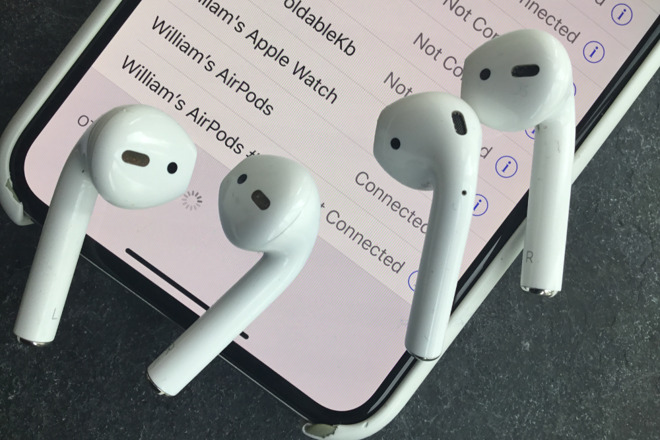 AppleInsider may earn an affiliate commission on purchases made through links on our site.
The 2019 iPhones could feature a dual Bluetooth system that lets them send audio to two separate devices, according to a report citing Asian suppliers.
Apple's forthcoming iPhones may include a dual Bluetooth system that would allow audio to be sent to two paired devices. Currently you can pair many Bluetooth speakers, headphones or car systems, but you can only play audio over one of them or to a joint system like multiple HomePods. This report, citing sources in the Asian supply chain, claims at least some of the 2019 iPhones will allow you to simultaneously connect two different Bluetooth devices.
The Japanese Apple blog Macotakara has reported on the rumor and also points out that selected Android phones already have this feature. "According to Asian supplier sources," says Macotakara (in translation), "the next iPhone will have the same Bluetooth profile [as] Huawei Technologies' Huawei P20 Lite [and] Samsung's Galaxy S8, S8 Plus and later."
The site says that you won't be able to play different music tracks, for instance, to the two devices. "But dualizing Bluetooth enables two AirPods (2nd generation) to play sound at the same time, and connecting it to car Bluetooth navigation while using AirPods will be possible."
The idea there is that you could have music going to your AirPods while navigation instructions are spoken over your car's speakers. That seems substantially less safe than the current system of music volume being dipped, or podcasts being paused, while you're driving, but it might keep the kids quiet in the back.
While the rumor specifies that the feature is coming to the 2019 iPhones, it's not certain that it will be included in all of the range. "The source said that they didn't know which iPhone model will mount Dual Bluetooth function for sale," reported Macotakara.
The Macotakara report was first spotted by 9to5mac.