Apple debuts iOS 13 with Dark Mode, enhanced speed, swipe to type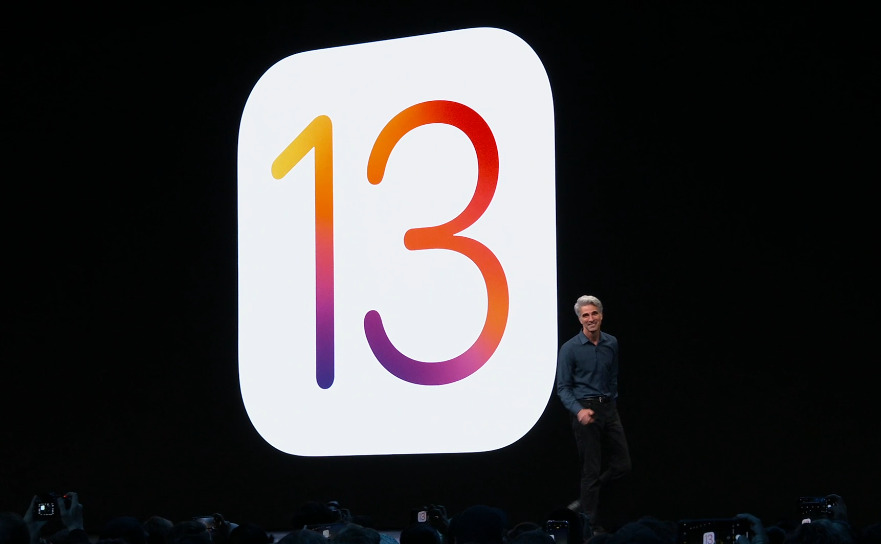 The forthcoming iOS 13 has been revealed at the 2019 WWDC and its features of faster performance and Dark Mode plus redesigned Apple apps, including Reminders and Apple Maps, will come to iPhones — and with iPadOS also to iPads — later in the year.
Apple has announced its new iOS 13 at the 2019 Worldwide Developers Conference in San Jose. Chief amongst the updates and improvements revealed by Craig Federighi are a new Dark Mode plus redesigned versions of key apps including Reminders, Health and Apple Books.
Federighi says that FaceID unlocks up to 30% faster. App Downloads are going to be 50% smaller, with 60% smaller updates. App launch speed will be accelerated up to twice as fast.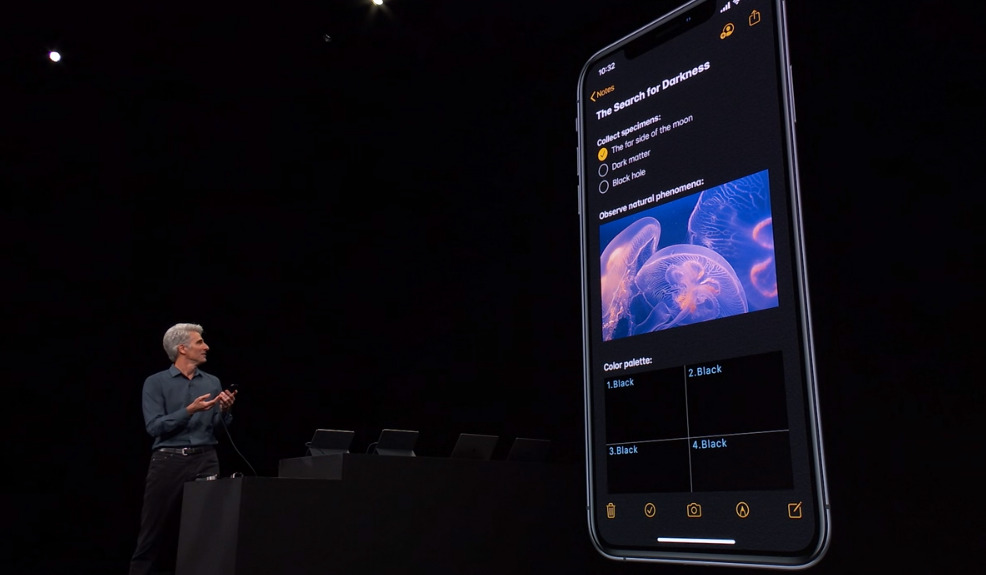 Sharing has been revised in iOS 13 to bring new features and speed but also privacy. If you go to share an image, iOS 13 automatically offers you "intelligent suggestions based on who is in the photo."
If you're instead logging into new websites or social media platforms to do your sharing or any other work, iOS 13 protects your privacy with a feature called Sign In with Apple. This is a "new, more private way to simply and quickly sign into apps and websites," says Apple. "Customers can simply use their Apple ID to authenticate and Apple will protect users' privacy by providing developers with a unique random ID."
"Even in cases where developers choose to ask for a name and email address," continues Apple, "users have the option to keep their email address private and share a unique random email address instead."
As expected, iOS 13 has followed last year's macOS Mojave by introducing Dark Mode. As with the Mac, many iOS applications already have a Dark Mode which typically inverts colors so that you're reading white text on a black background. It can be very effective, especially on the OLED screens of the iPhone XS and iPhone XS Max.
However, what iOS 13 does is bring that to the system level. All Apple apps now have this Dark Mode and you can switch it on or off for them all in one go.
If a third-party app has been designed strictly according to Apple's guidelines, it too will both support Dark Mode and honor your choice to turn it on.
There will be many apps, though, perhaps especially those who have already implemented their own equivalent of Dark Mode, which will not be compatible with Apple's solution. That is likely to change and probably quite quickly as Apple's version can go further and offer a more system-deep Dark Mode than any third-party app can.
In demonstrating Dark Mode, Craig Federighi showed off new darker wallpaper and notifications. Alongside new dark visuals, he demonstrated "time-synced lyrics" in Apple Music and what he called a "quick-path keyboard" which helps you write faster by using swipe actions.
Speaking of the keyboard, iOS 13 adds new Memoji Stickers to it in Messages. "We automatically create a sticker pack for your emoji," said Federighi. "We've included them right in your Messages keyboard."
There is now also a portrait lighting effect which changes how your images look. "We're extending it so that you can adjust the intensity of your lighting effect," he said. "When you increase the intensity, it is virtually like moving the light closer."
Apple Maps has been revamped, too. The new iOS 13 version of Apple's mapping service includes much more detail. "We've been driving and flying all across the United States," said Apple, "collecting data to add significant detail to the map."
There's a new launch screen for Maps which lets you add the places that you go to every day plus Collections, which let you organise your favorites.
Apple also introduced a new version of street view which lets you see a road-level image of your destination and then zoom through it at speed.
Audio
The new features in iOS 13 are not limited to on-screen changes. Siri has been updated so that, if you choose, it will read you new text messages as soon as they arrive.
There's now also audio sharing to allow more than one person to listen to your device. And HomePod will be able to recognise different people speaking to it in your household.
When Siri speaks to you, it's now going to be using what Apple calls a "neural text to speech" feature. "For the first time ever, the voice you hear is entirely created in software." This makes it sound noticeably more natural.
You're also be able to listen to any of 100,000 live radio stations on demand.
Apple has simplified the previous Find My Friends and Find My iPhone apps into one, which is now called just Find My. It's a particularly welcome move because Find My iPhone had become the iTunes of iOS with extra functions being bolted on. It became the app you also used when you wanted to find your iPad, Mac, Apple Watch, or AirPods. The only thing it didn't find was your friends, and now Apple's smoothed all of that out into one app.
It's also made that app potentially more appealing. If you've never used Find My Friends to track where your colleagues, acquaintances, partners or family members are, it's probably because they are grown people and it's none of your business.
In hardware news, iOS 13 is supporting a new feature called Sidecar. It's a system that let you use your iPad as an extra or a mirrored monitor for your Mac. As well as giving you the option of this further screen real estate, though, this also means that you can finally use touch to control Macs. If a Mac app is on your iPad screen, your regular touch gestures will work with it.
While that may prove to be a boon for graphics artists using Mac apps such as Adobe Illustrator, it's not the intended benefit of the system. Both Apple's new solution, and the third-party Luna Display ones that already does this, are meant to let you leverage these expensive iPads either at the Mac in your office or as an adjunct to your MacBook on the go.
New iPadOS
All of these new iOS 13 features will be available to both iPhone and iPad, but Apple has also announced iPadOS which Craig Federighi says offers "a tonne of great features that take iPadOS to the next level."
It will provide more iPad-specific features including a revamped home screen, including "desktop-class" browsing, new keyboard shortcuts for external keyboards — and iCloud folder sharing.
These apps and the whole of iOS 13 plus iPadOS are expected to be made publicly available around September when Apple announces its next iPhones. Beta versions have already been released for cevelopers have already begun getting begin receiving beta versions of iOS 13 and iPadOS, and a public beta program is due to start in July.