Compared: Brydge Pro vs Logitech Slim Folio Pro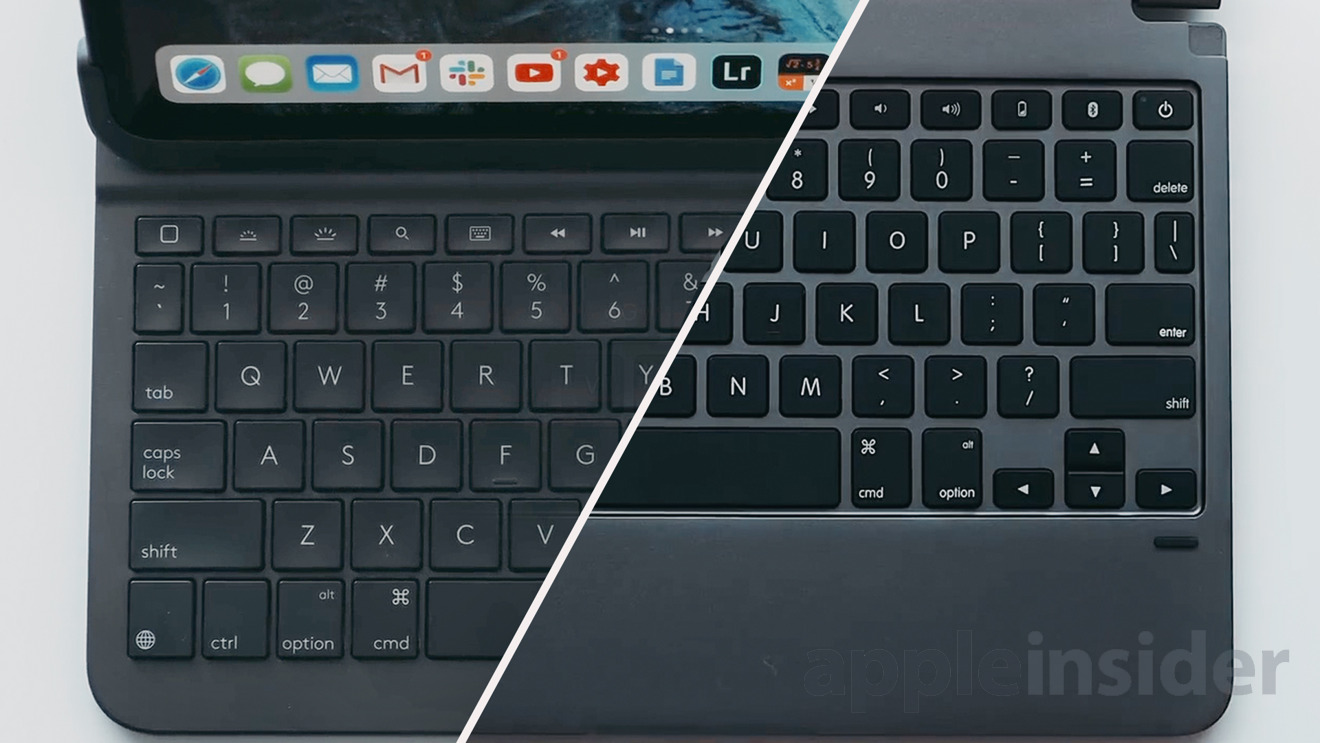 Third-party keyboards are really popular for the 2018 iPad Pros, and one of the best selling keyboards are the Brydge Pro and Logitech Slim Folio Pro. Both of these keyboards are available for the 11-inch and 12.9-inch iPad Pro. Let's compare and see which one is best for what type of user.
Brydge Pro is not a case, but an external keyboard
The Brydge Pro Keyboard is not a keyboard case like the Slim Folio Pro, it's an external Bluetooth keyboard that transforms your iPad Pro into a MacBook with its sturdy aluminum body that is cold to the touch and offers an almost unlimited viewing angle.
The keyboard itself has decent key travel, as we mentioned in our review and are backlit with up to three different brightness options. It packs a battery that can last up to a year and charges via USB-C, has iOS shortcuts above the number key, and there's also a place for the second-generation Apple Pencil to sit on the iPad and wirelessly charge.
If you do want more of a "case" with the keyboard, Brydge does offer optional back covers that work with its keyboards for full coverage.
Logitech offers full protection, and a keyboard
The Logitech Slim Folio Pro on the other hand is a really nice rugged keyboard case solution for the iPad Pro, which protects protects all four corners of the iPad while also having enough clearance for the second-generation Apple Pencil. It's made out of a high quality, durable silicone material and it's rugged.
Unlike the Brydge Pro, you'll have actual drop protection for your iPad Pro.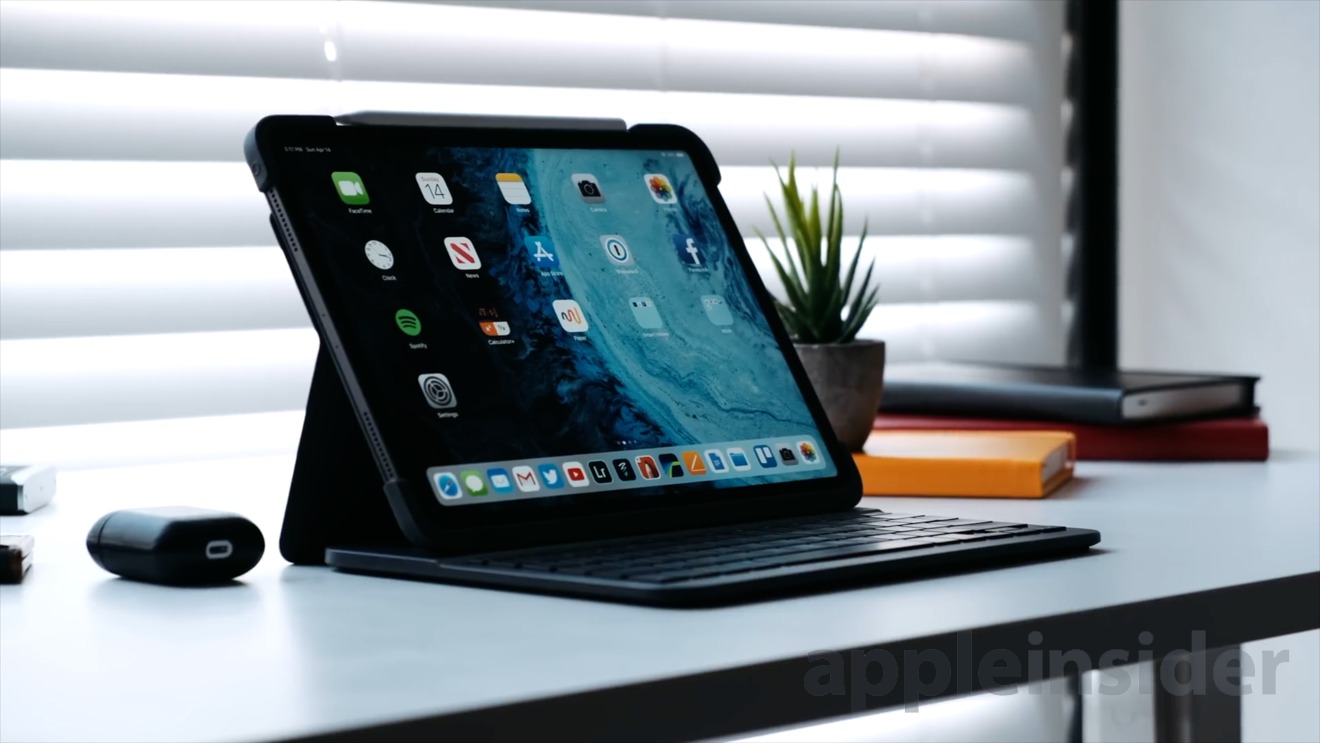 In terms of overall design though, we really like Brydge Pro keyboard in terms of looks. It's a lot sleeker, and feels way better to carry the iPad when it's closed, and it weighs less than Logitech's offering.
The Logitech Slim Folio Pro is not a slim device at all, despite the word "Slim" on its name. It's a bit thicker than the Brydge Pro, and noticeably heavier too, but there's a reason for that. While the Brydge Pro is lighter and slimmer than the Logitech, the Slim Folio Pro acts as a case as well, and uses different silicone materials to help protect the iPad from bumps and drops.
Functionality over portability?
When it comes to functionality, and how the keyboards perform, the Slim Folio Pro is the clear winner here. As mentioned in our review, the keyboard feels great, and has plenty of travel, very reminiscent of Apple's MacBook keyboard before they switched over to their new butterfly switches.
Typing on the Brydge Pro is just OK once you have it next to the Slim Folio Pro as it offers enough key travel, better than the Apple Smart Keyboard, but without the same key travel or tactile feedback as the Slim Folio Pro. One thing I do love from the Brydge Pro though is how bright the keys are at night, with its brightness options able to emit more light than the Logitech Slim Folio Pro.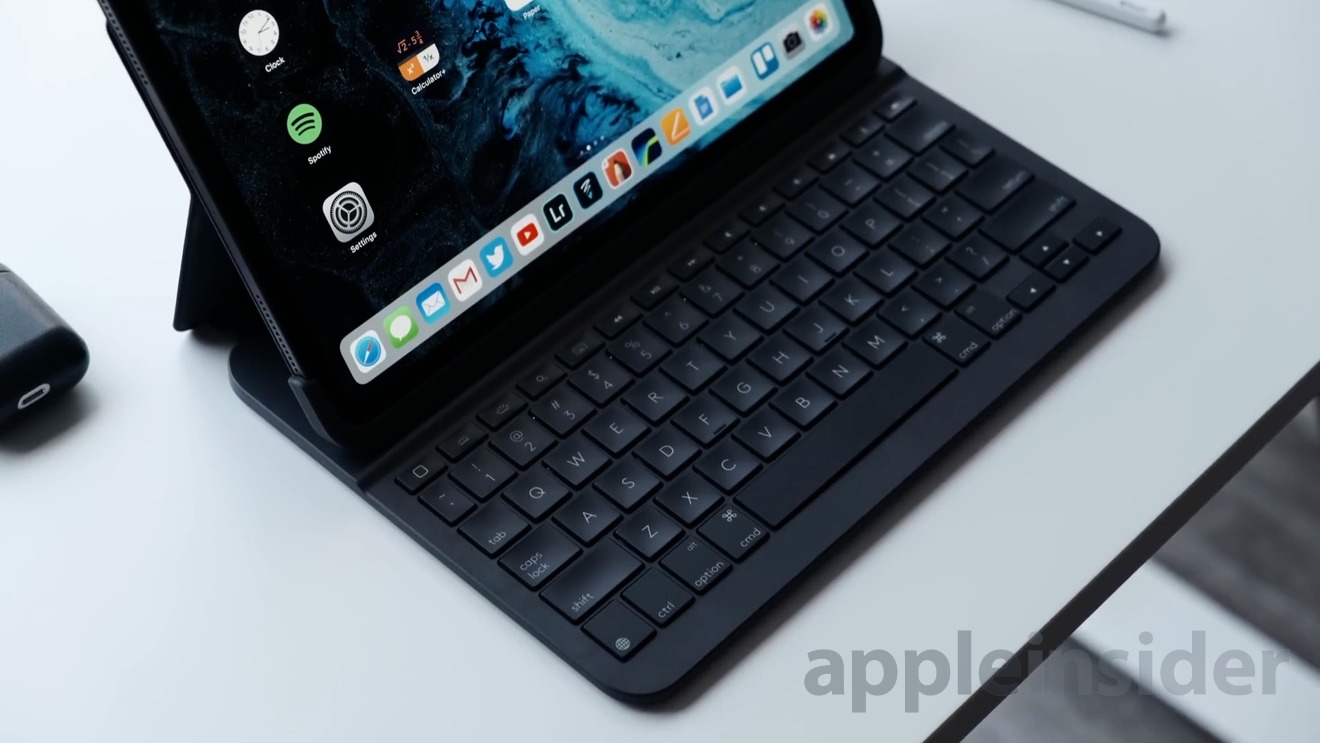 Logitech offers two different typing positions by adjusting the back which gives you a more vertical view of the display. You can also set it in drawing' mode where the keyboard goes behind the iPad, but given the bigger footprint, and key travel on the Slim Folio Pro, pushing down on the iPad on either side of the device will make the iPad uneven at times and can be a bit frustrating when using the Apple Pencil.
The Brydge Pro, on the other hand, offers an almost unlimited viewing angles which is something I really love about this keyboard. Like a traditional laptop, you can move the iPad at almost any angle and type away, and you're not restricted to just two angles due to the free flowing hinge design. You can also put it in movie mode or drawing mode by taking out the iPad and flipping it the other way and folding it down.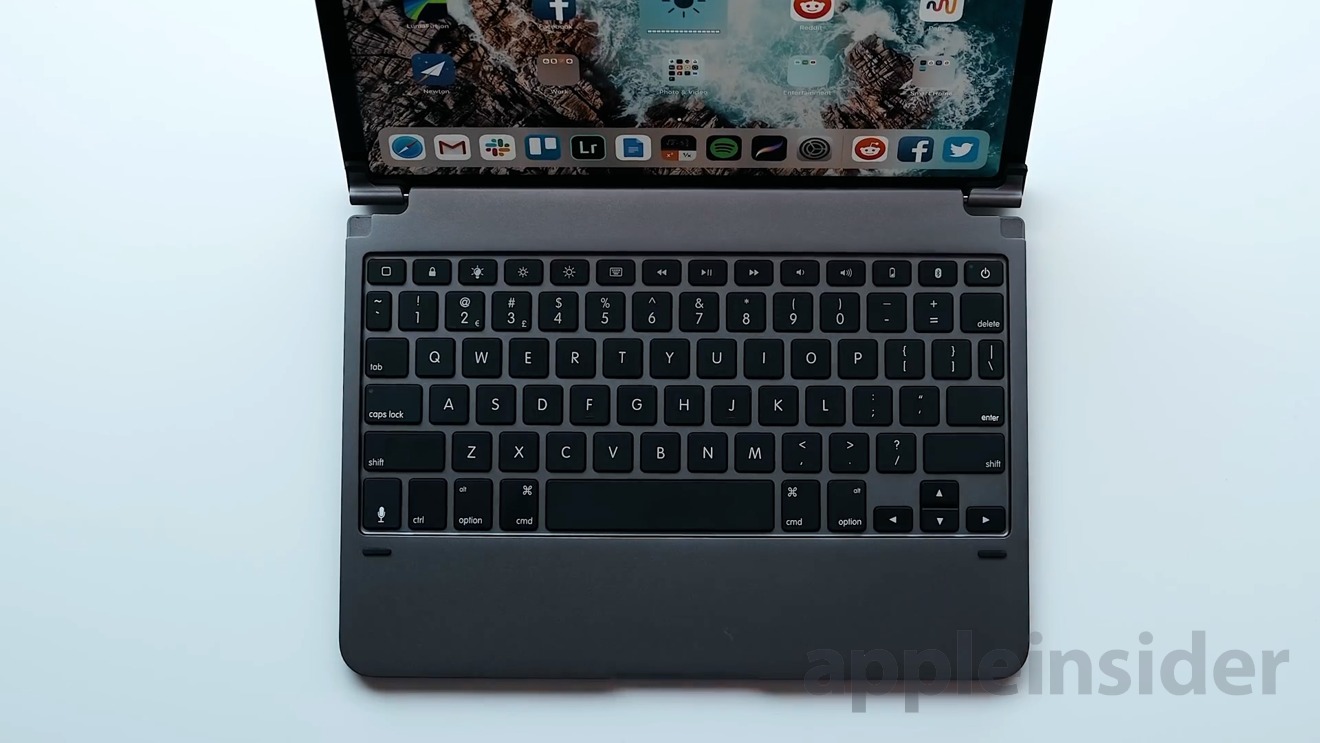 Battery life on the Slim Folio Pro is supposed to last up to three months which isn't terrible, but isn't great either. The Brydge Pro on the other hand is supposed to last up to a year on a single charge. We haven't had these two keyboards for more than 3 months to check if these claims are true, but if you're interested in a revisited video, let us know in the comments below.
Which wins out?
That said, which one gets the edge?
Here's the thing. If you're looking for a traditional folio keyboard case that'll protect your iPad Pro from drops or bumps and scratches, and you don't really care how thick or heavy your iPad Pro is, then pick up the Logitech Slim Folio Pro. But if you're looking for something unique that'll offer an almost unlimited viewing angles that mimics a traditional laptop that is thinner, and weighs less, but still want a good typing experience, the Brydge Pro is what you should pick up.
Where to buy
Logitech's Slim Folio Pro for the 2018 iPad Pro starts at $119 with free shipping at Logitech.
AppleInsider has affiliate partnerships and may earn commission on products purchased through affiliate links. These partnerships do not influence our editorial content.