Review: Twelve South HiRise Wireless is a great 3-in-1 charger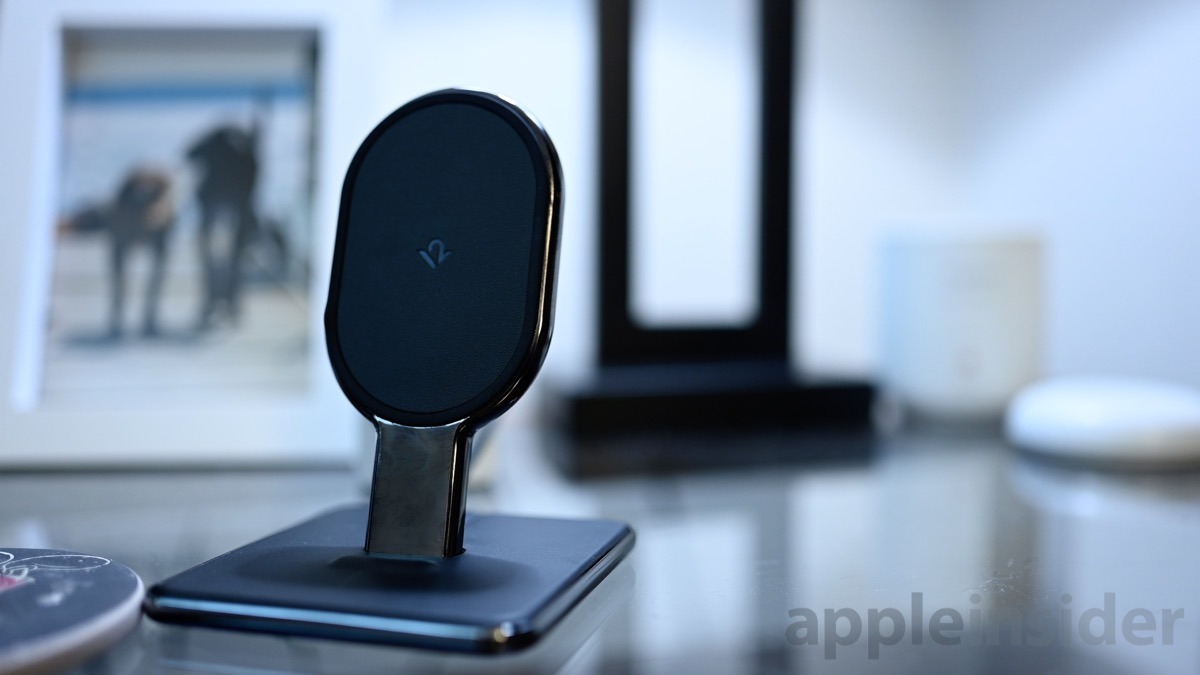 AppleInsider is supported by its audience and may earn commission as an Amazon Associate and affiliate partner on qualifying purchases. These affiliate partnerships do not influence our editorial content.
Twelve South has just taken the wraps off its latest charging accessory — the HiRise Wireless. Mixing a combination of features, this new charger is a great multi-purpose accessory to keep around.
Charge your gear — wirelessly
The HiRise family from Twelve South shares many features across the line, such as the ability to charge a wide variety of devices, excellent build quality, and a compact footprint.
It started with a simple Lightning dock that would work with almost any case, eventually getting a more modern design. Then came a 2-in-1 design that integrated an Apple Watch charging puck. Now we have the wireless iteration. While it does ditch the Apple Watch charging puck, it does offer additional flexibility.
The base of the HiRise wireless is hefty. It is metal with a glossy finish around the curved edges and a leather pad on top. The leather pad gives your phone a soft place to rest when nestled in to charge.
Towards the front is a small bump that prevents the phone from sliding forward and around back is a ridge for the cable to align with
On top, propped up, is a wireless charging pad. We've always been fond of wireless charging stands — especially on the desk — so that we can see notifications as they come in and Face ID has an easier time scanning hour face than if laid flat.
A unique design
The HiRise Wireless has the ability to remove the charging pad from the top to be used as a portable charger or as a flat charging pad. The idea is if you needed to charge something like AirPods that won't work in the vertical stand, the charging pad can be set down on the table/desk and used that way.
The charging pad, what Twelve South calls the Power Disc, isn't particularly large and could easily pocketed when heading out, although you still need a USB-C cable to use it. Twelve South says just leave the cable at home and use a travel cable or your Mac's USB-C cable instead which will work for most.
It still seems like an odd pitch. We've seen wireless charging stands that support AirPods which they accomplish by adding more, and lower, coils in the stand. Doing so would increase the size of the charging pad, but we aren't entirely sure it was a common problem that needing solving.
Highs and lows
We aren't fans of the build of the top of the charger. The bottom is all leather and heavy chrome metal whereas the top glossy portion is just plastic. It is just plastic with a chrome finish which doesn't look as good from behind where you can see the unfinished portions.
We assume there is some reason — other than cost — that Twelve South chose plastic for the entire top rather than more chromed metal but it feels decidedly cheap when compared to the rest of the charger. With all the glossy steel and plush leather, plastic feels out of place.
We are also left needing another standalone Apple Watch dock since there is no puck integrated as with the HiRise deluxe. HiRise Wireless may take up less space, but with a second charger for our watch is isn't that much of a savings.
More wireless chargers
More and more manufacturers are coming out with their take on wireless chargers. It isn't to differentiate yourself in what is quickly becoming a crowded market.
Twelve South has always strived to do just that and we see that with the HiRise Wireless. It does look like one of the best wireless chargers we had and is much better than the black/white plastic charging stands that are often so prevalent.
We're thrilled Twelve South chose to go with USB-C for power as well which does make it more convenient over Micro USB — a cable type Apple fans seldom seem to have around.
If you've been looking for a charging stand that can transform to work flat, you'd be hard pressed to find a better styled option, even with some of the material choices.
Rating: 4 out of 5