Tim Cook marks Apple's attendance at San Francisco Pride Parade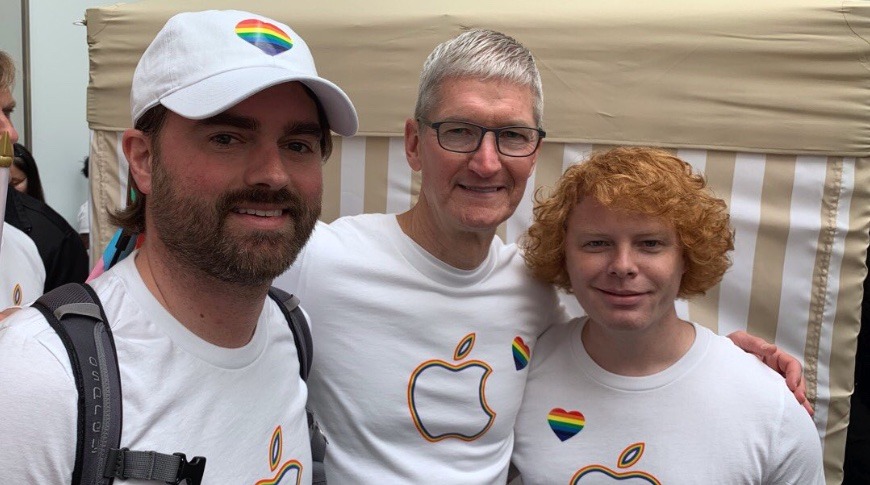 Apple CEO Tim Cook made an appearance at the annual San Francisco Pride Parade on Sunday, joining Apple employees in marching through the city, recognizing and celebrating the LGBTQ community and connected good causes.
Posting to Twitter, Cook wished "Happy Pride to everyone celebrating around the world!" Cook also highlighted Apple's attendance at the San Francisco event, noting "Great to see so many Apple employees marching today."
Along with the comment, Cook included a photograph of the Apple employee group marching on the street, wearing t-shirts and holding up signs and banners bearing the Apple logo, using a rainbow-styled outline. Cook himself also made an appearance on social media via other Internet users, featuring in selfies with Apple employees.
Apple regularly takes part in the San Francisco Pride parade, with other executives also attending to mark the occasion, including Deirdre O'Brien, the company's newest retail head.
The iPhone maker regularly offers charitable donations to LGBTQ causes, as well as speaking out in support of organizations and individuals. In June, Apple launched a new Pride Edition Sport Loop for 2019, with proceeds from its sale going towards a variety of LGBTQ advocacy organizations, including GLSEN, PFLAG, The Trevor Project, and Gender Spectrum.
Apple has repeatedly received a perfect score of 100 on the Human Rights Campaign's Corporate Equality Index, which monitors the treatment of LGBTQ people both within and outside of the U.S. workplace.
Cook has repeatedly spoken out in favor of LGBTQ rights, and is the first openly gay CEO of a major U.S. corporation. In October, Cook will be presented a "Champion" award by GLSEN for his efforts in promoting likeminded causes.
"At Apple, our commitment to inclusion helps us do our best work, each and every day," Cook said in a prepared statement for the award. "Innovation depends on openness to new ideas, a culture of curiosity and a climate free from shame and stigma — that's true not only true for Apple, I believe it's true for everyone."