Samsung reportedly completes Galaxy Fold redesign, release date still unknown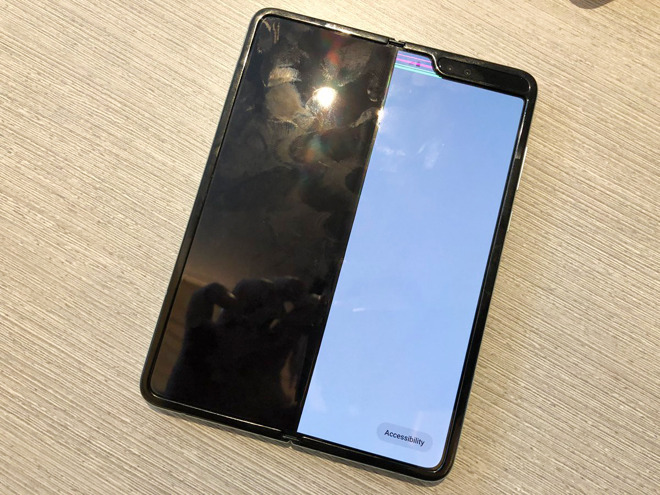 AppleInsider may earn an affiliate commission on purchases made through links on our site.
Samsung has reportedly finished a redesign of its Galaxy Fold smartphone following an ignominious pre-launch promotional campaign that saw pre-release review hardware fail in droves.
According to people briefed on the matter, Samsung is in the final stages of producing a version of the Fold fit for commercial use, Bloomberg said in a report Tuesday.
The Korean tech giant spent the last two months tweaking the design of its folding smartphone after early review units succumbed to widespread screen failures.
Many reviewers found reliability issues with the 7.3-inch OLED panel, which folds along a central hinge line. After repeated folding and unfolding, users saw a noticeable crease in the display that brought with it corrupted graphics that in some cases resulted in one half of the panel becoming completely non-functional. Others attempted to remove a display layer they claim appeared to be a screen protector, breaking the OLED panel and rendering the device useless.
The unexpected hardware issues forced Samsung to call off a launch originally scheduled for April.
It seems Samsung is looking to combat user error by designing Fold's top screen layer as a clearly integral part of the device. Sources say the "film" is stretched around the entire screen and continues into the outer bezels, making it impossible to remove by hand. Further, the hinge has been reconfigured to sit flush with the display, stretching the film when the device is opened.
With the added tension, the layer feels more like an original component rather than an accessory, the report said. The redesigned hinge mechanism might also prevent a crease from developing in the center of the screen.
Samsung will begin shipping components like the display and battery for final assembly in Vietnam in the near future, the report said. However, the redesigned Fold is unlikely to be ready in time for debut at Samsung's upcoming Unpacked event on Aug. 7.
At Unpacked, Samsung is expected to unveil its next-generation Galaxy Note 10 phablet, a high-end device that stretches the boundary between smartphone and tablet. Rumors point to a multi-array camera system, 5G integration and a model that boasts a massive 6.75-inch screen.
News of the Fold's redesign arrives some two weeks after Samsung Display Vice President Kim Seong-cheol at an industry conference said, "Most of the display problems have been ironed out" and that the device is "ready to hit market." More recently, Samsung Electronics CEO D.J. Koh admitted the Fold was introduced prematurely.
"It was embarrassing. I pushed it through before it was ready," Koh said in a statement this week. "I do admit I missed something on the foldable phone, but we are in the process of recovery."