Apple investigating iPhone 6 explosion in California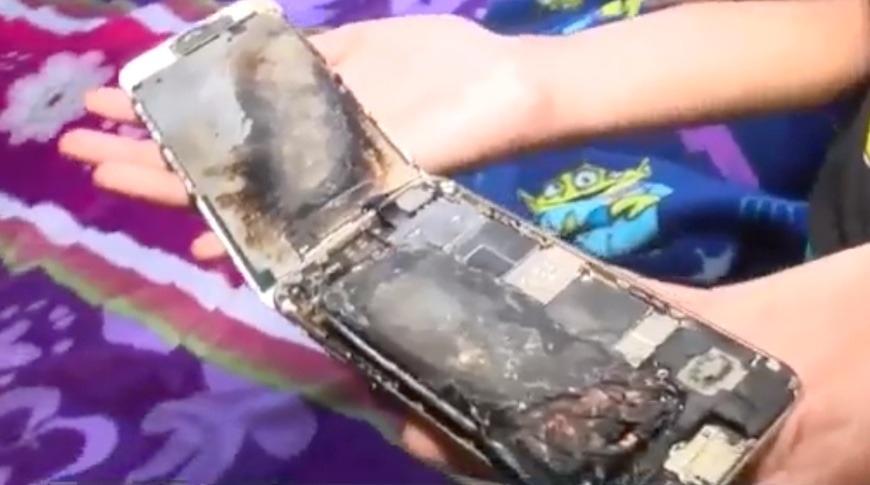 Apple is investigating why an iPhone 6 owned by an 11-year-old girl in California 'exploded' while being used to watch YouTube videos, an incident that luckily avoided any serious injury to the child or property damage.
Kayla Ramos was using her iPhone 6 in a sister's bedroom when the fire took place, and was holding the device when it ignited. After seeing "sparks flying everywhere" from the iPhone, Ramos threw it away from her and onto a nearby blanket.
Ramos told 23ABC on Thursday she did burn herself, but the main damage was sustained by the blanket and bed, which now have burn marks and holes where the iPhone landed. The iPhone 6 itself has partially disassembled itself, with the display panel separated from the main body, showing a considerable amount of burn marks on the inside of the device.
Mother Maria Adata told the report "My child could have caught on fire and she could have been hurt more and I am glad she's ok." Adata added she would no longer sleep with it nearby, suggesting "I know we charge it a lot, maybe that caused it, maybe it overheated."
Apple advised to Adata there could be a few factors that could cause overheating, such as the use of unauthorized charging cables and chargers. Such accessories are suspected to be the cause of some previous fires, including one incident in British Columbia that destroyed a farmhouse in 2016.
Apple also said unauthorized Apple repairs and external damage to an iPhone may also cause a battery failure down the line. In these cases, the company strongly advises customers to get in touch with its support teams, an Apple Store, or an authorized service provider.
In Ramos' case, Apple is investigating the cause of the damage, having already requested photographs from her mother, and is willing to send a replacement iPhone once the damaged version has been sent off for inspection.
Fires from iPhones are relatively rare occurrences, but do happen given the large number of the smartphones are sold around the world, and the small risks involved in using lithium-ion batteries.
In November 2018, an iPhone X started to smoke and caught fire after completing an update to iOS 12.1 and being charged by Apple's official Lightning cable and wall adapter, but it is unclear if the software update actually triggered the ignition. Another iPhone XS Max caught fire in December of the same year, overheating while in an Ohio man's pocket.
More unusually, one January 2018 incident saw an iPhone battery explode in an electronics store in China during servicing, after a customer bit the battery.