Apple's COO Jeff Williams is unsurprisingly more like Cook than Jobs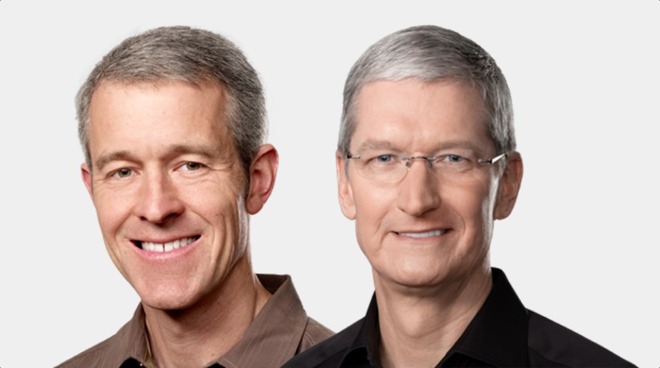 AppleInsider may earn an affiliate commission on purchases made through links on our site.
Apple Chief Operating Officer Jeff Williams has been touted as being very similar to CEO Tim Cook in terms of his management style in a profile article, which shouldn't come as a surprise to anybody. Despite claims that he is being groomed to replace Cook, it is unlikely he will be taking over as the company chief anytime soon.
Prompted by the sudden announcement Chief Design Officer Jony Ive was departing and would be replaced by other design chiefs reporting to Williams, the profile by Bloomberg spoke to anonymous sources identified as "several current and former colleagues" to closely examine Williams.
The "second-most important person at Apple and Tim Cook's heir apparent as CEO," the article states, it is outlined Williams is similar to Cook in many ways, as a "paragon of operational efficiency and even temper." The sources claim Williams is a "modest, disciplined, demanding leader in the current CEO's style," handling negotiations with suppliers and being a "bit more hands-on with product development than Cook."
The story doesn't really break new ground about Williams, as it is quite unsurprising that Williams is similar to Cook in many ways. The two men are close in age, with Williams 56 to Cook's 58, were raised in the American South, secured MBAs from Duke University, and spent comparable amounts of time at IBM before arriving at Apple.
Williams is also serving as COO, the same role Tim Cook was in before becoming CEO, and has spent his tenure at Apple working to bring the Apple Watch to fruition and to steadily grow as a product, among other areas.
"Within Apple, Williams is broadly regarded as a strong choice for the top job, and current and former colleagues say management had been steadily positioning him as such long before Ive's departure," the article muses.
In terms of working style, Williams is painted as being close to Cook in how he carries himself. "The COO, also like his boss, has a knack for watching, listening, and asking sharp questions," the article suggests, with a former Apple executive alleging Williams is attempting to use the same language as engineers in his conversations, "though he can be self-deprecating about his technical expertise."
"He's the closest thing at the company to Tim Cook and you'll get more of that," a former executive is quoted. "If you think Cook is doing a good job, then it's a good choice."
Succession plan, not a replacement one
Every company has a discrete "chain of command." Should something untimely happen to Cook, much as it did to CEO Steve Jobs, somebody would have to take control immediately. Williams is clearly that person.
As second-in-command, Williams is the obvious choice of being the replacement Cook if that time comes. That's how succession plans work. Williams' position in the role is likely due to a few reasons, including how his similarity to Cook allows the CEO to intimately know how the COO will make decisions and function overall.
And, a man promoted to Chief Operating Officer acting as as good Chief Operating Officer, and mirroring the performance of the previous COO — Cook — shouldn't be a big shock.
Being similar to Cook also means that Williams is able to more easily slip into the position of CEO without any major change in how Apple is run as a whole. The relatively smaller management style change from Cook to Williams than from former CEO Steve Jobs to Cook may put shareholders at more ease, as it is more likely Apple will continue along its current trajectory without enduring any sudden changes from the person at the top.
Even with the mentions of being the heir apparent, there isn't any indication that Williams will take the CEO role anytime soon. If anything, Williams is the current emergency option if Cook were to suddenly become unable to continue in his position, and it is likely to be years before there's the smallest suggestion Cook would be on the way out of the company.