Hands on: StayGo is a versatile USB-C Hub for at home or on the go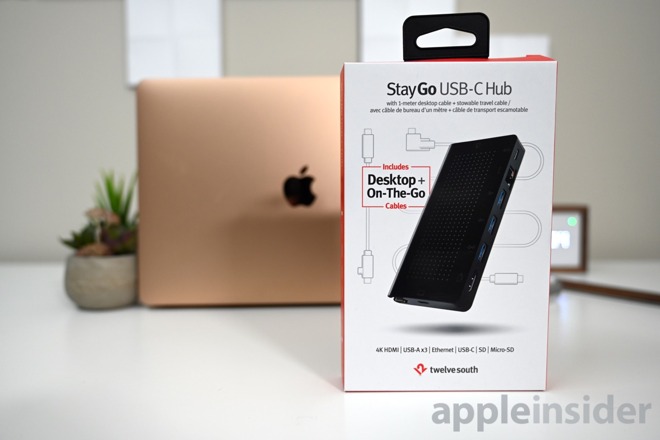 AppleInsider may earn an affiliate commission on purchases made through links on our site.
Twelve South has just taken the wraps off its brand new USB-C hub, StayGo. AppleInsider goes hands on with this versatile accessory for Macs and iPads.
There are more USB-C hubs on the market than we can count. Many of them are near identical with small, subtle aspects to differentiate them. Twelve South took at least some steps in helping StayGo stand out.
For here or to go?
Jumping right in, the part that sets StayGo apart from the pack is the dual cables it arrives with. One cable is a longer USB-C cable that has a right-angle connector on one end so it doesn't jut out unnecessarily from the side of a Mac.
Having that right-angle on one end really makes a difference in tight spaces. We have our one Mac running in clamshell mode in BookArc up against a wall. A right-angle cable allows it to get closer to the wall and free up more space on the desk.
That longer cable is great for the desk and office locations but when you travel, the length becomes burdensome. The included mini cable is six inches in length, and can be housed right within the StayGo itself. There is a small tab that be used to slide it out, but otherwise it stays completely hidden inside the housing.
This isn't the first USB-C Hub that ships with a short and a long cable — check out the Uni Dock and Uni Hub for our most recent alternative. However, it is the first that allows one of those cables to be stowed away.
Port selection
There are eight ports in total on the StayGo. Along one side are three USB-A, HDMI, Ethernet, and USB-C ports. The USB-C port can handle 80W of passthrough power as well as data. The HDMI port is capable of supporting up to 4K resolution at 30Hz.
On one end of the body are dual SD and Micro SD card readers, which are unfortunately limited to UHS-I rather than the faster UHS-II we'd hoped for.
Another USB-C port is used to connect to your iPad Pro or your USB-C enabled Mac. It would have been nice to see another USB-C rather than three USB-A ports and this is something we'd like to see manufacturers stop skimping on.
The ports are well-built and useful. They are a good fit for the bulk of users.
We've been using the StayGo for the past two weeks, and it has been a helpful accessory to have around. If you ignore the second cable, StayGo basically amounts to just another USB-C Hub that we've seen time and time again, so the addition is a nice touch, and the extra bulk that the storage bay requires isn't a problem.
If you like the idea of always having a small cable ready to go, pick up the StayGo. If you don't find yourself needing it, and prefer something slimmer, it would be best to shop around.