Apple begins limiting Apple Music free trial period to one month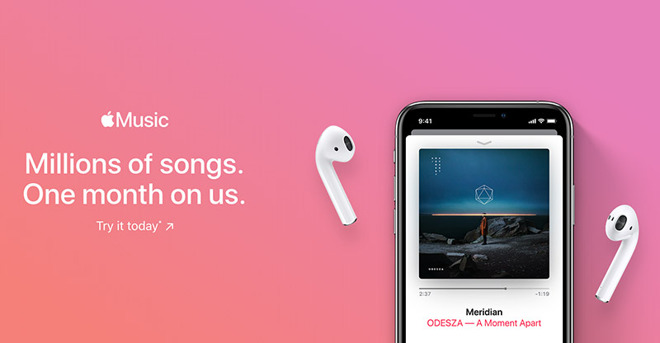 AppleInsider may earn an affiliate commission on purchases made through links on our site.
A banner ad recently posted to Apple's website suggests the company might soon change Apple Music's free trial period from a generous three months down to one for new users.
"Millions of songs. One month on us," the ad reads.
Clicking on the graphic directs users to an iTunes webpage that reiterates the one-month term, including a dedicated initiation button that reads, "Get 1 Month Free." Links in iTunes also direct to the one-month offer, though some ads on social media platforms and others strewn across the internet either directly reference Apple Music's longstanding three-month trial or point to an iTunes page that echoes the legacy three-month, no-commitment offer.
While not confirmed, the policy change could be rolling out by region, as some users are no longer capable of signing up for a three-month trial. Others, however, still have access to the original offer through both iTunes and the Music app on iOS.
The updated terms mark the first change to Apple's streaming music subscription structure since the service launched in 2015. Designed to draw in new users, the three-month, no-obligation trial was among the most generous from the world's major streaming services. By contrast, Spotify presents new users a 30-day free trial to its premium tier, while Pandora provides similar incentives for its for-pay product.
Over the past two years, however, Apple Music has quickly cemented its status as a leading streaming provider. According to Apple's most recent numbers released in June, Apple Music boasts 60 million paying subscribers. A far cry from Spotify's 100 million subscriber count, Apple Music is growing more rapidly than its competing market leader and is in control of key countries like the U.S.