Eddy Cue says Apple Music has 60 million subscribers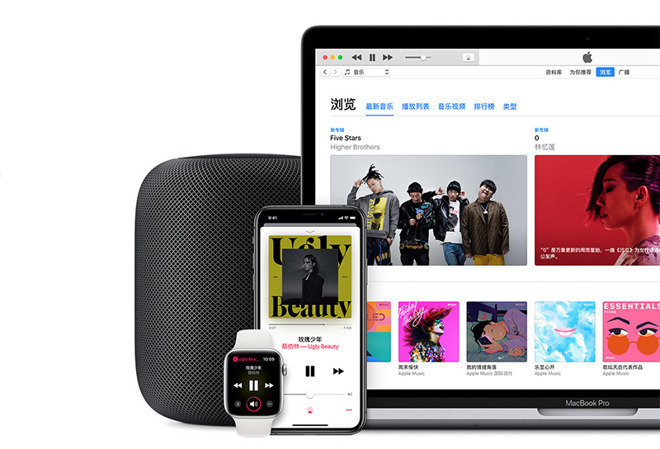 AppleInsider may earn an affiliate commission on purchases made through links on our site.
Apple Music has passed by the 60 million paid subscriber mark, Apple Senior Vice President of Services Eddy Cue advised on Thursday, with Apple's streaming platform hitting the milestone within the first four years of its existence.
The Apple-produced music streaming service has enjoyed considerable growth since its launch, with Cue advising to French media that Apple Music has reached 60 million paid users. The new subscriber level milestone has been reached just five months after Apple confirmed Apple Music had grown to 50 million paid users in its January conference call.
Cue declined to offer details to Numerama about how many users there are on other platforms, such as Android, but said, "In the Apple ecosystem, Apple Music is the number one streaming service."
Apple continues to lag behind main rival Spotify by a considerable margin, with subscribers of Spotify Premium breaking the 100 million subscriber barrier in April. That point was reached at a far slower rate since Spotify Premium launched in 2008, compared to Apple Music's 2015 launch. In April, it was determined that Apple Music was beating Spotify in terms of paid subscribers in the United States, leading at the time with 28 million subscribers to Spotify's 26 million, based on analyst estimates.
One "2019 Brand Intimacy Study" from May suggests Apple Music's brand worth has waned among apps and social platforms, shifting from first place in 2018 to fifth in 2019, overtaken by both Spotify and Pandora in second and third place, respectively.
Elsewhere in the conversation, Cue advised he was pleased with the progress of subscriber figures and Music's "current state," but advised "its next release proves that the service can always be perfected." Referencing features in the iOS 13 version of the app, Cue took a moment to swipe against a recent accusation by Genius that Google was copying their lyrics, saying, "We've entered them for the most part."
On the subject of the splintering of iTunes into separate apps, as confirmed at WWDC, Cue was asked if he would miss iTunes once it's gone, and whether he preferred iTunes or Apple Music.
"I worked so much on iTunes and Apple Music, I'm biased," he admitted, continuing, "Of course I'm fond of iTunes, but I think Apple Music is absolutely better in every way. We have something better now and there is no point in looking back."
One of the reasons for the split was due to the overall complexity of the app, with iTunes gaining more features over time that made it bewildering to some users to discover how to do some tasks.
"We try to solve it by highlighting cards on the homepage to inform users who have not used such and such a function, such as playlists. But the equation is complex; we must keep a simple interface while informing about these features," he said.
Giving one example of not combining Podcasts with Music, "These are two things so different. You do not listen to a podcast, then a piece of music, and then a podcast. Experience has shown us that running in separate applications works great on iOS."