SoftBank president hints 2019 iPhone sales start on Sept. 20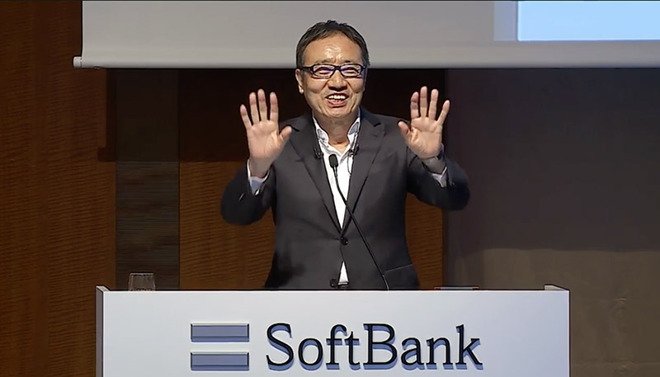 AppleInsider may earn an affiliate commission on purchases made through links on our site.
SoftBank president Ken Miyauchi during a quarterly earnings presentation Monday jokingly implied that this year's iPhone refresh will hit store shelves ten days prior to the end of September, a date that falls squarely in line with Apple's typical release timeline.
During the meeting, Miyauchi was queried about the upcoming implementation of Japan's revised Telecommunications Business Law, scheduled to go into effect on Oct. 1. As noted by Mac Otakara, a reporter specifically asked how the company plans to manage the launch of iPhone, which is widely expected to launch sometime in September.
Currently, mobile carriers bundle data and device fees together on contracts, with major providers charging exorbitant data prices to make up for hardware subsidies on big-ticket items like iPhone. The complicated process will be modified by the new law, which requires carriers to separate data and device charges, according to a Japan Times report published in March.
SoftBank has gone on record as saying it already abides by rules outlined in the revised statutes.
"I'm honestly thinking about what I should do for about ten days," Miyauchi said, referring to iPhone's supposed launch and the revised law. "Excuse me, I shouldn't say that. Nobody knows when the new iPhone will be released [...] When it is, it will be unbundled for at least 10 days. After that, it will be part of a bundle."
The comment was apparently made in jest, but there is a possibility that Miyauchi's coy reference could be closer to the truth than he lets on.
Apple typically announces new iPhone models at a special media event held on a Tuesday or Wednesday in September, and opens device preorders that Friday ahead of shipments a week later. That model held true for iPhone XS, which was unveiled on a Wednesday and launched the following Friday. Outliers, like 2017's iPhone X and 2018's iPhone XR, were announced in September before going on sale in October.
While invitations to this year's event have yet to go out, Miyauchi's supposedly false timeline makes sense. Sept. 20 falls on a Friday, meaning Apple could be preparing for a debut during the week of Sept. 9.
Apple is rumored to launch successor models of the iPhone XR, XS and XS Max this fall. According to the latest unconfirmed leaks, the devices will boast roughly identical dimensions to last year's models while packing in new features like a triple-camera array on high-end variants and larger batteries and fresh colors for the entry-level XR series. Evidence also suggests Apple will implement a reworked Taptic Engine in a potential phaseout of existing 3D Touch technology.
Apple is reportedly ramping up production of the next-generation handset in preparation of a fall launch.