Sony debuts CarPlay-compatible infotainment unit with 8.95-inch screen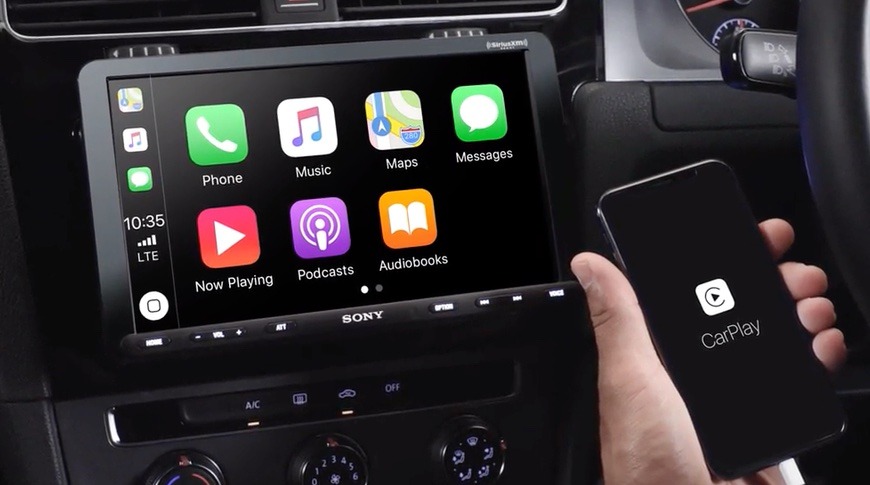 Sony has launched a range new in-car entertainment systems, headed up by the XAV-AX8000 sporting a giant 8.95-inch display and compatibility with Apple's CarPlay, along with other more compact models that include Siri Eyes Free support.
The XAV-AX8000's large 8.95-inch screen hovers out from the front of the infotainment unit, allowing the body of the device to fit into a single-DIN space in the dashboard. To allow it to work perfectly with a wide range of vehicle designs, the screen mount can be adjusted in three directions for the ideal display placement.
Offering CarPlay support, as well as Android Auto, the unit is able to take advantage of the iPhone's capabilities for calls, music, navigation, and other supported apps. Its WebLink Cast most can also be used to mirror a smartphone screen directly in the display, allowing non-CarPlay apps to be used.
Equipped with a four-channel amplifier that can deliver 55 watts for each channel, the system includes a two-mode bass boost system, a Dynamic Stage Organizer with a 10-band equalizer with 10 presets, and FLAC audio file support for up to 24-bit depth and a sampling frequency of 48GHz.
Able to be used with a rear-view camera and capable of waking almost immediately after the vehicle's ignition is turned on, the XAV-AX8000 is arriving in December 2019, priced at $599.99.
The DSX-GS80 offers a 4x100W built-in class-D amplifier capable of 4x45W under RMS, with 2-ohm multiple speaker load options, bass boost, and the Dynamic Stage Organizer. Able to be connected to two smartphones at the same time, the unit doesn't offer CarPlay support, but does have Siri Eyes Free, which allows users to speak through the entertainment system to control their smartphone.
Lastly, the DSX-B700 is a powered media receiver offering 4x55W outputs at the maximum, 4x20W under RMS. Again, smartphone connectivity is offered with dual Bluetooth connections and Siri Eyes Free, and it is also compatible with Pandora used through the driver's iPhone.
The DSX-GS80 will ship in December for $229.99, while the DSX-B700 will be available in September for $129.99.