How to transfer playlists from Spotify to Apple Music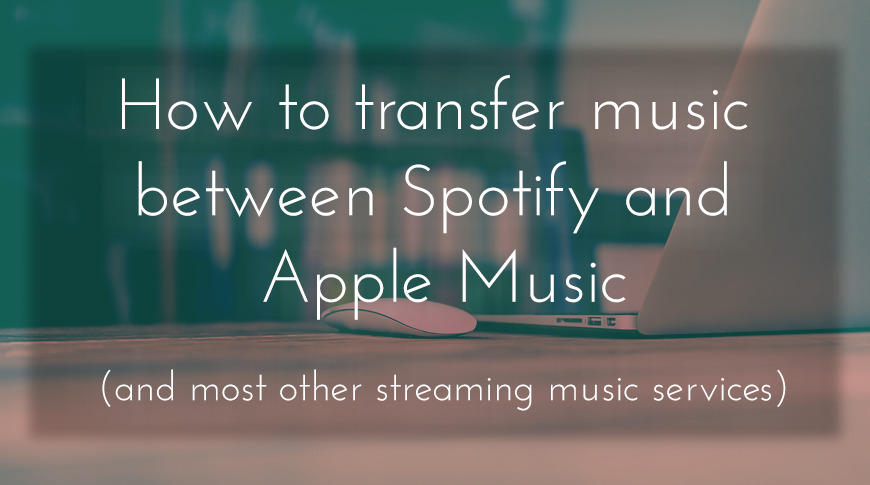 So you've decided to move from your paid Spotify subscription, but you don't want to leave behind years of painstakingly curated playlists and collections of songs, albums, and artists. Here's how to take all your playlists with you.
Streaming services have become the norm for how many of us listen to music and watch TV. While there's often a great amount of variation between a video service like Netflix and Hulu, there's less variation between services like Spotify and Apple Music.
Most of us will stick with one music service, perhaps for years, and build up a pretty decent library of favorites. So, what happens if you want to switch services? If you decide you want to try out another one, what happens to all those playlists you've lovingly crafted on another service? What about your gigantic library of songs that you've spent all that time collecting?
Fortunately, you don't need to leave them behind, and you certainly don't need to painstakingly remake, re-fave, or re-find all of the playlists, songs, artists, and albums you love. Thanks to third-party services like Soundiiz, you can bring them along with you.
Taking your music with you
Because music streaming services have managed to make music as social as they have, there's lots of data points that can be searched, compiled, and transferred between two or more services. If you've ever shared a playlist with a friend, you already have the basic idea of how this works.
There are plenty of third-party services that are able to read this data and transfer it from one streaming service to another. After trying very nearly all of them, we think that Soundiiz combines a decent price point that starts with free, amping up features for paid.
If you're looking to do the majority of the work in just a few minutes, and especially if you've got collections across multiple streaming services, Soundiiz might be the one for you. It can transfer collections between services such as Apple Music, Spotify, Apple Music, TIDAL, YouTube and YouTube music, SoundCloud, Google Music, Pandora, Slacker, Last.fm, and more.
The process
The whole ordeal takes just a couple of minutes provided you've got a computer handy. Be aware that to do this, know that you have to be migrating from a Spotify Premium account — it isn't possible to copy over from the free tier.
Step one: Sign up for an account at Soundiiz.com and verify your email with their website.
Step two: Connect the services you wish to transfer music between. For me, that was my Spotify Premium account and my Apple Music account. You will need to verify via two-factor authentication when you connect Apple Music with Soundiiz, so if you're on PC, make sure you have your iPhone or iPad handy.
Step three: Allow Soundiiz to compile a list of your playlists, this should only take a couple of seconds unless you've got a particularly robust list of data to fetch.
Step four: Select the songs, artists, or playlists you'd like to transfer between the two services. Do this by going to the Soundiiz sidebar and picking the appropriate category, such as playlists.

Step five: Once selected, press the transfer button, which looks like two squares with an arrow going between them.
Step six: Pick the service you'd like to transfer to. For me, this was Spotify to Apple Music
Step seven: Repeat as needed, depending on paid tier.
A quick note on Soundiiz premium vs Soundiiz free
There is a free version of Soundiiz, which allows you to transfer over playlists one-by-one if you so choose to. You can also use it to take stock of what music you have on what platform, if you're the type of person who may have multiple subscriptions to different services. And, on the free tier, Soundiiz will only make a new playlist with 200 tracks in total per list — larger playlists will get truncated to the first 200 songs.
The premium version, however, costs $36 annually or $4.50 a month if you choose monthly billing. Soundiiz Premium gives quite a few benefits over the free version. By using the premium version, you can transfer multiple playlists, artists, and tracks to different platforms all at the same time. Premium users get the ability to export playlists as CSV, TXT, JSON, and URLs. Playlists can also be combined into one large playlist or separated into smaller playlists before being transferred to a service.
If you just need to transfer over playlists and you only have a couple, it may be worth sticking with the free version. We're using the $4.50 one-month subscription to Soundiiz.