Apple Arcade offers easy sign-ups, installations through Mac App Store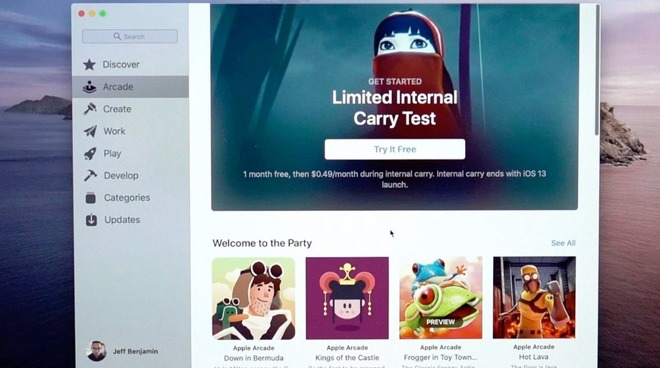 AppleInsider may earn an affiliate commission on purchases made through links on our site.
Mac users will discover an already familiar usability experience when Apple Arcade goes live, with a trial of the service and the currently-available six titles revealing not only that they can be downloaded and installed through the macOS App Store, but also the quality of games the service will offer.
Expected to launch at around the same time as iOS 13 becomes available, Apple Arcade stands to offer subscribers access to a variety of games in exchange for a monthly fee, currently believed to be $4.99. For the fee, users can expect to have over 100 titles to play from launch, with no in-app purchases nor advertising in any of the games.
The service is currently being trialled by Apple employees in a limited internal "carry test," complete with a free trial and a low $0.49 cost that will end with the service's launch. Apple is also not providing all of the games on offer in the test, with only six available to download and play.
On the Mac running the latest beta of macOS Catalina, 9to5Mac saw how Apple Arcade functions as its own tab within the Mac App Store, complete with a "Try it Free" button at the top to get the user to sign up for the free one-month trial. After clicking the button, users enter their Apple ID password to confirm acceptance of the subscription, then they are allowed to download games from the service.
Downloads happen in a similar fashion to other apps available in the Mac App Store, with "Get" buttons for each listing triggering the installation, as well as video previews and screenshots that accompany other product listings. File sizes vary widely depending on the game, with major titles like Hot Lava consuming multiple gigabytes of storage.
The small number of games on offer are thought to be early access titles in their own right, and are likely to be updated and improved before Apple Arcade's launch. The existing roster ranges from the simplistic-looking platformer Way of the Turtle to the stylistic point-and-click adventure game Down in Bermuda, to more graphical-heavy titles like Hot Lava.