Intel 10th-gen 'Comet Lake' processors ideal for future MacBook Air refresh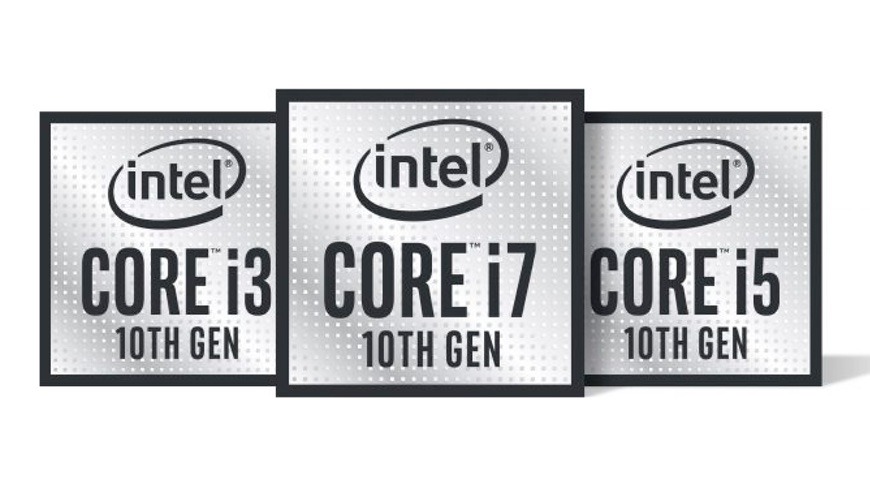 Intel has added more processors to its 10th-generation offering, with four U-series and four Y-series processors codenamed 'Comet Lake' aimed at notebooks and portable devices, boasting models with six cores and very low thermal design points that could be used in a future MacBook Air update.
The 10th generation Intel Core processors announced so far have included a number of 10-nanometer "Ice Lake" processors geared towards high performance on a notebook, including some suitable for MacBook Pro usage. In a second wave of mobile-oriented chips, eight more processors have been revealed with more modest specifications.
While not necessarily aimed at the MacBook Pro, the new batch includes some candidates for the 2020 MacBook Air, which currently uses a Y-series processor with an extremely low thermal design point and power consumption. The processors are also produced under the more established 14-nanometer process rather than 10-nanometer.
Despite being ideal for the MacBook Air, it is unlikely that they will be employed by Apple in 2019. The company has already refreshed the product line, so the new processors point more to a 2020 update.
The four U-series chips are headed up by the Core i7-10710U, a six-core, 12-thread chip with a base clock of 1.1GHz and maximum single and multi-core turbo clocks of 4.7Ghz and 3.9GHz, and 12 megabytes of cache. Just below it is the four-core, eight-thread Core i7-10510U, with 8 megabytes of cache, a base clock of 1.8GHz, and single and multi-core turbo speeds of 4.9GHz and 4.3GHz respectively.
The Core i5-10210U is also a four-core, 8-thread chip, packing 6 megabytes of cache, a base clock of 1.6GHz rising to 4.2GHz and 3.9GHz under single and multi-core turbo. Lastly, the Core i3-10110U is a dual-core chip with four threads, 4 megabytes of cache, a 2.1GHz base clock, and single and all-core turbos of 4.1GHz and 3.7GHz.
Across the board, the announced U-series chips have a thermal design point of 15 Watts, configurable up to 25 Watts, and support for LPDDR4x and DDR4 memory. Integrated Intel Wi-Fi 6, support for a Thunderbolt 3 controller enabling up to four Thunderbolt 3 ports, and Intel's Adaptix Technology for enabling voice assistants in PCs are also included.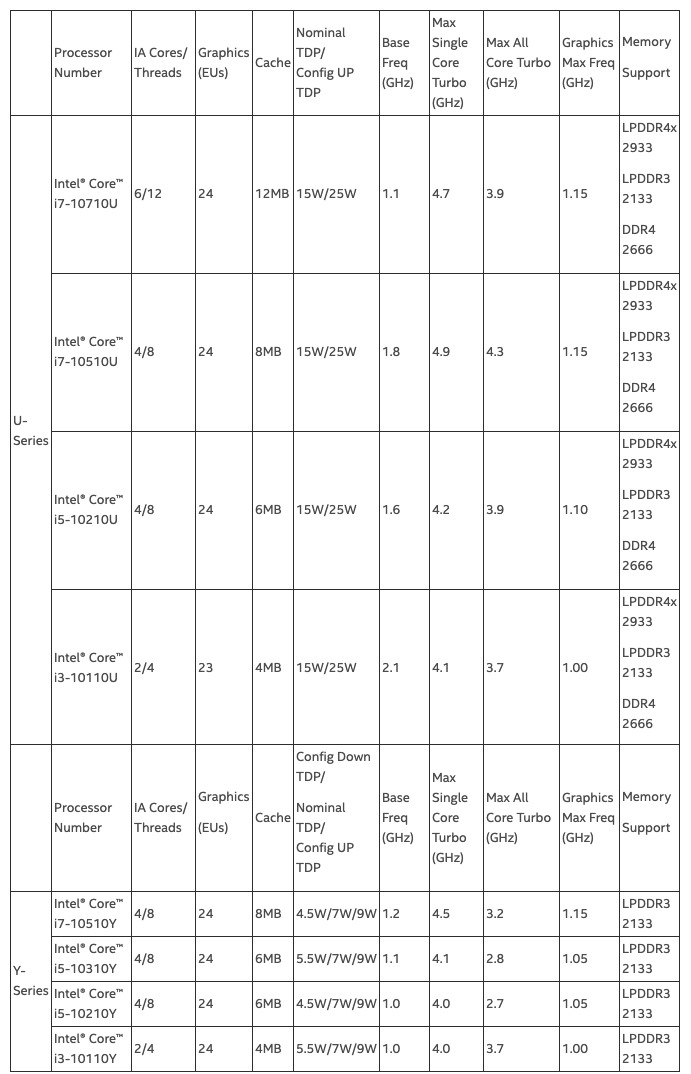 The Y-series starts off with the Intel Core i7-10510Y, a quad-core and eight-thread chip with 8 megabytes of cache, a base clock of 1.2GHz, and single and max-core turbos of 4.5GHz and 3.2GHz.
The range also has two Core i5 chips, the i5-10310Y and 10310Y, which each sport four cores, eight threads, and 6 megabytes of cache. While the 10310Y offers a base clock speed of 1.1GHz, max single core turbo of 4.1GHz, and multi-core turbo at 2.8GHz, the 10210Y is slightly slower at 1.0GHz, 4.0Ghz, and 2.7GHz respectively.
Rounding out the group is the Core i3-10110Y, which is a dual-core and quad-thread processor with 4MB of cache, a 1GHz base frequency, and max single and multi-core turbos of 4Ghz and 3.7GHz.
The Y-series is produced with far lower configurable design point possibilities, with all having a nominal TDP of 7 Watts and a maximum of 9 Watts. All can be configured down to lower TDPs of either 4.5 Watts or 5.5 Watts, depending on the processor, allowing them to be more suited for portable devices with minimal heat management systems.
Intel claims notebooks using the processors will start shipping from PC vendors in time for the holiday season.