PSA: You cannot stop Instagram or Facebook from using your photos with a post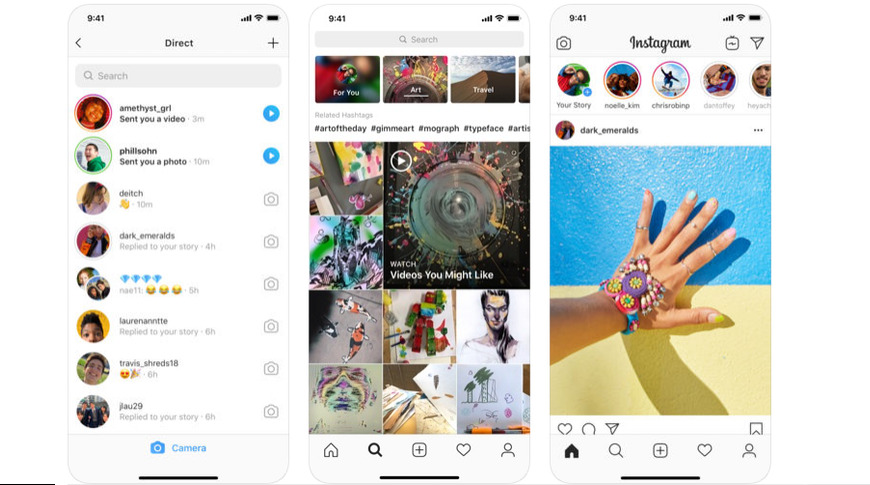 Celebrities and other online personalities are unwittingly circulating a hoax claiming Instagram is changing its privacy policy, one that can supposedly avoided by publicly posting the statement, with it being the latest incarnation of a chain message that has existed for years.
In the last few days, Instagram users have started to post variations of the same block of text to their profiles, claiming there's a rule change happening "tomorrow" where Instagram "can use your photos," with everything ever posted to the service becoming "public," including deleted photographs and messages. The text, though seemingly authoritative with references to a law and the "Rome Statute," supposedly prevents Instagram from having permission to share photographs or messages if posted to a profile.
The image has become more prominent after a number of well-known individuals including US Energy Secretary Rick Perry, Rob Lowe, Julia Roberts, Judd Apatow, Pink, Usher, and others. After discovering the image was perpetuating a hoax, some have elected to remove the image from their social media accounts.
"There's no truth to this post," said Facebook spokesperson Stephanie Otway, while Instagram chief Adam Mosseri posted to his Instagram Stories to alert to the trickery, advising "If you're seeing a meme claiming Instagram is changing its rules tomorrow, it's not true."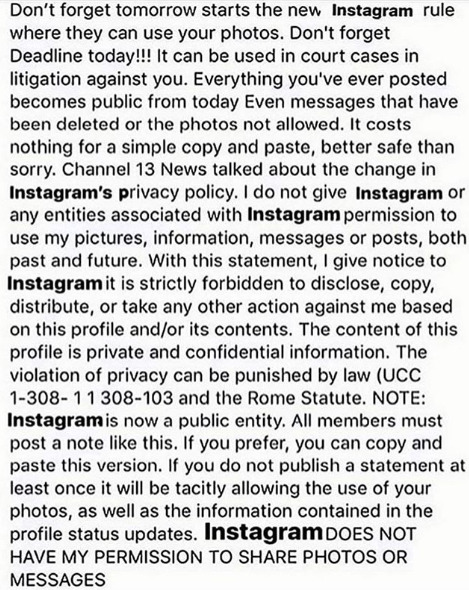 The text of the message has circulated in various forms for year, with one Snopes debunking of the hoax in 2012 showing the majority of the current version's text is reused from older versions. Both Facebook and Instagram have been the subject of the hoax in the past, apt considering Facebook owns Instagram.
Indeed, if the text were interpreted as the hoax intended, users would not be allowed to use Instagram at all. Use is not the same as ownership. Facebook and Instagram have to "use" photos and posts as part of the social media mandate of spreading the word of any given user to the willing, and sometimes unwilling.
Instagram, as does other social networks, have language in its terms of use stating it gains a "non-exclusive, royalty-free, transferrable, sub-licenseable, worldwide license to host, use, distribute, modify, run, copy, publicly perform or display, translate and create derivative works of your content." The license is a requirement in order for the services to function at all, such as core features like sharing images or sending messages to other users.
In the case of Instagram's terms, it specifies that, despite the user granting the license to use content, it stresses "We do not claim ownership of your content," and that "Nothing is changing about your rights in your content."