Titanium Apple Card shows signs of wear after just one month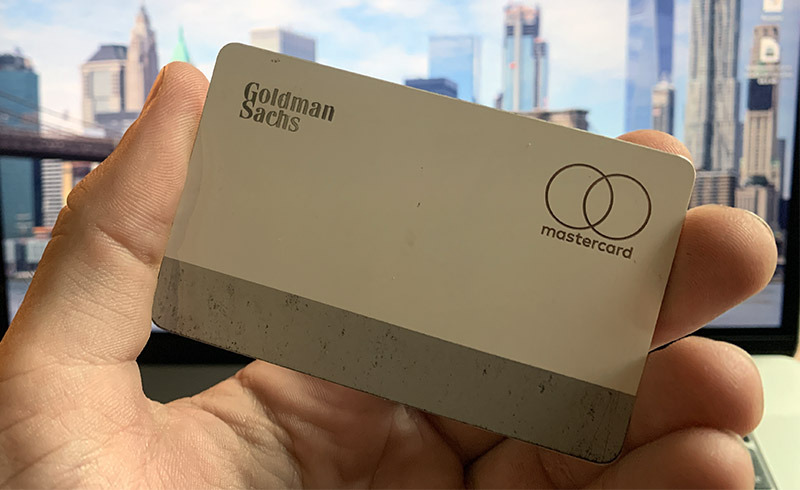 With its sleek white finish, deep etchings and flush surfaces, Apple's titanium Apple Card is quite the looker. The card's durability is now question, however, as early customers report significant signs of wear after just one month.
Apple first suggested that the white finish on physical Apple Card specimens — achieved through a "multi-layer coating process" — might be susceptible to scratches, nicks and discoloration in a Support Pages document published this week.
On Tuesday, the company posted an explainer covering proper methods of cleaning and maintaining the credit card, noting users should gently wipe its surface with a soft, slightly damp, lint-free microfiber cloth. Users with particularly dirty cards can take the additional step of wiping it (gently!) with a cloth dipped in isopropyl alcohol.
Needless to say, such steps are not typically provided by card issuers, including those who field titanium versions.
Additional notes of caution point out fabrics like leather and denim might permanently discolor the card's matte white finish. The coating could also be damaged if it comes in contact with hard surfaces or materials like keys.
After word of the support document spread, users who were part of Apple Card's preview program began to share their experiences online.
AppleInsider reader Zed shared photos of his card, which was reportedly kept in a leather wallet and used for about two months. In a tweet, the early adopter and former Apple employee said the card's white finish began to "come off" of its titanium base, leaving a once pristine surface disfigured with dark pockmarks.
One person, who has been using Apple Card on a daily basis since early June, said their copy showed signs of erosion after about a month. The white portion of the card started to wear away at the edges and above the magnetic stripe after being stored in a leather wallet alongside other cards, a practice Apple says is a no-no.
For now, the superficial issue appears to be just that, as users with cosmetically damaged cards report no difficulties with conducting transactions at point of sale terminals. Whether the apparent weathering will one day cause functional problems, especially in sensitive areas like the mag stripe, remains to be seen.
Still, the photos and testimony serve as a cautionary tale for those who want to keep their shiny new Apple product in immaculate condition.
Apple opened applications for Apple Card to U.S. customers on Tuesday. Wide availability arrived after month of internal testing and a weeks-long public "preview" period in which the company granted random users access to the service.
Apple's credit card solution features deep integration with Apple Pay, with a focus on touchless NFC-based transactions and heavy reliance on the Wallet app. With an ecosystem that lives wholly on iPhone, customers are urged to engage in digital purchases and at brick-and-mortar stores that support Apple Pay. As such, the titanium Apple Card can be considered more of a concession than a tentpole feature, one deemed necessary as Apple builds out its network of participating retailers.