'Toy Story' poster signed by Steve Jobs to hit auction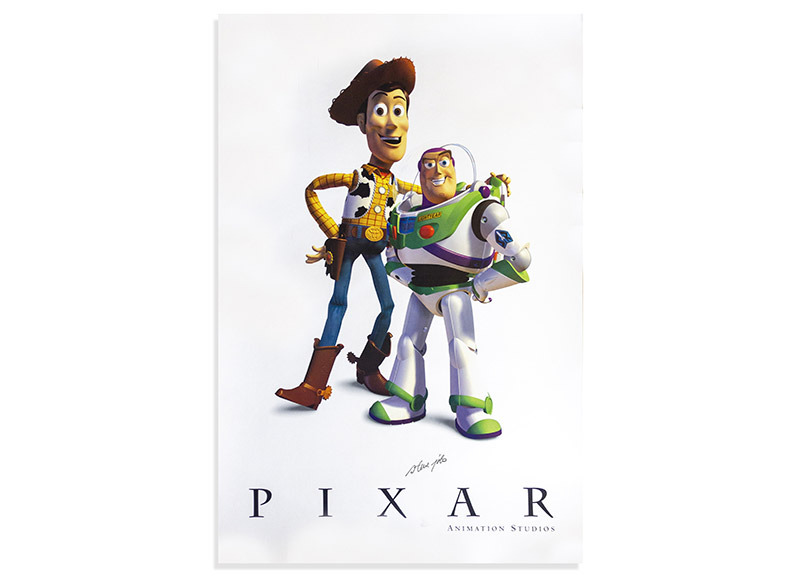 Apple fans will get a chance to get their hands on a piece of history this week when a poster for Pixar's "Toy Story," signed by late Apple co-founder Steve Jobs, goes up for auction.
Listed as an "incredibly scarce" piece of Pixar memorabilia, the signed poster hits the auction block at Nate D. Sanders Auctions on Thursday, Aug. 29.
Measuring 24 inches-by-36 inches, the poster features main characters Woody and Buzz Lightyear, who are seen posing over the Pixar logo. Steve Jobs signed the piece after 1995, when "Toy Story" made its way into theaters as the world's first film created entirely from computer animated footage. It also marked Pixar's feature film debut.
Jobs played a central role in the development of Pixar Animation Studios, which started life as a branch of Lucasfilm. Credited as a company co-founder, Jobs pumped millions of dollars of personal money into the project and guided the firm through tumultuous beginnings as its chairman and, eventually, CEO.
Disney ultimately purchased Pixar in 2006 as part of a deal that netted Jobs an estimated $4 billion and a seat at the animation giant's board of directors. Thanks to a nearly 50% personal stake in Pixar prior to the acquisition, he also became Disney's largest individual shareholder.
Jobs' impact is reportedly still felt at Pixar, and in 2012 the vaunted animation studio renamed its main campus office building to honor the late tech guru.
Bidding for the Jobs-signed Pixar poster starts at $25,000 on Thursday.