Apple Music web browser player launches in beta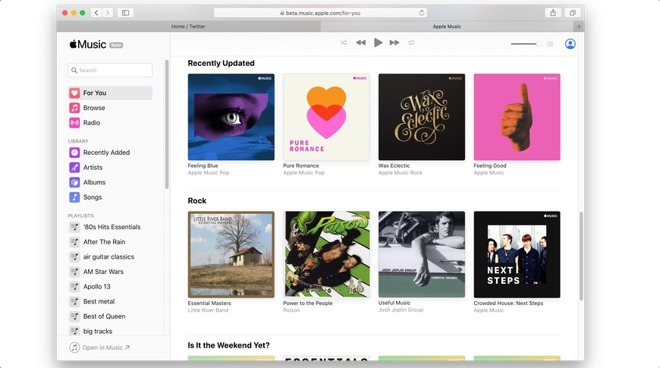 AppleInsider may earn an affiliate commission on purchases made through links on our site.
Apple is making it possible for subscribers of Apple Music to be able to listen to songs on the streaming service via a browser, with a public beta launch enabling users to log into their accounts via a web-based player for the first time.
A new site called beta.music.apple.com offers an interface similar to what is offered when users view the service in the iOS Music app or via macOS iTunes. While it is possible for anyone to browse the service via the site, users can only listen to songs in a preview without logging in with their Apple ID.
For all users, the left-hand bar offers the For You, Browse, and Radio sections to explore, standard elements of Apple Music, with the music playback interface appearing near the top of the browser window. At the bottom left is a link labeled "Open in Music," which takes users to the Music app or iTunes , depending on the operating system.
Unsubscribed users are also offered the ability to sign up for the Apple Music trial via a banner at the bottom of the screen. Subscribers logging in to the site can access other elements, including their library and saved playlists, as well as being able to listen to full-length versions of songs.
Given the service is in beta, it is likely that more features from the main apps will be added to the web-based experience over time.
A browser version of Apple Music has been in the works for a while, with a web player first making a appearance in June 2018, ahead of that year's WWDC. "MusicKit on the Web" was subsequently introduced at the developer conference, allowing developers to embed tracks into a webpage.
Aside from apps, HomePod, and the new web experience, users are able to access Apple Music in a number of other non-Apple ways, including through Amazon's Echo range via an Alexa skill, some Samsung Smart TVs, and via an integration with the Porsche Taycan's infotainment system.