Apple Music gets first native auto integration in Porsche's Taycan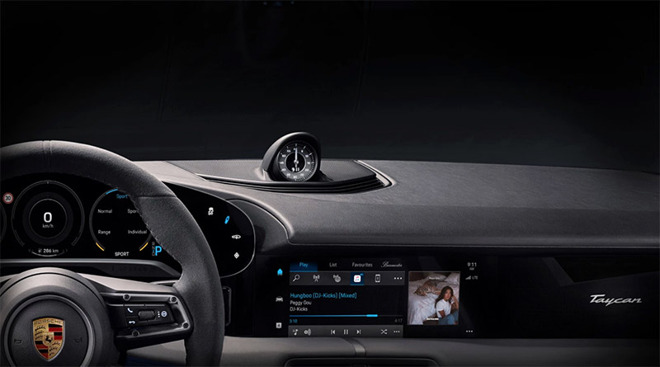 AppleInsider may earn an affiliate commission on purchases made through links on our site.
Porsche on Monday announced plans to offer Apple Music as a standalone app in its upcoming Taycan, the German marque's first all-electric sports car.
As noted by TechCrunch, Porsche's decision to support Apple Music in Taycan's infotainment system marks the first time Apple's streaming service will see integration in a car without the aid of CarPlay.
According to the publication, Porsche went to great lengths to offer Apple Music as a built-in audio option. Designed as a seamless experience, drivers access the service, which presents content identical to what users find in the dedicated iPhone app, via an icon on Taycan's touchscreen display or through the car's voice assistant.
Behind the scenes, Porsche links a customer's Apple ID with their Taycan ID, an account that grants access to specialized car management services, the report said. This level of integration does away with the clunky sign-in process that typically requires a one-time or continuous connection to a host iPhone.
Further, Porsche is offering current owners and new buyers a free six-month subscription to Apple Music, which can be used in conjunction with Taycan's three free years of in-car mobile internet.
Porsche North America CEO Klaus Zellmer told the publication that its partnership with Apple will extend beyond Taycan, suggesting Apple Music could see integration across the carmaker's lineup.
"Generally speaking, we always want to be in control of that system for privacy reasons," Zellmer said in a statement to TechCrunch. "We don't want our customers to be approached with marketing or advertising messages that are not relevant or adequate. We will always be very cautious about whom we grant access to our digital ecosystem in our cars. Another reason why Apple is our partner is because they have exactly the same attitude."
The CEO went on to say that Apple shares a brand ethos with Porsche in that both companies prioritize design, technology and innovation, according to the report.
Porsche was among the first auto makers to adopt Apple's CarPlay, announcing support for the in-car entertainment and communications system in 2015. The Apple Music partnership marks a deepening of ties between the two firms.